Love burritos? Here's everything you need to make a delicious, grain-free Chipotle-style burrito bowl in the comfort of your own kitchen!
Mexican food was not a favorite of mine growing up.
Looking for more gluten-free recipes and resources? This Everything Gluten Free page is a library of everything gluten free we've worked on.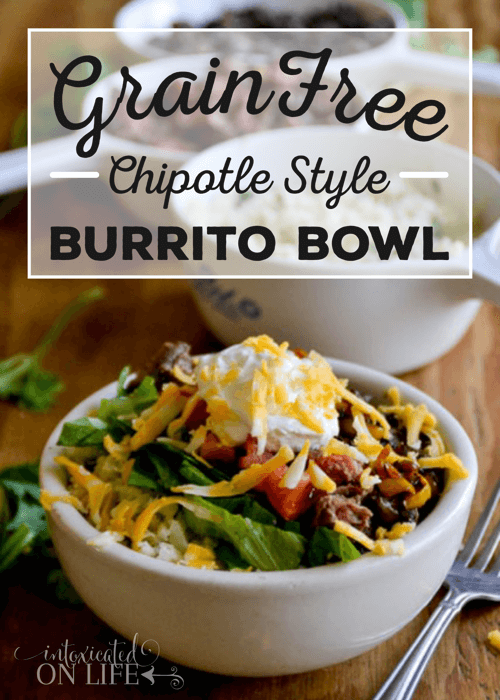 I was a pretty picky kid (tons of food allergies didn't help) and beans were on my 'no' list. Since Mexican food is kinda hard to make without beans, I missed out on a lot of dishes growing up. I'm pretty sure I didn't have quesadilla, tacos, or even sour cream until college!
What changed? I met a wonderful little place called Chipotle.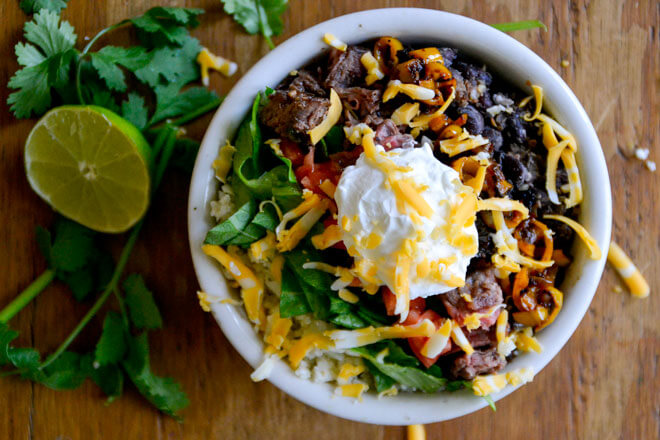 I can still remember the first time someone convinced me to try a Chipotle burrito. Let's just say I was highly suspicious of its goodness.
But I needn't have worried – it was love at first bite. 🙂 From then on out if anyone asked where I wanted to go eat dinner, my answer was Chipotle!
Even now, 10+ years later (yeah, I'm old!) and post going gluten-free, Chipotle is one of the only restaurants I'll eat at.
But let's face it, going to Chipotle every time I want a burrito isn't necessarily sustainable for a mom with five hungry kiddos taggin' along.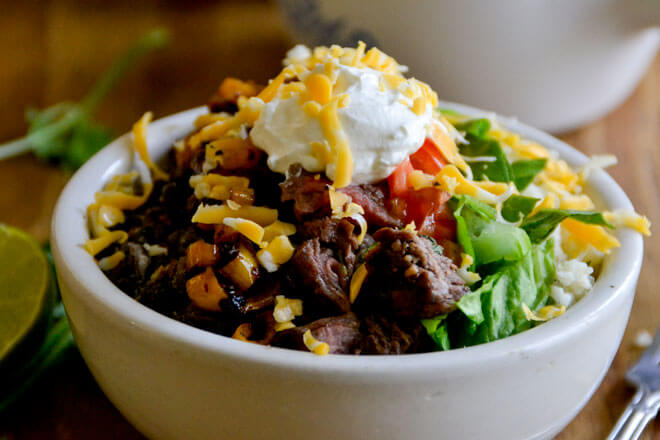 My solution? Make it at home, of course!
Be forewarned, when at a restaurant all the burrito ingredients are handily ready for consumption and slapped into place whenever you want them. Not so when you're making them at home.
Burritos have quite a few components that need to be ready at the same time. If you're a multi-tasker, you can go ahead and follow my game plan. If doing a lot in the kitchen at once kinda overwhelms you, just make a few things ahead of time and warm them up when you're ready to put it all together.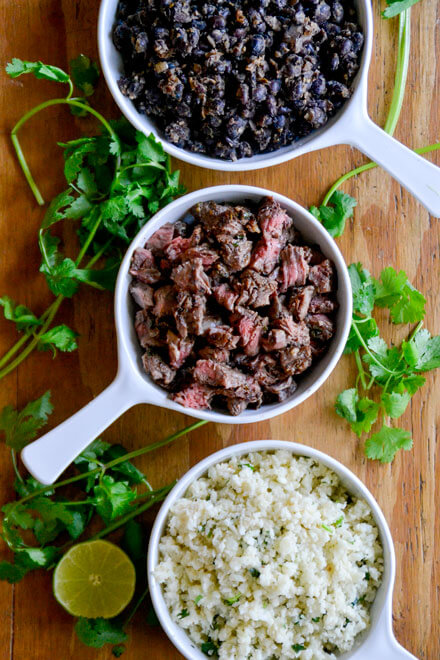 Grain-Free Chipotle-Style Burrito Bowl Tips & Ingredients
The players:
black beans
cilantro-lime cauli-rice (find my recipe here)
steak
peppers & onions (optional)
fresh chopped tomatoes & romaine lettuce
sour cream
shredded colby-jack cheese, or whatever cheese you like
The pre-game.
The beans: If you're using dry beans, soak them for at least 8 hours. I usually sprout mine to make them more easily digestible (find out how to here), but that's not necessary. After your beans have soaked, set them to boil. While the beans are cooking, move on to the next player. (Alternatively, you can use canned beans. Just rinse them off and they're ready to go.)
The meat: Before you get started making everything else, marinade your meat. This can be done the day before, or just while you prepare the rest of the burrito ingredients. Whatever floats your boat!
The veggies: While the meat is marinading and the beans are cooking, rice your cauliflower and chop up your peppers, onions, tomatoes, and romaine.
If you're looking for a good source of grass-fed meat,
Butcher box
has high-quality meat that they will deliver right to your door.
If you use this link to Butcher Box, you can get FREE meat in your first box!!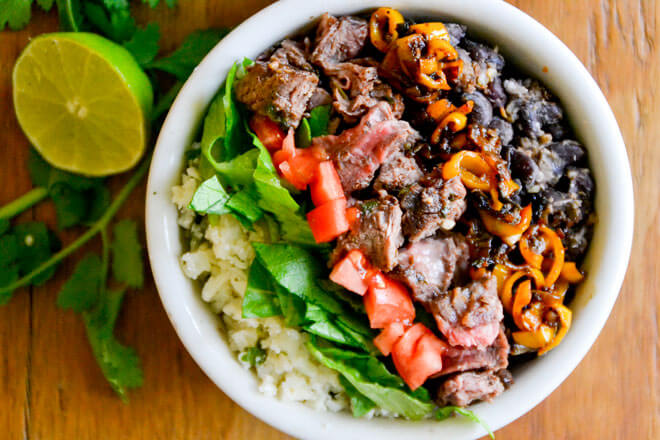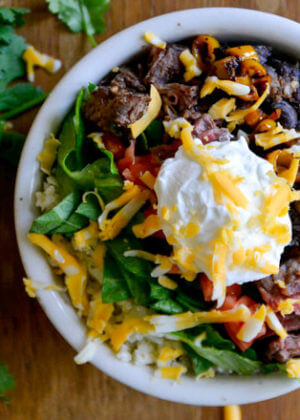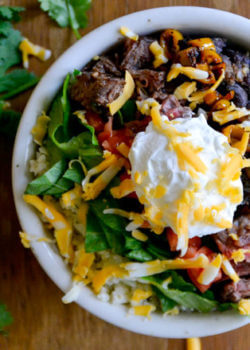 Print
Grain-Free Chipotle-Style Burrito Bowl
If you love Mexican-style food you will love this grain-free Chipotle-style Burrito Bowl! Easy to personalize with your favorite toppings, frugal, filling, and delicious.
Ingredients
coconut oil or tallow

for cooking everything
Black Beans
1/2

onion

minced

1

tablespoon

minced garlic

1

teaspoon

cumin

1/2

teaspoon

oregano

2

cups

black beans

cooked or canned

1

tablespoon

freshly squeezed lime juice
Steak
2

steaks

I used ribeye

1

tablespoon

minced garlic

1/4

cup

chopped cilantro

1/4

cup

extra virgin olive oil

2

tablespoons

freshly squeezed lime juice

1/4

teaspoon

pepper

1

teaspoon

salt
Peppers & Onions
1

yellow bell pepper

thinly sliced

1/2

onion

thinly sliced
Cauli-rice
2

cups

riced cauliflower

prepared (see link in recipe for homemade, or use frozen)
Instructions
For the beans.
Heat skillet over medium heat. Add cooking fat along with onions. Saute until onions caramelized.

Add in garlic, cumin, and oregano and saute for about a minute, until spiced are fragrant.

Add in beans and cook until they're coated, or heated through if they were canned.

Remove from the skillet and cover until ready to use.

When ready to use, squeeze lime juice over the beans and stir it in.

After cooking the beans, add more cooking fat for the steak.
For the meat.
Prepare the marinade and add to a bag along with steaks (make sure they're thawed). Massage around for a few minutes, then let set for an hour+.

Heat skillet over medium, along with cooking fat. Add steaks and cook on each side for 3-5 minutes, depending on how thick they are.

Remove from pan and let rest on a plate for 5 minutes before cutting.
For the peppers & onions.
After removing the steak, add in the peppers and onions.

Saute in steak juices until tender (just a few minutes).

While steak is resting and peppers & onions are cooking, prepare cauli-rice in a separate skillet.
Putting it together:
Into your bowl, layer the following in order:

(1) cauli-rice (2) black beans (3) meat (4) peppers & onions (5) fresh chopped veggies

Top it all with sour cream and shredded cheese.
Notes
Nutrition values are approximate and don't reflect added toppings such as cheese, sour cream, or avocado. To reduce the carbohydrate count (for Keto, diabetic, or THM-S meals) limit black beans to a couple tablespoons or less per serving.
Nutrition
Calories:
519
kcal
|
Carbohydrates:
32
g
|
Protein:
33
g
|
Fat:
30
g
|
Saturated Fat:
9
g
|
Cholesterol:
69
mg
|
Sodium:
669
mg
|
Potassium:
960
mg
|
Fiber:
10
g
|
Sugar:
3
g
|
Vitamin A:
144
IU
|
Vitamin C:
100
mg
|
Calcium:
74
mg
|
Iron:
5
mg
More tips for this Grain-Free Chipotle Style Burrito Bowl
Once all your ingredients are cooked, chopped, and ready, it's time to enjoy your burrito!
Into your bowl, layer the following in order:
cauli-rice
black beans
meat
peppers & onions
fresh chopped veggies
Top it all with sour cream and shredded cheese.
I enjoy my burritos in a bowl, or wrapped in a large leaf of romaine lettuce (though that doesn't hold as much as a bowl).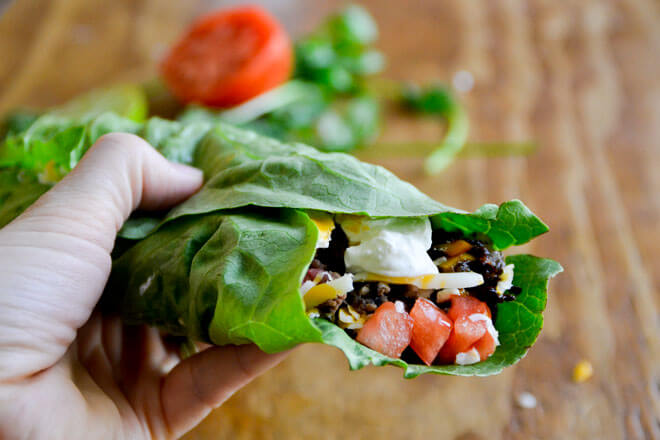 More Grain-Free Mexican Food Recipes: