We're neck deep in apples over here. Literally. So why not make some delicious grain-free apple pie muffins?
We purchased a new home last year and were blessed with 8 healthy, fruitful apple tress.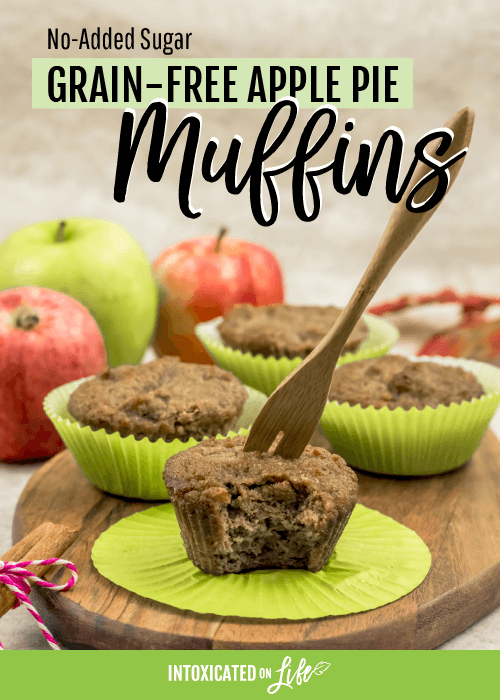 We've had the opportunity to make applesauce a-plenty. Besides that, we've made apple leather to pack in lunches for co-op days, dried apple slices for trail mix, freeze bags upon bags of sliced apples. Also, we got to try our hand at cider making, and we made all the apple goodies we can handle. And we still have plenty of apples to share!
As you can see, my mind has been swirling with all things apple.
Looking for gluten-free recipes and resources? This Everything Gluten Free page is a library of everything gluten free we've worked on.
Keeping it Healthy!
With all the treats we could make with apples, it would be easy to over-do it. So, I try to keep all the treats as healthy as possible. I love that this particular recipe is super easy to make, with just a few ingredients.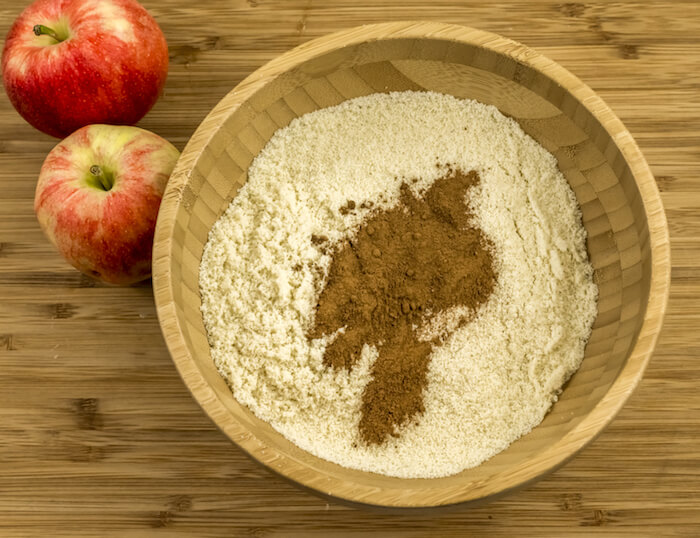 Apples are already naturally sweet, so you don't need to add much else to make these muffins tasty. I opt to use an stevia and erythritol blend in this recipe. You can read more about stevia here. Erythritol is a naturally derived sugar-alcohol sweetener, similar to xylitol.
If you aren't concerned with using sweeteners that keep your blood sugar in check, maple syrup is a great addition to this recipe instead of the stevia and erythritol blend.

Grain-free apple pie muffins: not just an afternoon treat…
When you think about all the garbage many kids eat for breakfast (Lucky Charms anyone?!), you can feel good feeding these muffins to your family for a quick breakfast. At least I feel pretty good about feeding them to my boys for breakfast and they haven't complained about it yet either!
We'll often make up a big quadruple batch of muffins and freeze the leftovers. Then we can just pull a few out of the freezer for the next day and breakfast is done!
It might not be a bad idea to pair the muffins with an egg or two to help ramp up the healthy fats and proteins to keep them going through the day. But I'll admit, on our busiest mornings (like when we're trying to rush out of the house so we're not late for church), I've been known to throw a muffin in a kid's hand and shove them out the door! #BreakfastWin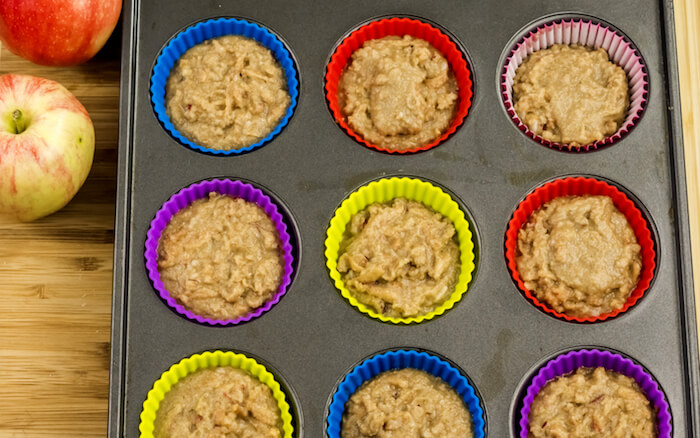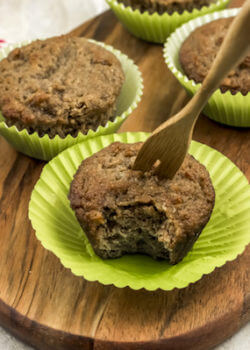 Print
Grain-Free Apple Pie Muffins (no-sugar added)
These grain-free apple pie muffins have all the flavor of apple pie in a convenient muffin form! Perfect for an autumn breakfast or snack.
Equipment
Muffin tin

Paper or silicone muffin liners
Instructions
Preheat the oven to 350° F.

In a medium sized bowl, mix together the almond flour, baking soda and apple pie spice. Set aside.

In a large bowl, add the eggs, coconut oil, and stevia and erythritol blend (or maple syrup) and whisk well.

Add the dry mix to the wet mix and gently stir together. Over-mixing will result in tough muffins.

Add the grated apples and gently fold into your mixture.

Line muffin tins with silicone or paper liners and fill tins 3/4 full of batter.

Bake for 20 to 25 minutes, or until the top is golden brown and a toothpick inserted in the center comes out clean.

Let the muffins cool in the pan for 10 minutes and finish cooling on a wire rack.
Notes
Instead of apple pie spice, you may use: 1 teaspoon Cinnamon, ½ teaspoon Allspice, ½ teaspoon Nutmeg
To determine net carbohydrates and effect on blood sugar, subtract fiber and sugar alcohol grams from total carbohydrates.
Nutrition
Calories:
169
kcal
|
Carbohydrates:
7
g
|
Protein:
5
g
|
Fat:
15
g
|
Saturated Fat:
5
g
|
Cholesterol:
41
mg
|
Sodium:
107
mg
|
Potassium:
31
mg
|
Fiber:
2
g
|
Sugar:
2
g
|
Vitamin A:
68
IU
|
Vitamin C:
1
mg
|
Calcium:
49
mg
|
Iron:
1
mg
We've been using apples in lots of our favorite treats. If you are looking for more ideas, check out some of our family favorites (all grain-free!):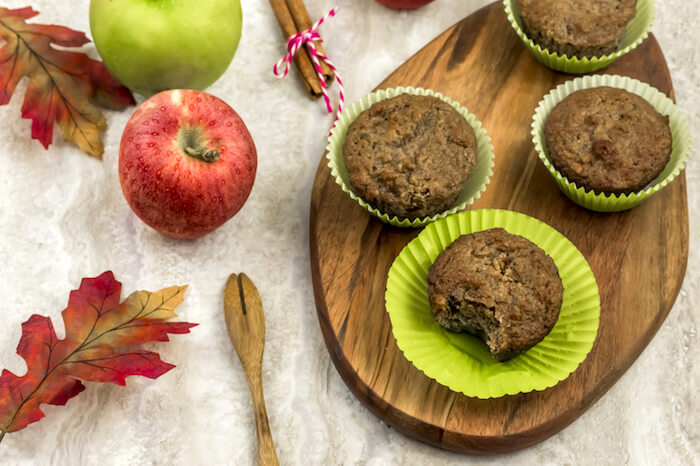 SaveSaveSaveSave
SaveSave
SaveSave
SaveSave
SaveSave
SaveSaveSaveSaveSaveSaveSaveSave