If you use and love essential oils and you love your pooch, you may have wondered whether you can use essential oils for dogs.
The answer is a qualified yes—but there are some things you need to know first. Since dogs metabolize essential oils differently than we human folk do, we have to be cautious. But with a few safety guidelines and some quick tips, you'll be on your way to oiling up your pups in no time!
Learn more about my favorite essential oils in this post.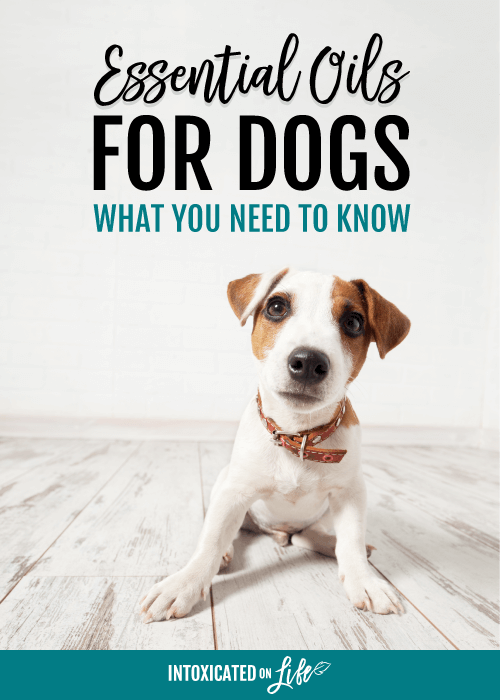 There are a number of essential oils that are safe for dogs, and there are some essential oils that are very bad for dogs. In this post we'll chat about what essential oils you can safely use around dogs and essential oils you should never use on or near your dog. Plus we'll talk about a few practical ways you can use them to benefit your canine friend.
Essential Oils that are Bad for Dogs
Even more important than knowing the oils that are safe for dogs are the ones that can be detrimental to a dog's health.
Below is a list of essential oils you should NOT use on your dogs. In fact, even diffusing them can cause serious health issues. If you want to diffuse any of these, be sure not to allow your dog in the room.
Anise (Aniseed)
Birch (Sweet Birch Oil)
Boldo (Peumus boldus)
Calamus (Calamus aromaticus)
Camphor
Eucalyptus (Eucalyptus globulus or gum tree)
*Pennyroyal (Mentha pulegium)
*Tea Tree (Melaleuca)
Wormseed (Chemopodium)
(*These are especially dangerous to dogs and other animals.)
Essential Oils that are Safe for Dogs
Some of the best and safest oils to use around your dogs include:
Cardamom
Chamomile
Frankincense
Garlic
Lavender
Lemongrass
Peppermint
Spearmint
Precautions When Using Essential Oils for Dogs:
Even though most vets agree you can use these essential oils for your dogs, there are some precautions and warnings you should note.
Always consult your veterinarian before you try an essential oil on your dog.
1. Just like humans, animals can have sensitivities or allergies to things we don't know about until they come in contact with something.
Monitor your dog carefully for any of the following side effects:
Drooling
Lethargy
Panting
Pawing at their face
Rapid breathing
Red skin or eyes
Trouble walking
Vomiting
2. Be sure to dilute the oils before use. (Witch hazel, distilled water, or carrier oils.)
3. Take into account the size of your dog. You won't use the same amount of essential oil on a Giant Schnauzer as you would a Teacup Poodle. Also, less is more when using essential oils.
4. Never use essential oils on puppies under 10 weeks old or on pregnant or nursing dogs.
5. Don't add oils to a dog's food or water! It can cause damage to their mouth, esophagus, and stomach lining. Over a period of time, the essential oils may cause severe liver and kidney damage.
6. Make sure to stay away from your dog's eyes, ears, nose, and genitals. If a little does make its way to these sensitive areas, flush with a carrier oil.
7. If your dog experiences any sort of irritation, immediately wipe the area with a wet cloth and mild soap. Repeat as necessary and call your vet.
8. If you're diffusing an oil that is causing problems for your pet, immediately take them out of the room and air it out.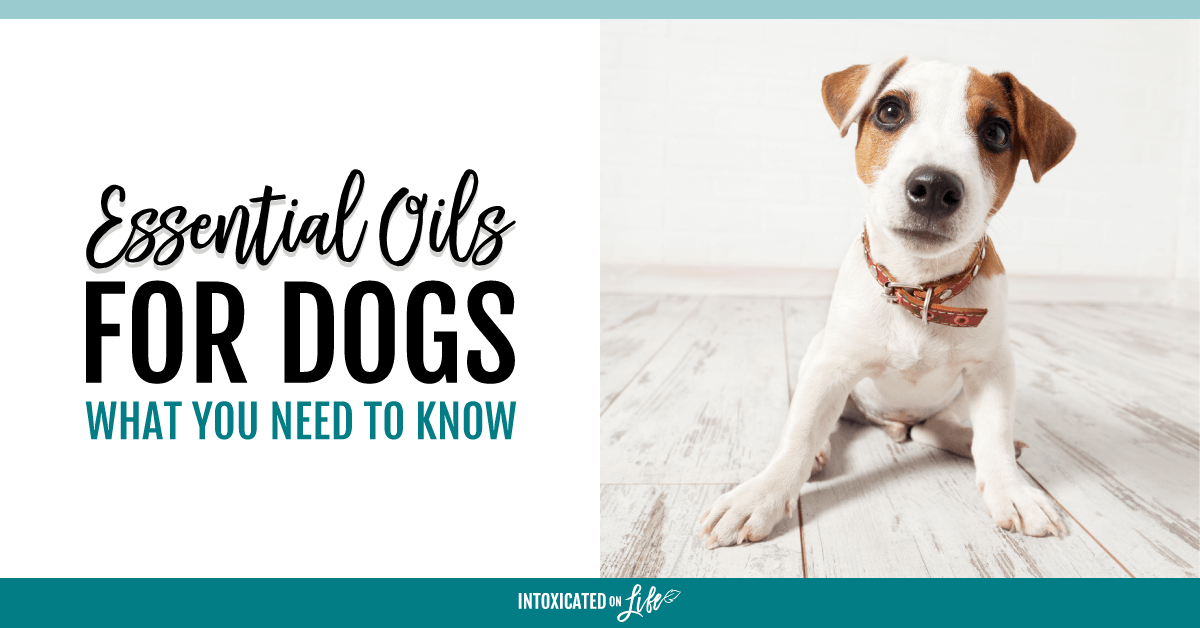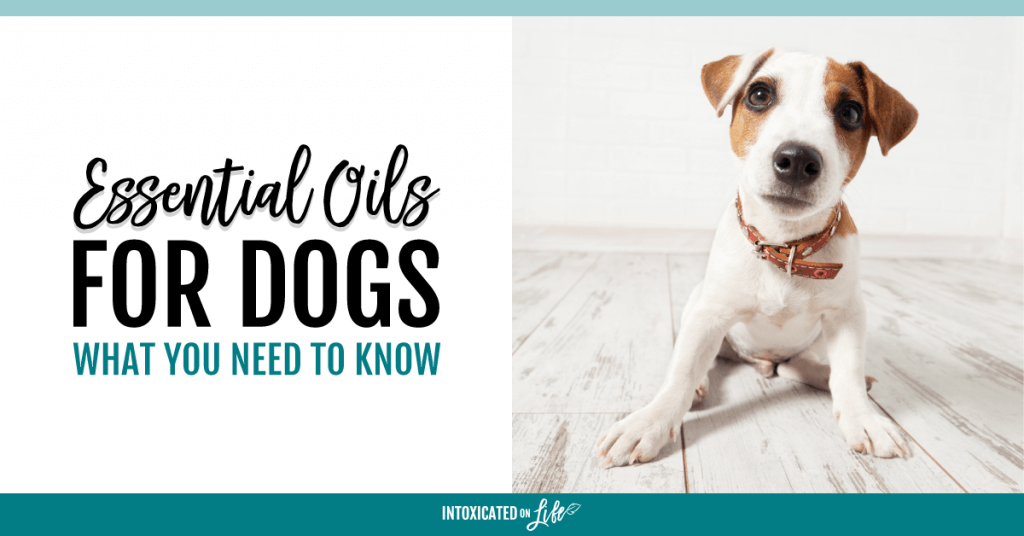 Common Doggy Problems and Oil Recipes That Help
A common and effective way for your dog to benefit from the use of essential oils is to apply a solution to the back of the neck. Use one drop of oil to 50 drops of a carrier oil.
If your dog has any of the problems below, you can try these quick recipes that may offer relief.
Ear Mites – Add 1 to 2 drops of peppermint oil to mineral oil and clean your dog's ears. The mineral oil will smother the mites, and the peppermint oil will act as an anesthetic.
Separation Anxiety – Diffuse lavender when you leave your dog home alone to help with anxiety.
Car Rides – Put some lavender in your car before you take your nervous dog for a ride.
Wound Care – Mix a couple drops of peppermint oil in witch hazel and gently dab the injured area.
Arthritis – Add peppermint in a carrier oil and massage your dog's joints.
Bug Bites – If your dog has bug bites, a little peppermint oil mixed with apple cider vinegar will help.
Mosquitoes – Lemongrass oil mixed with almond oil in a spray bottle is a great way to help keep the mosquito at bay. Avoid contact with the dog's eyes.
Now that you know which essential oils are bad for dogs and which are safe, do you plan to try them with your four-legged family member?
Do you already use essential oils on your dogs? What has your experience been? I'd be thrilled if you'd share what you've learned.
Interested in essential oils? Let's talk! Click here to learn more about essential oils and how to find good-quality ones for your family.
Resources on Using Essential Oils for Dogs: