We live in Michigan. The winter months here drag on and on…and on. They also tend to be brutally cold. The dry indoor air from the furnace running all the time paired with the biting cold outdoors, is a disastrous combo for our skin. Lucky for me, I've got the best essential oils for dry skin on my side!
So do you just deal with it and wait for spring? I think not!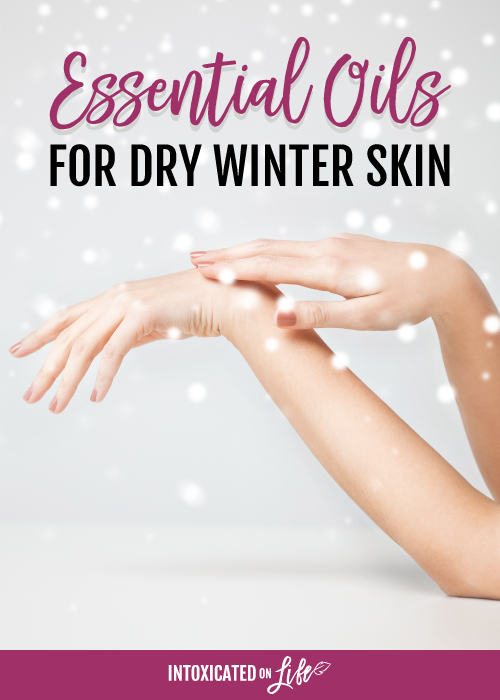 Instead of suffering from dull, itchy dry skin this winter, check out these 7 essential oils that can help your skin feel more supple and refreshed. You'll be ready to face the day with these essential oils, no matter how cold it is.
7 Essential Oils for Dry Skin
If there's one essential oil everyone should have on their shelf it's frankincense! This anti-inflammatory essential oil can help tone your skin and calm mild acne flare-ups. Frankincense may even help to tighten the skin reducing the look of pores.
Dry skin will love frankincense oil, and you will enjoy the rich scent and how easy it is to add to your daily beauty routine.
Lavender essential oil is what I fondly refer to as the duct tape of all oils. You see, there's probably 100 or more things lavender can help with. So it probably doesn't surprise you that it's a great oil for your skin!
Lavender essential oil is exceptionally gentle on aging skin. It may help reduce the appearance of sunspots and dark spots, age spots, and scars.
With its relaxing fragrance, Lavender can help you feel more at ease as well, so your mind gets a break along with your skin. How's that for serving double duty?
Neroli is an essential oil you might already find in some of the skincare products you have on your shelf already. It's well-known for being able to soothe dry and tight skin.
It can help reduce the look of wrinkles, soften up those age spots, and can even help minimize the look of pores. Neroli is gentle on the skin but works hard, and can easily be added to your daily skincare routine.
While Rose Essential Oil is one of the more expensive oils, it's worth its weight in gold. This oil contains anti-inflammatory properties and can help with dermatitis.
The scent can help you as well through those dreary winter months when you're craving fresh floral scents. A little does go a long way—be sure to use it diluted (and don't let the price scare you).
Tea Tree (aka melaleuca) essential oil is excellent for soothing itchy skin and your dry scalp. It can help get breakouts under control and soothe skin inflammation.
Add it to your skin routine during the winter months and see how much it can help especially with dryness and redness. Try it on both skin and scalp!
As a side note, tea tree oil is always in my natural medicine cabinet. I love to blend it with Lavender and use it for everything from cuts and scrapes to using it around my kids ears and on the outside of their neck whenever they have earaches or sore throats!

Like rose oil, geranium oil can help you during the winter months when you are craving fresh floral scents.
It's known to help relieve eczema, tight and dry skin, skin inflammation, and other winter skin conditions. It's perfect for helping to reduce wrinkles as well.
Yarrow-Pom is my new favorite for skin and not just because it's very soothing in the winter time! If you're over 35 this blend of yarrow essential oil and cold-pressed pomegranate seed oil will soon be on your "must-have" list too.
I especially like to use Yarrow-Pom on my face. While I may momentarily look like smurfette when applying to my face (due to the high chamazulene content), the benefits are totally worth it — and don't worry, the blue disappears quickly!
Yarrow-Pom works to both promote collagen production as well as inhibit the enzymes that breakdown elasticity and collagen in the skin. Can we say goodbye wrinkles?!
What Essential Oils for Dry Skin Are You Ready to Try?
Are you ready to reap the benefits of essential oils for dry skin? You can help soothe and protect your skin from the winter elements. Which one of these oils is first on your list to try? Your skin is sure to thank you!