During the summer you will most likely find my children outside playing. But, during the "heat of the day," I like to bring them inside for some cool-down time and let them rest.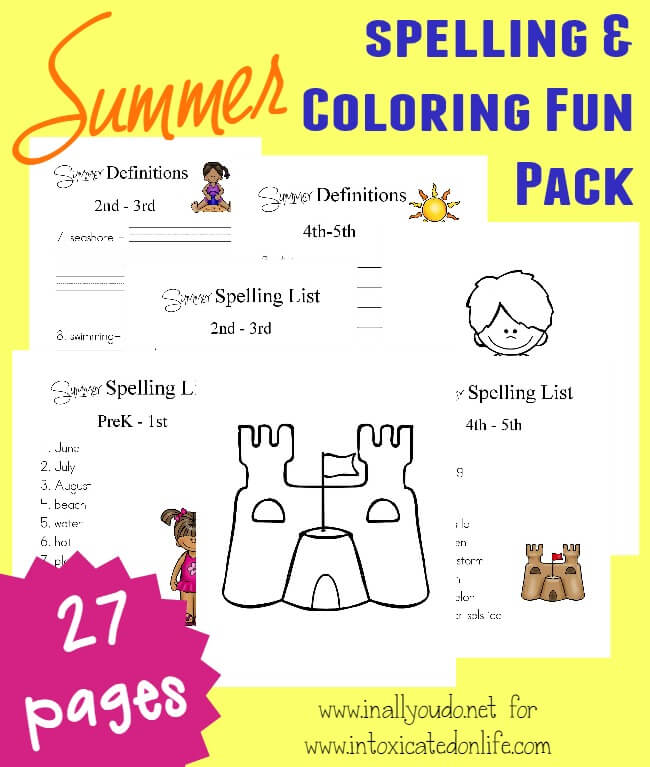 And even though no "formal" schooling is taking place, we still practice some of the basics – such as reading and handwriting – over the summer months, especially during those young, formidable years. But, if you approach them with anything that remotely resembles schoolwork, they will revolt. So, I try to use creative tactics for practicing those essentials. One of those ways is through some fun Spelling and Coloring pages.
So this year I created some fun summer spelling and coloring printables you can use throughout those hot summer months. This pack is full of learning activities, while making it fun for the kids.
To make a fun mini Summer unit, try these Summer puzzles, writing prompts, coloring pages and these Summer Activity Placemats just perfect for meal times.
Included in this Summer pack:
27 pages of printables
Spelling lists (K-1, 2-3, 4-5)
Spelling test sheets
Definition sheets to use when defining the spelling words
Coloring pages
What's nice about these mini units is the kids don't think they're doing real school work and we're sneaking in some learning time while they're having fun! Pair it with this Summer Copywork pack and you've got it made!
To download your freebie, simply click the link below.