I've put together a 10 Commandments Mini Unit Study for kids ages Preschool – 6th grade (and up). This unit study is full of fun, creative activities for the kids, so they can learn about the 10 Commandments and have fun at the same time.
The 10 Commandments is one of those sections of Scripture that I want my kids to know by heart. I want them to know God's Word is not only important, but also that it is timeless. Even though those Commandments were given hundreds of years ago, they are still rules God wants us to follow and live by.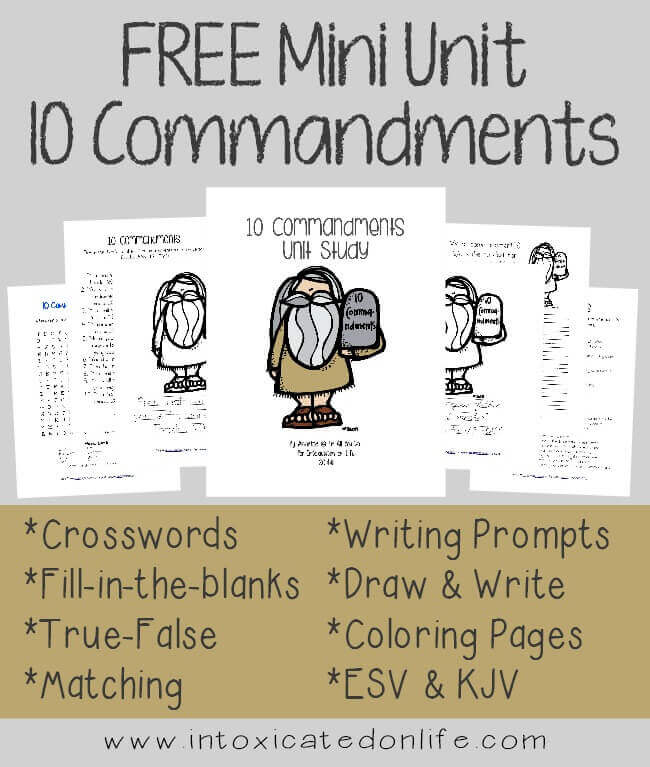 10 Commandments Mini Unit Study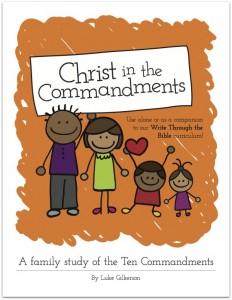 So what better way to teach them about the 10 Commandments than through a unit study of them. I have created a fun mini unit for kids Preschool – 6th grade (and up).
This 75+ page unit includes activities that will get your kids excited about learning God's Word. I have had so much fun creating them and I hope you kids enjoy them.
Several of the activities have multiple levels for various ages. Easy is designed for PreK – 2nd grade, Medium for 3rd – 5th and Hard for 6th grade up. Of course, these are just suggestions and you should use the level that best suits your child(ren). I have also created both an ESV and KJV version for you to choose from, so be sure to pay close attention below before you download.
If you haven't already, I highly suggest downloading the Christ in the Commandments unit study from our store here at Intoxicated on Life. It is a family study, which will pair perfectly with this mini unit. Our own family plans on using this copywork study pack alongside this mini unit school year as well.
Included in the 10 Commandments Mini Unit Study:
Word Searches (easy, medium, hard)
Crossword puzzles (easy, medium, hard)
Fill-in-the-blanks – ESV & KJV options (easy, medium, hard in each)
True and False (easy, medium, hard)
Matching (easy, medium, hard)
Writing prompts (manuscript & plain lines)
Draw then Write prompts (manuscript & plain lines)
Coloring pages
I am honestly so excited about this mini unit for my own kids and cannot wait for us to dive in to this 10 Commandment unit in a couple weeks. We will also be doing some of the crafts I have pinned on my Homeschool: Bible board, so be sure to check those out too! And don't forget to grab a copy of Christ in the Commandments, which contains copywork that will help complete the Unit for your entire family!
Click on the graphics below to download your free 10 Commandments Unit Study. Choose either ESV or KJV.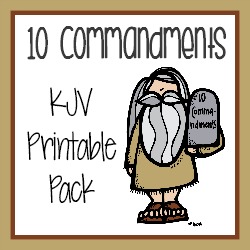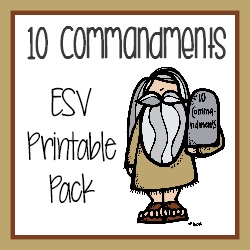 What are some ways that YOU teach your kids about the 10 Commandments?
More Biblical Teaching Tips for Parents: