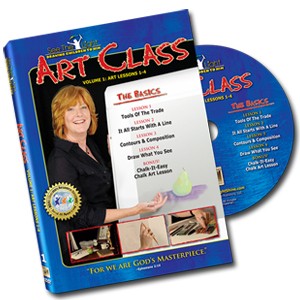 How is a Christian homeschool mom, who is not particularly artistically inclined and doesn't have much art history knowledge, to give her dear children some culture and art education? I'd suggest she check out See The Light's Art Class. (Yeah, you might have guessed… that mom is me).
I was so excited the kind folks at See the Light gave me a chance to review the first DVD in their Art Class series. I've not been so great at providing my kids with an education in the arts, and I feel I really need to try to better with Bradley, and especially Cameron, my 3-year-old. Cameron seems to be naturally much more artistically inclined, enjoying drawing and coloring from a very young age, so I'd like to continue to encourage him as he gets older.
1st DVD Preview
Art Class is taught by master artist Pat Knepley. This curriculum is recommended for children 6 and up. There are 9 volumes, containing 36 lessons. They cost $99.99 if purchased all together. There is a bonus lesson from another See the Light artist on the first 4 DVDs.
I previewed the first DVD, which contains four basic drawing lessons and a bonus chalk art lesson.
Lesson 1: Tools of the Trade – In this lesson we learned about the types of tools needed for art class. There was also an introduction to two types of pencil grips: the basic grip and overhand grip. This lesson was by far the least interesting and least engaging lesson. Nevertheless, these are good foundational concepts with which to start a series like this, even if it doesn't make for the most exciting first lesson.
Lesson 2: It All Starts With a Line – This lesson was an introduction to contour drawing. We practiced making a continuous line by drawing an apple. The goal of this lesson: training your hand to draw what you see.
Lesson 3: Contours and Composition – We continued learning about contour drawings in this lesson, but also added some stylistic techniques to our repertoire. The importance of placement on the page was addressed. She taught on techniques for adding depth. Finally we were encouraged to experiment with different writing utensils to observe the differing effects. It was during this lesson that I became more interested and engaged.
Lesson 4: Draw What You See – During this lesson we were instructed to only draw what we see. This might seem intuitive, but only drawing what you see is not always as easy as you might think. You see, our minds often know there are elements of an object hidden from our view that we might sometimes be inclined to draw. Other major themes of this lesson included the meaning of "eye level" and the importance of  spending plenty of time observing what you are going to draw and paying attention to detail.
Bonus Lesson: Chalk It Easy with Gloria Kohlman – The bonus lesson was instruction on making a chalk drawing. I didn't have the kids watch this lesson with me because I didn't have the appropriate materials to complete the lesson. I don't think my kids could have completed this project. It moved quite fast for an 8 year old and was very involved. In fact, had I attempted the project, I probably wouldn't have been able to keep up without pausing the DVD a lot! What Ms. Kohlman drew was beautiful, but I doubt this is a lesson for your elementary aged children.
What I Liked
This is an affordable full year video curriculum.
This curriculum can be used across ages and grade levels. The recommendation is for children ages 6 and up, but my artsy little Cameron at just 3 years old was quite engaged and attempted the exercises. I'm sure the lessons would eventually go over his head, but he enjoyed being involved in these lessons.
I really like that it isn't a workbook. I tried teaching art with Bradley using a book one year and it was a disaster. We didn't complete it, primarily because I am not an artist myself. I found it difficult to teach Bradley something I was as much in need of learning as he was. This curriculum solves that problem! This is real instruction from a real artist.
Pat Knepley seamlessly integrates art appreciation into the lessons by exposing children to pieces of art from famous artists. She also weaves a brief Bible study into each lesson.
Most classes require very basic, easy-to-find supplies. You won't have to break the bank on this art class!
Concepts are introduced in bite-size chunks. Ms. Knepley provides very clear, easy-to-follow step-by-step instructions.
At $99 for a full year video curriculum, it's quite a bargain!
Art Class for Kids: Giveaway
If you are looking for a fantastic Christ-centered art program, I'd definitely recommend checking this program out! As it so happens, See The Light is going to give one of our readers that chance. We are giving away the first volume of Art Class.
Here's how to enter: Do any or all of the following actions and leave a comment below saying what you did. Each item you accomplish gets you one entry into the drawing.
Like Intoxicated on Life on Facebook (and if you already "like" us, just say so in a comment).
Like See the Light on Facebook
Follow Intoxicated on Life on Twitter (and if you already follow us, just say so below).
Follow Intoxicated on Life via e-mail or RSS (and if you already do, just say so).
Unlimited Bonus Entries – "Share" this post, or any other post from this blog, on Facebook. Limit one per day. When you share, make sure you leave a comment below about it.
Contest ends on August 11th.