Fatigue. Aches. Pains. Weight gain. Despite making healthier and healthier decisions, it seems like I continue to be plagued with increasing difficulties. I shared about this recently in both an email and in my post 10 Motivations for Healthy Eating.
I'm sad to say, this really seemed to resonate with a number of you. I wouldn't wish what I feel like many days on anyone. It's not fun. And if you're reading this, you know it's not fun.
I've received a number of emails, all asking basically the same question… "How do you do it all?"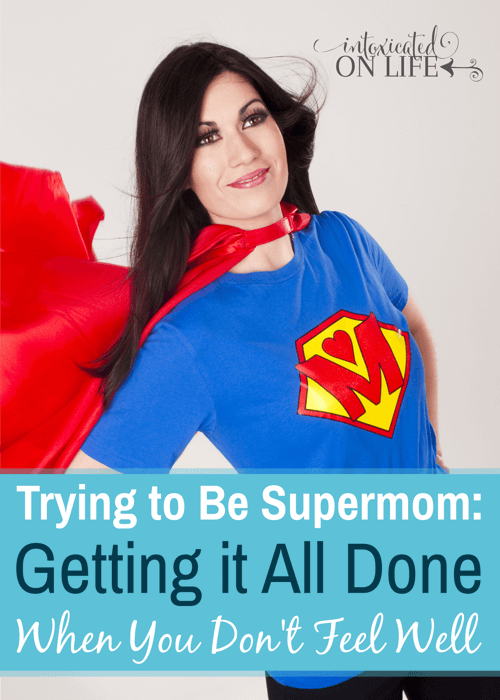 I don't.
Even on the best days, even if I was feeling 100%, I don't think I could do everything I want to do anyways. There simply aren't enough hours in the day for me to be the perfect housekeeper, wife, mother, teacher, whole foods cook, work at home mom, and volunteer. It just doesn't all happen.
1. Prioritize
What must happen in your daily life? What are the most important things? For me, one thing both my husband and I agree that must take priority is our children's education. If we're going to homeschool, I've got to set time aside time to do this and do it well. Sometimes that means other things go on the back burner.
• That often means the house doesn't look the way I'd like for it to look. It means that my husband rarely comes home to a completely tidy home.
• Dinners are simple. Sometimes we get take-out for my husband and kids if I'm particularly exhausted. We try to make wise take-out choices and get the healthier options for my family when this does happen.
• I don't always have time to respond to emails and comments on the blog in as timely of a manner as I'd like.
• Sometimes the clean laundry piles up in baskets waiting to be folded throughout the week until the weekend when I finally have the time and energy to get it done.
What are your priorities? What are a few of the things in your life that must be on the front burner? What it is for you, isn't the same as it is for me.
2. Get Help
If you're struggling with chronic illness or fatigue, it's so important you ask for help. You can not do it all. It's important to decrease stress and give your body a chance to heal. Decreasing hidden sources of stress like toxins and food sensitivities is important, but for the sake of this post I want to talk about the stress of all of the "stuff" that has to get done.
I don't know about you, but when my house is a disaster and I feel like I've not been able to keep up with things – I feel stressed out. Here is how I've been able to handle some of that stress.
• I have a housekeeper come to my home once every other week. Once upon a time, I felt a little guilty about this. I'd have never admitted it on such a public forum. Oh, the horror! A stay-at-home wife and mom who has someone help her clean her home?! I figured everyone would think I was a total slouch. No more though! Think me a slouch if you must, but I won't give up my housekeeper. If you can fit it in your budget, I'd encourage anyone dealing with health issues (or anyone who just would rather spend more time playing with their kids than cleaning their toilets) to get someone to help them with cleaning. It's a huge burden lifted off of my shoulders to know that my house gets really well cleaned from top to bottom at least every-other-week.
• We have a few different people who help us out on our blog on a part-time basis. My husband and I used to try to do everything ourselves when it came to this website. That worked out OK for a while. But, our little piece of the online world has grown larger than we can handle on our own.
• I often pay one of my younger sisters to babysit for me once a week. This gives my husband and I time to get out of the house alone. I love my kids, but having periodic time to just be with my husband and be in a more quiet and calm environment is good for my soul.
• Having my husbands support and help right now has been especially important. I can not say enough good things about him. If ever there was a super-husband, I have him :). My husband has really bent over backwards to do what he can to make my days easier. He watches the kids in the morning and lets me sleep in until he goes to work. He comes home and is always willing to help me with whatever needs done. If I'm totally exhausted and feel like I can't go another minute when he comes in from work, he completely takes over and tells me to go to bed. Yeah, God is pretty awesome to bless me with him.
What do you need help with? What would ease the stress in your life? Are there people you can hire to help you? If you can't afford to hire someone, do you have family, friends, or church members around you that would help out? Even if you think you don't, I'll bet there are people in your life who would be blessed to help you.
3. Shortcuts
Sometimes we need to make shortcuts. For me, this often happens with food and personal-care items. If you follow this site, you know our family has been on a journey to make healthy changes. Sometimes, that means a lot more work in the kitchen. It means a lot more time making items that you wouldn't ordinarily think of making.
How this has worked out practically, is that I've been trying to take short-cuts that many not be 100% ideal, and may cost a bit more money, but are energy savers in the long-run. A few examples:
• I don't always make homemade yogurt right now. Sometimes, I just pick up organic yogurt at the store.
• I often double or triple meals, so I can have leftovers to put in the freezer. I also used a subscription to Once-a-Month meals to help me get a month of meals in the freezer. This has been a huge help. It was a lot of work, but the subscription took all of the planning out of it and had meals that were 100% compliant with my strict diet.
• I used to make my own laundry detergent, but lately I've been using eco-friendly and chemical-free soap nuts and wool dryer balls.
What shortcuts can you take that won't compromise you or your families health?
I want this post to encourage you if you are struggling with fatigue or health issues. I want to encourage you to think through some of these things, pray, talk with your spouse.
You have to give up the supermom myth.
You have to give up the myth that you can do it all.
Figure out what you can do to ease the burdens of every-day living while you are doing the vital, and necessary work of rest and healing your body.