It's so important to get your family outside. There are many health benefits to spending time outdoors, including both mental and physical benefits.
There have been periods of time in history that we as humans were terrified of breathing air and seeing the sun. Many people still feel that way today. What has been revealed is that being outdoors is actually very important, not only for your children but for you.
It's been common knowledge that children in particular need to be outdoors for proper cognitive functioning. But did you know that the same results hold true for adults? It seems obvious that it would hold true, yet we often fail to get outside or allow ourselves to experience the outdoors.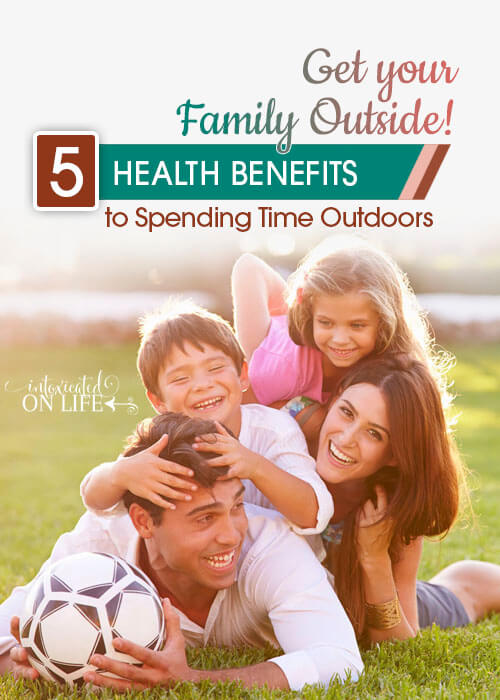 I am here to share from personal experience you are doing yourself (as well as your family) a serious disservice now and in the long term by not going outdoors as much as you can.
Excuses We Use Not to Go Outside
Many mamma's tend to shy away from the sun or spending time outside.
We use these excuses why we don't go outside:
Our little ones need us inside.
We have too much work to do.
We need to rest.
We need to be online and check e-mails.
It's cold outside.
Each of these have been my excuse. I would send our children out but stay in to do (or not do) whatever it is I thought would be best. These are often valid reasons yet there is a deeper need that we are failing to address by not getting fresh air and sunshine.
When it's cold, bundle up. I know how tough that one is! I totally hated going outside when I needed it the most. My bones and body were so achy. I was literally in so much pain it was unreal and it was constant. It didn't seem to matter what I wore or what I didn't, but if I finally got warm it was all I could do to stay warm for even a few minutes. What I hated doing was risking going out on a cold day. My body was regulating its temperature so poorly that I stayed incredibly cold. Who wants to go outdoors and make that worse?
This was caused by a myriad of underlying deficiencies and other health issues but one of the greatest of these was a lack of vitamin D. I know that it is true, you will likely not get enough from sunshine, but do not dismiss the power those few minutes will have on your health. Getting out in the sun and taking a supplement both go very far for me.
Getting your Family Outside Tip: Keep It Simple
The best advice coming from the medical and natural health world is a resounding 15-20 minutes minimum daily requirement.
If you are anything like me that seems a waste of time to get everyone ready to go just so you can have 15-20 minutes of fresh air. I know the frustration of hearing everyone needing you to help them find _________ to get outside. So rather than require too much, I just make sure that they have clothes on.
Rather than make things complicated anymore we keep it simple:
Walk outside on the grass barefoot.
Lay in the grass (pesticide and herbicide free of course).
Throw the ball to the dog.
Play a quick game of chase.
Walk to the park down the road.
Another option, even if you are having a PJ day is to take your school work outside. What a great way to read a book a loud to your children or have them do their math, even a simply nature study. You can get a lot done all in one shot.
We now feel so good we often go on longer hikes. That has been great fun for us. Do you see how each thing I mentioned includes time with my kiddos? I now have energy to play with them again. That is so huge for me and for them. That is how it has altered our family.
Go outside daily. Yes, daily. As best as you can. I am not here to preach at you like I personally get outside every single day. In fact, I am preaching to myself in remembrance of my own past and what changes I have made, how they have affected myself and my loved ones.
What if you can't get outside?
Make sure you spend time looking outdoors and seeing the sunshine even through a sunny window. That alone will still make a difference. You can see the results of a study here that shows daylight exposure via windows actually has a positive effect on the overall health and sleep quality of office workers.
While you're there, open your windows a bit to let some fresh air in the house and get a bit of those indoor air toxins reduced. I like to open all of the bedroom windows and let it flow. In the winter I just barely crack them enough to feel the air pull and get a slight cross breeze. I notice a tremendous difference. No, not in the heat bill either. I don't open the windows that far and that long.
Get your Family Outside: 5 Health Benefits to Spending Time Outdoors
The health benefits for going outside were so amazing to me. I personally experience a more consistent flow of energy when I get outside more often (or do the window thing). I feel more alert and sharp in mind. I often feel creative and my mood is affected for the positive. I see the same in my children.
Studies reveal that 15 minutes outside per day will result in:
Vitamin D synthesis
Higher levels of cognitive functioning
Stronger immunity and healing ability
Healthy expenditure of unused energy
Your body will obtain microbes to enable your immune system to become smarter and stronger
Had I not known all of the above, the simple undeniable anecdotal evidence of the fact that for thousands of years mankind has lived most of his life outdoors and my own experience of mood elevating and health increase would be all the evidence I need to do this for life.
Truth be told I needed a kick in the pants and I know that some of you just need it too to get your family outside. So go get outside and be a little more lively and fun with your family. I hope this helps you towards that end.
I wanted to share these few posts that I saw for those of you who like a little extra reading and science-y information: why SAD can be worse for some people than others, studies on Myopia progression, how to get more Vitamin D and keep it.
Tips on What to Do Outside as a Family:
Need some ideas on what to do outdoors as a family? Don't worry, we've got you covered: