Nothing says "tea time" like a good scone—well, except for maybe tea.
I typically enjoy scones, but finding a good gluten-free recipe that does justice to this traditional Scottish baked good is hard to come by. Bonus: this one has chocolate chips.
For more information on gluten free living check out our Everything Gluten Free resource page.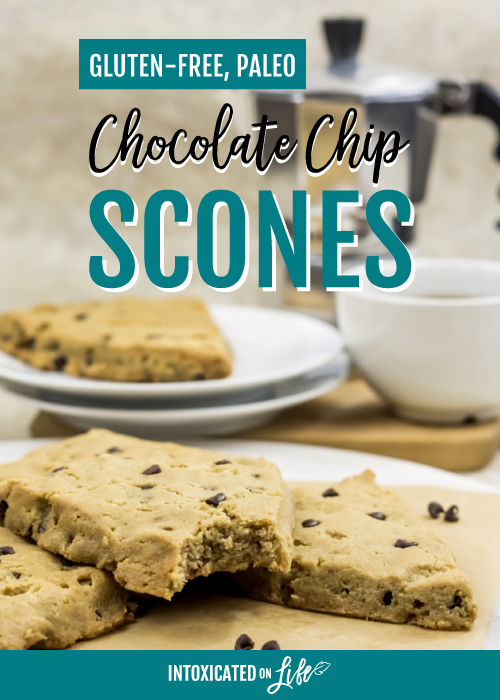 Funny thing about scones…
First, no one really knows where we get the word "scone" from. Some think it's derived from a Dutch word schoonbroot which means "beautiful bread" or "fine bread," or maybe the Middle Low German word schö̂ne, meaning "fine flour bread." Or it may derive from the Scots Gaelic term sgonn meaning a lump or mouthful. Others say it comes from the town Sgàin (pronounced scöon) where the kings of Scotland were crowned.
Second, no one quite knowns how to pronounce the word. The vast majority of Scots, those in Northern Ireland, and the northern regions of England say it rhymes with "gone." In the Midlands, southern England, and America, people say it rhymes with "tone."
Regardless, scones started to become very popular in England in the 1800s thanks to the influence of Anna, the Duchess of Bedford, who ordered scones every day for afternoon tea. Still today in Britain, many eat scones with traditional clotted cream topping.
How to Serve a Proper "Tea"
To American readers, "tea" is merely a drink.
But to those in Great Britain and Ireland, "tea" is the name for a light afternoon meal. While nowadays a formal afternoon tea is only done on special occasions, when it is served it usually happens between 3:30 and 5 pm.
While it was already common for people to drink tea for an afternoon pick-me-up in the early 1800s, during the Victorian era, the wealthy and middle classes began to transform this time into an afternoon meal, complete with various triangle-cut finger sandwiches, bread and butter, pastries, or scones. The exact tea time food you prepare varies.
How do you prepare a proper cup of tea? This video offers a simple explanation:
British Tea Time Terms to Know:
Be Mother: pour the tea ("Shall I be mother?" means "Shall I pour the tea?")
Builder's Brew: extra strong tea with milk and sometimes sugar
Elevensies: tea time meal in the late morning
White Without: tea with milk but no sugar
Can You Make Scones Gluten-Free?
Yes. The original scones were actually already gluten-free since they originally were griddle-baked and made from oatmeal.
Today, scones are usually made from wheat flour but in our recipe we're using almond flour.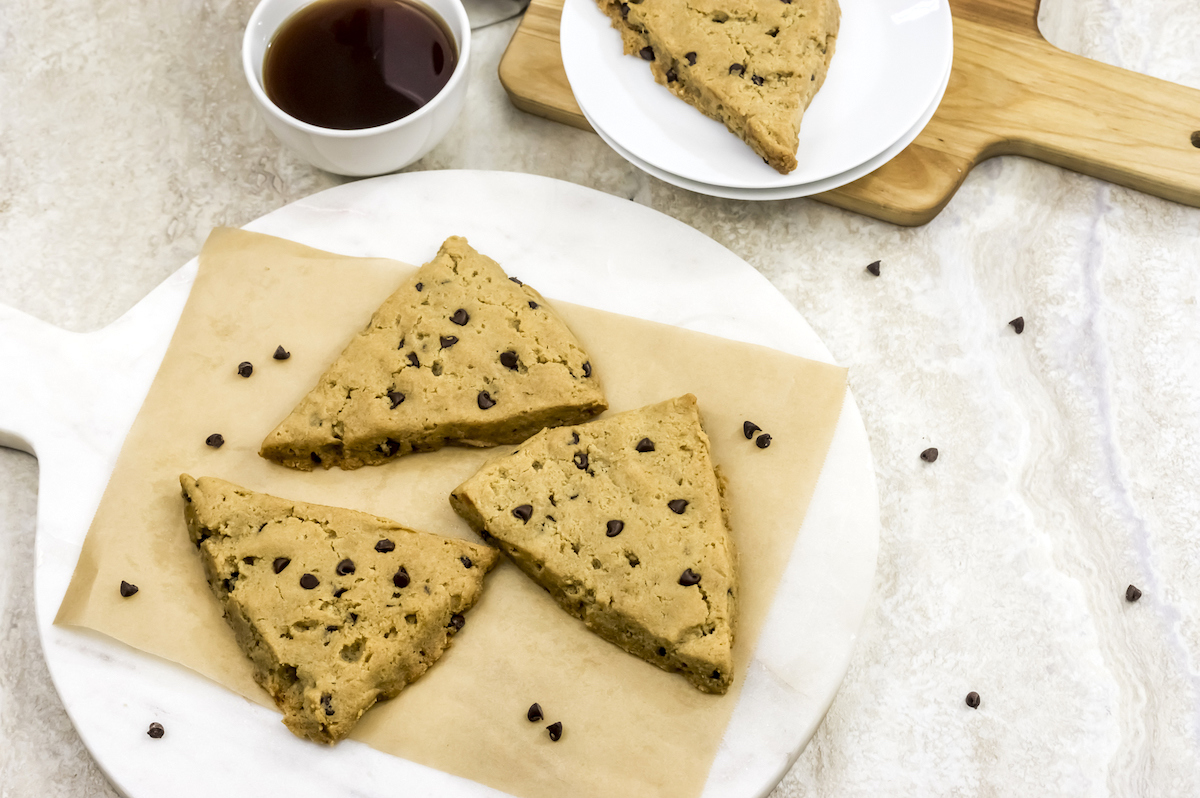 Gluten-Free Chocolate Chip Scones
These paleo, gluten-free chocolate chip scones are super delicious—and not just for tea time. Truth be told, I'm not sure the last time I actually had afternoon tea (the meal)—as I pretty much drink tea all day, every day.
And if you want clotted cream with these scones, I recommend grabbing a can of full-fat coconut milk. Chill it in the fridge over night. Open the can and take out just the top layer of cream without the liquid. Put it in the chilled mixing bowl and add a little vanilla, a pinch of salt, and (if you want) a tablespoon of coconut sugar or honey (though the coconut milk by itself is already sweet). Whisk on medium high for a couple minutes until it's light and fluffy. Refrigerate it until you want to use it on your scones.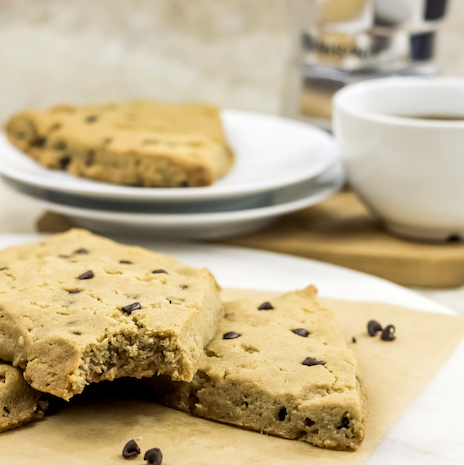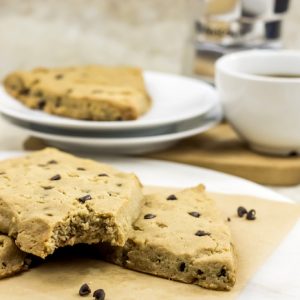 Print
Paleo Chocolate Chip Scones
Few things are better with a cup of coffee or tea than a scone. Even if you're following a Paleo diet, you can still enjoy this delicious treat!
Instructions
Preheat the oven to 325 F and line a large baking sheet with parchment or silicone liner.

In a large bowl sift together the almond flour, baking soda and a pinch of salt.

In a separate bowl, combine the eggs, vanilla extract, maple syrup and the coconut oil. Whisk it well.

Add the wet mix in to the dry ingredients.

Mix it well with a spatula, using gentle strokes. Make sure there are no dry spots.

Fold in the mini chocolate chips.

Dump the sticky dough into a silicone liner or parchment paper lined baking tray.

With wet hand gently form it into a large disk of at least ½ inch thickness. Let it chill for 30 minutes.

Cut the chilled disk into 8 equal triangles.

Separate the triangles and place it in another baking sheet, lined with parchment or silicone liner.

Bake for 20 minutes, or until the tops are golden.

Cool on a wire rack and store the leftovers in an air tight container in the fridge.

Serve with tea, coffee, or milk.
Notes
The coconut oil should not be melted, just softened. There will be specks of solid white coconut oil pieces and that's fine. It will melt in the baking process and give a nice flaky crumbliness to the scones.
To refresh the scones, wrap the cold scone in a damp paper towel and microwave it for 20 to 45 seconds, depending on the power of the microwave. It will taste "oven-fresh".