Our family takes a fair number of road trips. But being a gluten-free family (some of us out of necessity), can make eating on the go a little bit trickier—especially when in unfamiliar territory. Sometimes I just wish I had a gluten free dining guide in my back pocket for every little town we went through!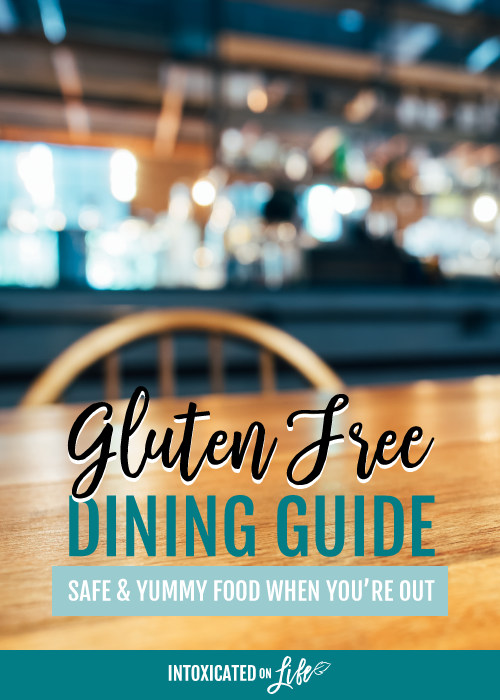 For more information on gluten free living check out our Everything Gluten Free resource page.
6 Tips for Gluten Free Dining
Eating out can be a challenge when you are living a gluten-free lifestyle. But it's not impossible! While I can't give you a gluten free dining guide for every little town you drive through, here's some tips to get you started!
1. It's Starts with a Good Knowledge of the Gluten-Free Diet
In order to avoid all gluten, it's important to have a good working knowledge of what "gluten-free" means.
You can't expect (or trust) restaurant staff to know the ins and outs of what it means to be gluten-free.
On one of our road trips we were traveling through a small town without many options. We stopped at a little mom-and-pop restaurant. I asked the waiter about a specific dish and if the sauce on it was gluten-free. He enthusiastically let me know it was. I pushed a little more to ask if it was thickened with anything.
His response: "Yeah, flour."
Me: "Flour? Regular flour…like the kind that has gluten in it? Or corn flour? What kind of flour?"
Him: "Gluten is wheat, right? It's thickened with white flour, not wheat flour!"
Me: [Facepalm]
Yes—in case you're wondering—flour made from wheat (whether it's called "white" or "wheat") does, in fact, contain gluten.
It's so important you know what to look for and what questions to ask. So the first step is really understanding what it means to be gluten-free. If you're new to eating gluten free, check out these articles for more information to get you started:
2. Choose a Restaurant with Gluten-Free Options
Over 25 years ago after many years of pain and discomfort, my grandma was diagnosed with celiac disease. The diagnosis totally transformed her life.
But it wasn't easy (especially then). You've gotta understand, this was prior to the time when people had any understanding what celiac disease was. Prior to the advent of gluten-free bread at the store. Prior to the advent of gluten-free menus at restaurants. But thanks to the Internet, it's much easier these days to find a restaurant with gluten-free options.
My favorite website (they also have an app!) is Find Me Gluten-Free. You can search by city and then narrow down your search by cuisine you're looking for or ratings. Users can also leave reviews of the restaurant. Be especially aware of the reviews—you can a learn a lot from them!
We love trying new restaurants and local faves. But in some areas it's difficult to find safe gluten-free options. There's 1a number of chain restaurants that are generally very good at providing safe gluten-free foods. If we can't find something else, we rely on these. Here are some of our tried-and-true faves:
P.F. Changs
Abuelos
Bonefish Grill
Chick-Fil-A
Fogo de Chao (be sure to go with a big appetite!)
Jersey Mike's Subs
Zoe's Kitchen
Blaze Pizza
Five Guys Burger and Fries
The Melting Pot
Pei Wei
California Pizza Kitchen
Outback Steak House
Tom + Chee
3. Do Your Homework Before Going
After finding a restaurant that claims to have gluten-free options, be sure to check out their menu online. If you have celiac disease or are very sensitive to cross-contamination, consider calling the restaurant (preferably during non-busy hours) to discuss how they avoid cross-contamination.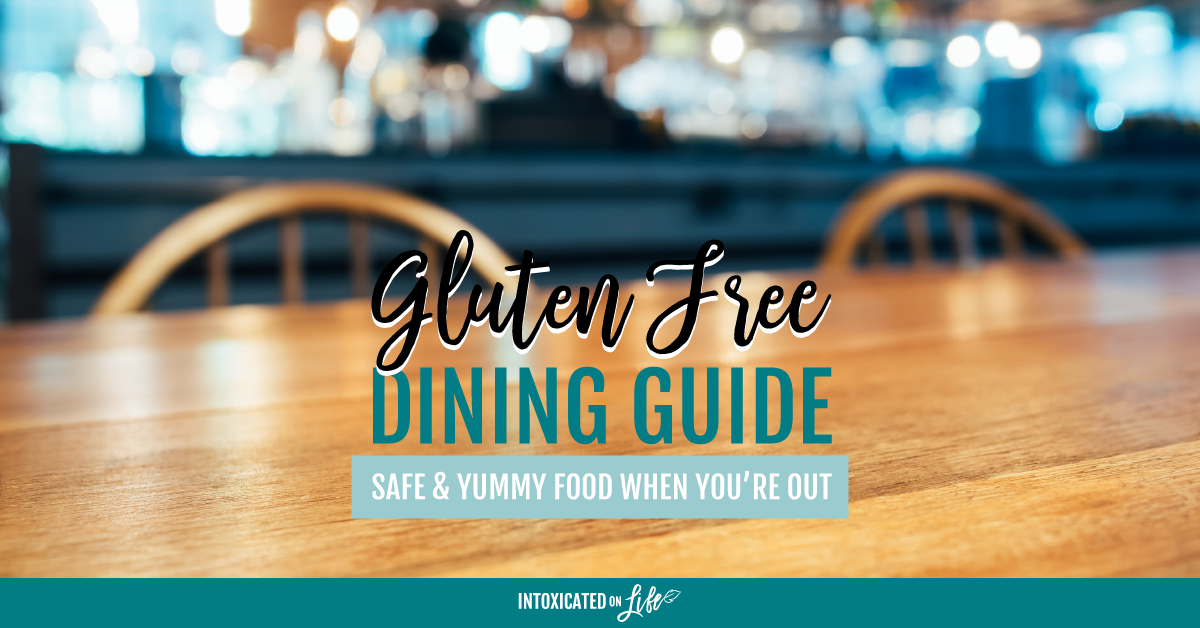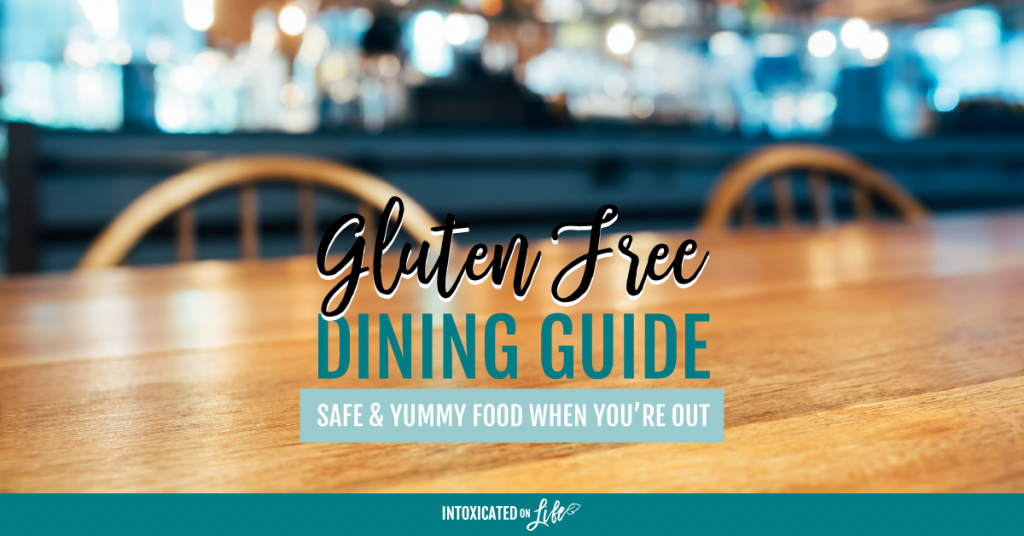 Not all restaurants claiming to have gluten-free options will follow the details necessary to avoid hidden gluten and cross-contamination. It doesn't hurt to contact them and ask some questions for extra details.
Here are some questions you can ask the restaurant about cross-contamination:
Do you thoroughly clean the prep space OR  have a separate prep space for gluten-free food?
Do you thoroughly clean the cookware/utensils OR have separate cookware/utensils for gluten-free food?
Do you thoroughly clean the cooking pans OR have separate cooking pans for gluten-free food?
Is there a dedicated fryer, grill, etc., for gluten-free food?
Here are some hidden-gluten foods that you can ask about (depending on the menu):
Salads: salad dressings (can contain flour), croutons, vegetables chopped on contaminated cutting boards, etc.
Soup: is the soup base made with flour thickeners, etc.
Sauces: have they been thickened with gluten, is there soy sauce in it, etc.
Fried foods: was the oil used for other breaded products, coated with flour, etc.
Spices: were the spices used in the cooking gluten-free
4. Have Conversations with the Staff When You Get There
You might have already contacted the staff or manager on the phone to go over cross-contamination and hidden gluten, however, you should always remind your server when you get to the restaurant. This extra step can go a long way in keeping you safe!
Remind your server that you are gluten-free as soon as possible—you might even consider letting the host/hostess know before they seat you. They might have to get a gluten-free menu for you, or seat you at a table without bread.
Make sure the server notifies the chef of your gluten sensitivities. If the server doesn't seem to know how to properly help you, don't be afraid to politely ask to discuss the issues with the manager and the chef.
5. Don't Be Afraid To Ask Questions
Never be afraid to ask questions to the restaurant staff while you are dining out.
My son, who has celiac, once very explicitly ordered a sandwich on gluten-free bread. We discussed with the waiter how important it was that his food not be contaminated. With the first bite, however, he was suspect.
We called the waiter over and discovered they had indeed, made the sandwich on regular bread instead of gluten free. We rushed to a drug store for some activated charcoal, so we could mitigate the fall-out from that bite as best as possible!
We learned a lesson that day. Sometimes, it pays to ask politely, "Are you certain this is gluten-free?" It's always possible that there was a mixup in the kitchen!
Restaurants can get very busy, and despite good intentions, they might forget about your gluten sensitivities. So never be afraid to ask questions throughout your meal.
6. Be Prepared in Advance
If you look at the menu ahead of time and discuss your gluten-free lifestyle with the manager, you'll be mentally prepared for eating out. However, you can also consider bringing a few items yourself to be sure you're prepared.
Are you looking forward to a gluten-free soup but know the restaurant likely doesn't have gluten-free crackers? Be sure to pack some if it will make your experience more enjoyable. Afraid a restaurant doesn't have a gluten-free dressing option you'll enjoy? Bring your own.
The better prepared you can be, the more you'll enjoy your meal!
Final Thoughts on Gluten-Free Dining
As long as you research gluten-free living, look carefully online for gluten-free restaurants, and stay alert and aware while you dine out, you can enjoy a safe gluten free dining experience.
However, here's a final rule: when in doubt, don't eat it! If you've questioned the manager, server, and/or chef, and you still have any doubts about the food, it's not worth it to your health to risk it. Never be afraid to skip out on the meal if you feel any concerns about gluten in a restaurant.
Don't forget to be polite to the restaurant staff. If the restaurant was very helpful to you with answering your questions and being careful with your food, don't forget to thank them for that. If you have a less-than-pleasant experience, don't forget this is still a new concept for many restaurants. Use it as a way to spread knowledge on the topic.
Be sure to leave your reviews on sites like FindMeGlutenFree.com to help other gluten-free restaurant-goers on their journey too!
Share your fave gluten-free restaurants in the comments!