It might seem silly to write an article about gluten free spices, since on their own, individual herbs and spices do not naturally contain gluten. When my family first went gluten-free, I didn't bother to check my spice cabinet. However, I soon found out that it was booby trapped!
Many companies are tempted to add anti-caking ingredients when they make spice blends. This includes gluten products or by-products. Unfortunately, you can't take for granted that you're consuming gluten free spices!
Are you looking for more tips for going gluten free? I've gathered them all together in this Everything Gluten Free page.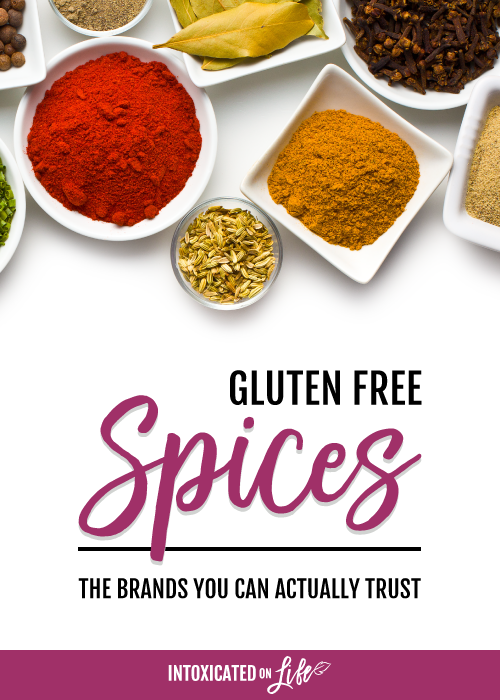 Additives to Watch For
While some anti-caking ingredients spice ingredients don't cause a problem for those trying to stick to a gluten-free diet, many of them still aren't preferable (Sugar? MSG? Really, why do my spices need extra sugar and MSG added to them?). Some common anti-caking additions include:
Silicon dioxide
Calcium Silicate
Sodium aluminum silica
Cornstarch
Wheat flour
Wheat starch
Salt
Sugar
Lactose
whey (a problem if you need to be dairy-free)
sugar (why, oh why, does my taco seasoning need sugar?)
maltodextrin (often contains MSG)
yeast extract (aka MSG)
…and more.
How to Find Gluten-Free Spices
It used to be really bad in America—to the point where even individual herbs and spices had fillers in them. With the advent of new labeling laws in America, any gluten-based product used to make a seasoning must now be indicated on the label. This makes it much easier to spot gluten free spices and those that contain gluten.
Warning: If you are super sensitive to gluten or have celiac disease, this does not always include possible cross-contamination with gluten.
In order to keep your spice mixes gluten-free, you need to know what to look for. First, be diligent about reading the label on the spice mix. A taco seasoning blend, for example, should only contain the exact herbs and spices necessary to make the spice mix. It should not contain difficult-to-pronounce chemicals and additives.
Second, learn the names of good-quality spice companies. If you're sensitive to even trace amounts of gluten, make sure you check the company's website for gluten-free information as well as their packaging for gluten-free labeling.
Finally, be wary of overseas companies that offer super cheap spices and herbs. I've found these can sometimes to iffy! It's just not worth putting your health at risk.
Gluten-Free Spices: Companies You Can Trust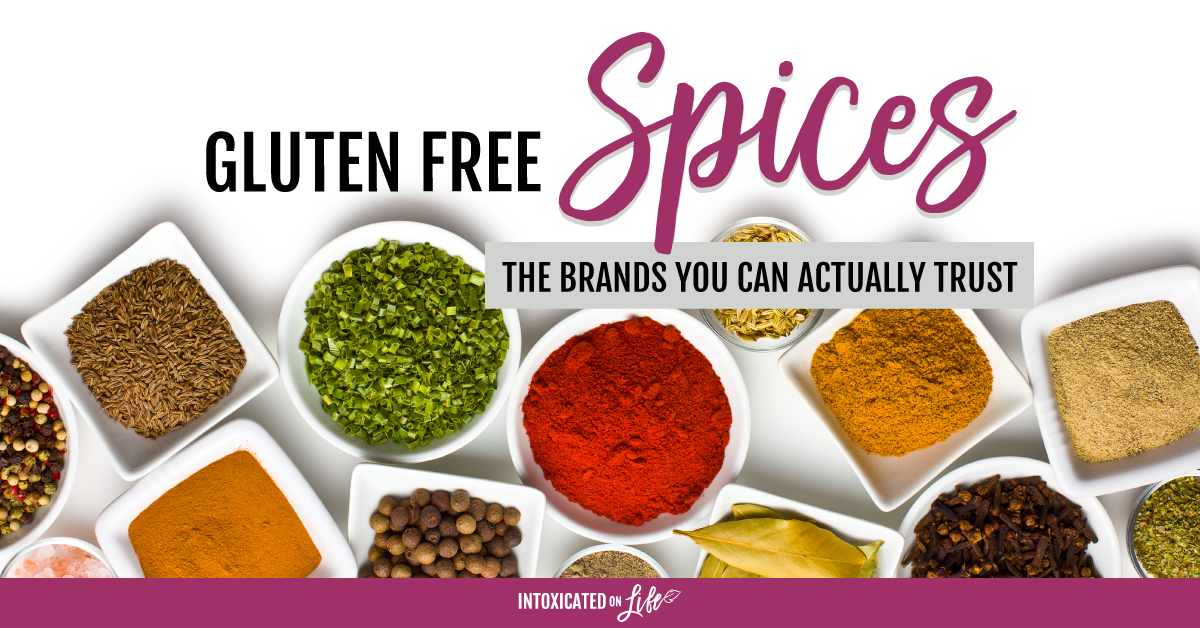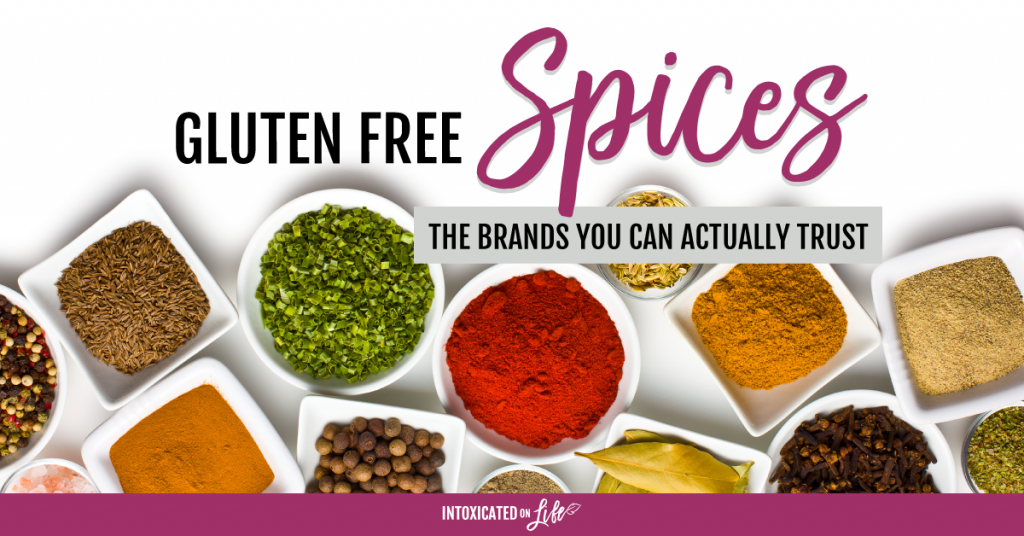 Magic Seasonings: According to their FAQ page, they have gluten-free spices. Check out this four-pack of Magic Seasoning blends (vegetable, poultry, meat, and seafood blends). It would be a great addition to your kitchen.
McCormick: Their FAQ page very clearly indicates their labeling for allergens, gluten, and other food sensitivities. I don't think you could go wrong with their Chipotle and Roasted Garlic Seasoning blend!
The Spice Hunter: Claims all of their spices and mixes are gluten-free on their FAQ page. They have a wide assortment of spices to check out.
Spicely Organic Spices: has an entire page dedicated to their certifications (of course, this includes a gluten-free certification). You can check out their spices available on Amazon here.
These are the major spice companies with gluten-free certification. That does not mean these are the only gluten free spice options out there. Be sure to look up the websites before buying a spice mix at the store, looking for similar pages like the ones I linked to in the above list.
If you really love a local spice company, but you can't find their gluten-free certification, you can always call their customer service to verify.
TIP: avoid buying spices and seasonings from bulk stores, just in case there was cross-contamination with the scoops or containers.
Gluten Free Spices: You Can Make Them Yourself!
If you're really struggling to find spice mixes that don't contain gluten, consider making your own! It's so incredibly cheap and easy to mix up your own gluten free spices (you probably won't want to go back to the store- bought versions).You can even use dehydrated herbs from your own garden in the spice mixes.
Here are a few Homemade Seasoning Mix Recipes you can try:
Don't let your spice cabinet become a minefield! Be sure to clean it out and stock it using these brands and strategies so you don't get booby trapped :).
Have you found it difficult to find gluten free spice mixes? What are your favorites?