This easy, honey-sweetened chocolate ice cream is the perfect, nutritious treat for a hot summer day!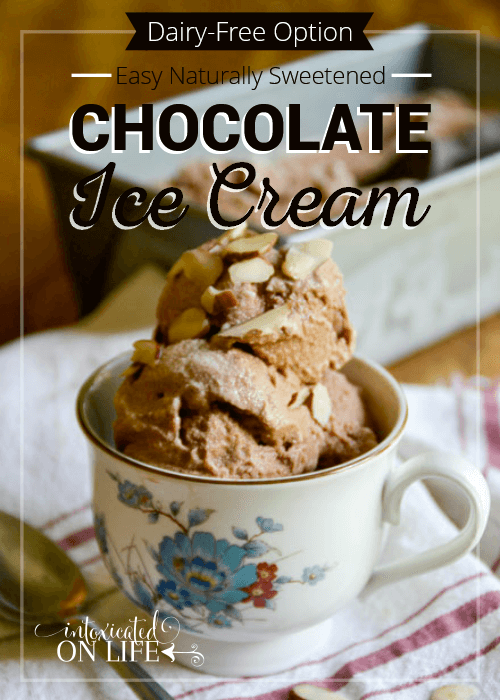 Summer meals…
I don't know about you, but the hotter it gets, the less time I want to be spending in the kitchen making meals. As the year progresses, our meal planning inevitably starts looking a little like this:
Breakfast: smoothies
Lunch: salads or sandwiches
Dinner: ice cream
It might not seem like the most exciting menu, but everyone is happy to eat it! And that's worth something to a busy mom, am I right?
Want some more ice cream inspiration? Check out this awesome cookbook: Candida on Ice with over 20 more sugar-free ice cream recipes!

Chocolate ice cream for the win!
With summer right around the corner, my family's minds all have one thing in common: that ice cream. As soon as the warmer months come they all start asking for homemade ice cream and popsicles. And down here in the south happens to be around April. We've made many different flavors together, but plain ol' chocolate is a winner every single time.
This easy, honey sweetened version is our latest favorite. It only takes a few ingredients most moms always have on hand, and is healthy enough that I don't feel badly serving my kiddos up a big bowl full!

Real food ingredients.
To start off, I use raw or whole milk, or full-fat coconut milk for a dairy-free version. The coconut milk version tends to be a little 'icy-er' but it's still delicious. Skim or 2% do not really work, there's not enough fat in them to make the ice cream very creamy. Plus your body needs all that fat to do wonderful things like build hormones and properly assimilate vitamins.
I also like to add fresh yolks from my backyard chickens. They give the ice cream a nice creamy texture, too. If you're allergic to eggs, don't have access to grass-fed organic eggs, or if the thought of eating raw egg yolks makes you nervous, you can leave them out. The end result will still be delicious, though not as nutritious.
Egg yolks are full of vitamins B6, folate, B12, A, D, E, and K. They also contain 90% of the egg's calcium and iron! And, contrary to what you might have heard, egg yolks are quite good for your heart! Eating them has been shown to lower the risk of heart disease and improve overall cardiovascular health.
So if you're like me, and you're all about sneaking in as much nutrition to your desserts as possible, add in those yolks! Just make sure they come from pastured, or at least organic, eggs.
And lastly, I like to add in a healthy pinch of sea salt. Not only does it boast added minerals, but it also gives the chocolate flavor a nice little pop!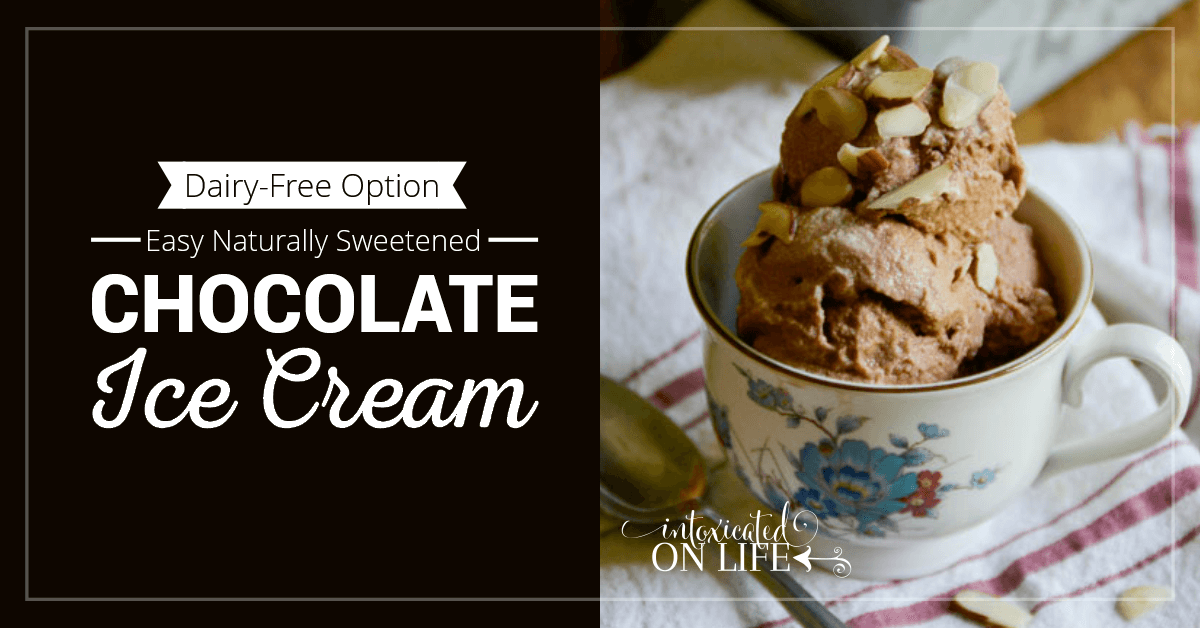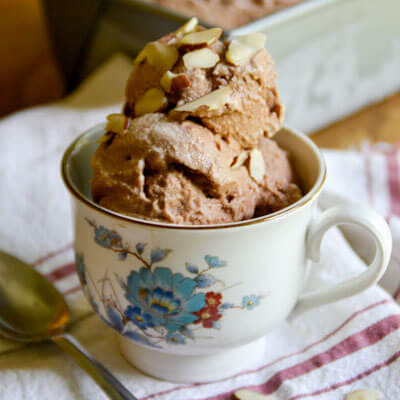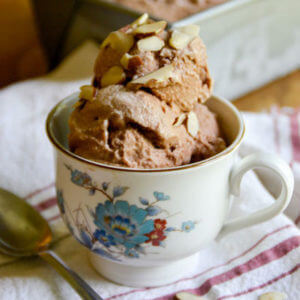 Print
Easy Naturally-Sweetened Chocolate Ice Cream | Dairy-Free Option
Delicious chocolate ice cream doesn't have to be bad for you! This version doesn't use any processed sugar and includes (optional) egg yolks for increased creaminess and nutrition.
Ingredients
1

quart

raw or whole milk

or full-fat coconut milk for dairy-free

2

organic grass-fed egg yolks

optional

1/4

cup

cocoa powder

dash sea salt

1

tablespoon

vanilla

1/2

cup

honey
Instructions
Blend all ingredients.

Pour into ice cream maker and churn until fluffy (15-20 minutes, depending on your machine).

Eat as is for soft serve, or scoop into loaf pan and freeze for an hour.
If you like this chocolate ice cream recipe, try some of our other frozen treats!