Hello, wheat-free friends. Are your kids having the breakfast blues? Are you missing fluffy wheat-filled pancakes? Yeah, I can relate. Sometimes I really want something that's not eggs, sausage, or bacon for breakfast. Don't get me wrong, I love all of those things. But, I long for variety in my meals. The desire for something new and different is what birthed this recipe: easy apple cinnamon pancakes. And yes, they're both grain-free and sugar-free!
Looking for more gluten-free recipes and resources? This Everything Gluten Free page is a library of everything gluten free we've worked on.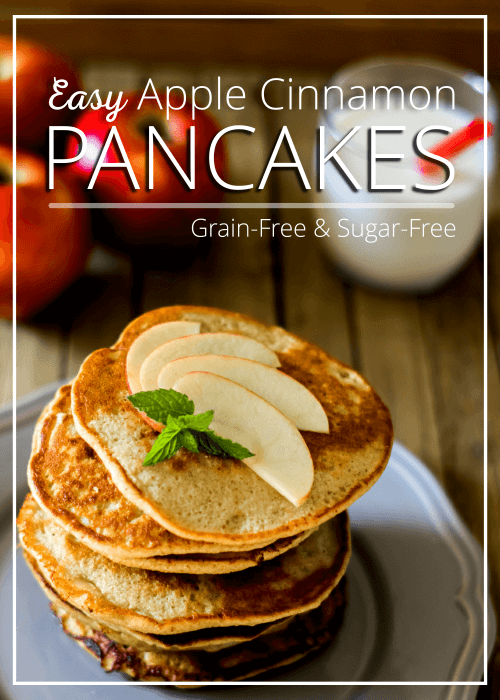 These pancakes turned out better than I even thought they would. My kids, who can be a bit picky about gluten-free creations, scarfed them down at an inordinate rate. Seriously, you've never seen twin two-year-olds put down pancakes with such zeal as mine did these. I put a smidge of stevia in these which gives them just enough sweetness that my kids enjoyed eating them with just butter and nothing more.
A few cooking tips…
These pancakes are easy to throw together as long as you don't get into too big of a hurry once they hit the griddle. You see, if you start getting in a hurry, they'll fall apart and you'll have a very tasty pile of pancake pieces (hey, if that's ok with you, go with it!).
However, if you'd like pretty little pancakes on a plate, you've got to be a bit patient. You'll want to cover the pancakes with a lid while cooking and keep the heat low. This helps the pancakes set up and cook through, without burning the bottom of the pancakes.
Once the eggs in the batter are completely set from cooking (about 4 minutes) you'll want to flip your pancakes. The eggs once set-up give the pancakes a stronger structure when cooked through.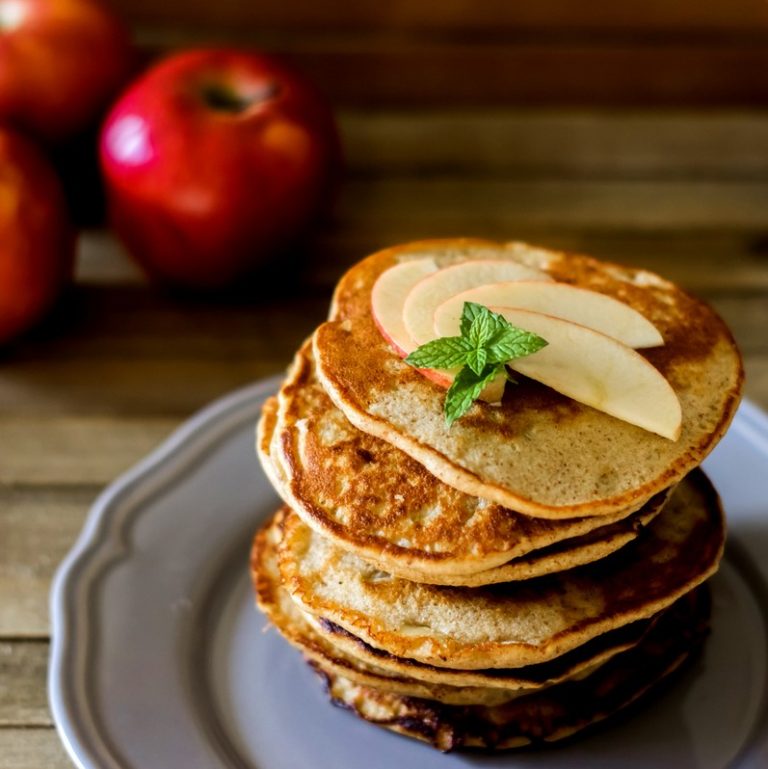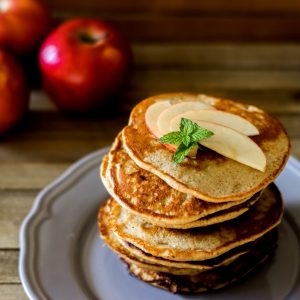 Print
Awesome Apple Cinnamon Pancakes
Servings:
12
4-inch pancakes
Instructions
Mix all of the dry ingredients together.

Add the wet ingredients to the dry ingredients.

Fold in the apple.

Heat the skillet on low heat and grease liberally with butter or coconut oil.

Place small rounds of batter (about 1/4 cup each) on hot skillet and cover skillet with lid. Let the pancakes set up – about 4 minutes.

Flip and finish cooking. Repeat with remaining batter.

Serve with liberal amounts of butter from grass-fed cows!
Notes
Note: Nutrition facts are per pancake; a reasonable serving size is 2-3 pancakes per person (more if you're really hungry! 🙂 ).
Nutrition
Calories:
123
kcal
|
Carbohydrates:
6
g
|
Protein:
5
g
|
Fat:
9
g
|
Saturated Fat:
3
g
|
Cholesterol:
68
mg
|
Sodium:
178
mg
|
Potassium:
62
mg
|
Fiber:
3
g
|
Sugar:
2
g
|
Vitamin A:
107
IU
|
Vitamin C:
1
mg
|
Calcium:
62
mg
|
Iron:
1
mg
These pancakes heat up beautifully, so go ahead and double or triple your recipe. Refrigerate the pancakes and place them in a toaster oven or microwave to warm up a day or two later!