Need a quick and easy swap for regular pizzas? These grain- and gluten-free mini pizzas are for you! No need to give up a favorite (and easy) meal just because you're avoiding grains and gluten. It is possible to make a delicious pizza that's grain-free too. And these mini ones are perfect for each member of the family to make their favorite way!
Are you looking for more tips for going gluten free? I've gathered them all together, along with dozens of recipes, in this Everything Gluten Free page.
Family Night
Ever since my husband and I started having kids, we set aside a night for family each week. And we keep it like it's something sacred. Come Friday evening, you'll find my kids getting excited about pizza and what movie we're going to watch. Alas, finding a family-friendly movie has gotten quite a bit harder since my oldest was born 10 years ago, but we're still going strong on the delicious homemade pizza front!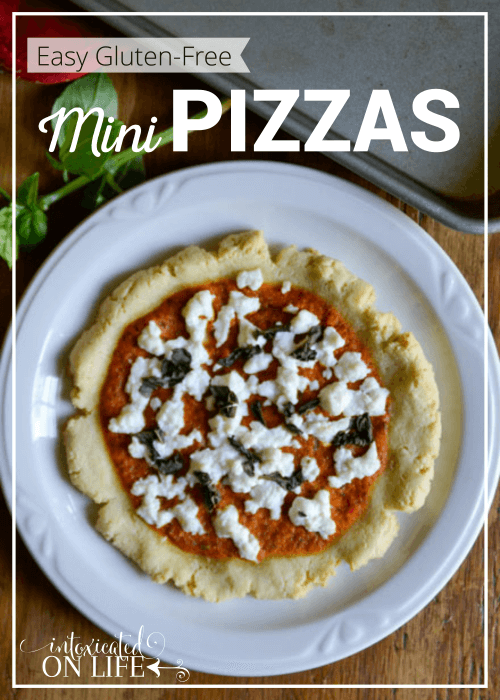 I can probably count on both my hands the times we've missed our family pizza and a movie night. If something comes up and we need to be somewhere on Friday night, we move things around so that we can have our pizza and movie together on a different night.
But I know you're not here to read about my family life. You're here for the grain-free mini pizzas. Recipe coming right up! 🙂

Gluten-free mini pizzas: Grain-free goodness!
Way back when we started our pizza nights, I was unaware of my family's history with gluten-intolerance. So I'd whip up my momma's delicious homemade whole wheat pizza crust. Then, when my digestive issues became intolerable, I'd make whole wheat pizza for everyone else and I'd make myself a gluten-free one.
I've been through many different gluten-free pizza crust recipes over the years, but since going on the GAPS diet I've needed something grain-free, yeast free, and dairy-free. These grain-free mini pizzas fit the bill nicely. They're incredibly easy to whip up, and only take a few ingredients you'll probably already have on hand if you eat a grain-free diet.
I like to top these gluten-free mini pizzas with homemade marinara sauce, fresh basil, and goat cheese from local farmer. Of course, if you don't have a problem with conventional cheese, then feel free to use mozzarella, Parmesan, or cheddar! Some homemade ranch would even make a delicious sauce. Don't let me hold you back.
But do let me persuade you to try basil and goat cheese… it's delicious. 😉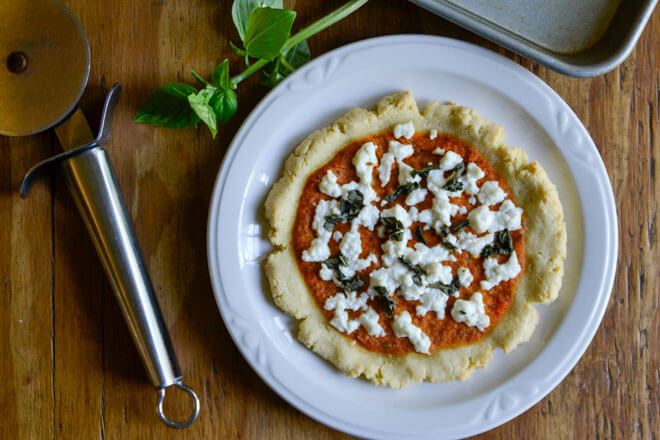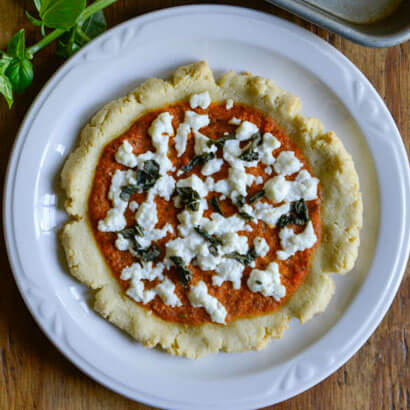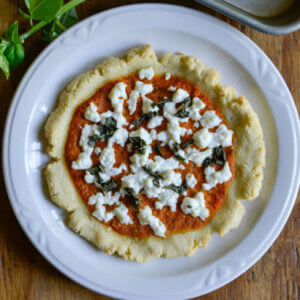 Print
Gluten-Free Mini Pizzas
No need to sacrifice pizza just because you don't eat grains! These gluten-free mini pizzas have all the fun and flavor of traditional pizza, without the gluten!
Servings:
2
6-inch pizzas
Ingredients
Crusts
1

egg

2

tablespoons

olive oil

3/4

cup

almond flour

dash sea salt
Toppings
sauce

Be sure to find sugar-free to keep the carb/sugar count low!

cheese

meat

veggies

herbs

whatever you like on pizza...
Instructions
Preheat oven to 350° and grease a cookie sheet.

Combine all ingredients in a bowl until a dough forms. Gently knead a little to combine. Divide dough in half and gently press each ball into a 6-inch disk. 

Pre-bake crusts for 7-10 minutes, until it starts to get golden-browned. Remove from oven and top. Bake again for 7-10 minutes, until cheese melts.

Enjoy!
Notes
Recipe makes 2 6-inch pizzas. Double the recipe for more deliciousness!