Gut health is the key to fighting your autoimmune disease.
A few years ago, if you had asked me what an autoimmune (AI) disorder was I would not have been able to answer the question. After I was diagnosed with Hashimoto's, I became a champion of Google research.
Now, I am well familiar with the term autoimmune disorder (or autoimmune disease) and can tell you exactly what it means.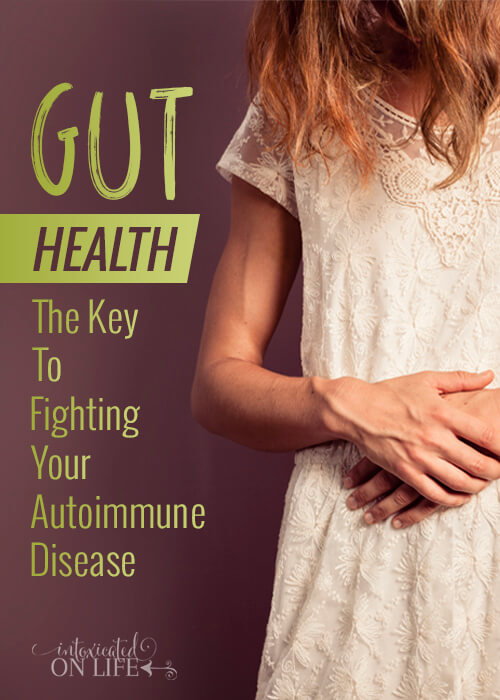 In basic terms, an autoimmune disease is your body attacking itself. A body part—for example, your thyroid when it comes to Graves disease and Hashimoto's—starts releasing antibodies and your immune system reacts to those antibodies, thus creating havoc in your body.
How can you assist your body during an autoimmune disease attack?
To assist your body during an autoimmune disease attack, you need to protect the organ that is under fire.
However, that is only part of the solution. Go back to the name itself, autoIMMUNE disease. To get a handle on these awful disorders, we need to treat the underlying problem: the immune system. 
During an AI disorder, your immune system is constantly stressed.
We need to support this system. This can be accomplished by eliminating things that cause inflammation, food allergies, getting rid of gut infections, and helping digestion.
That sounds pretty overwhelming. Believe me, I know.
Let's narrow it down a bit: 70% of our immune system is housed in the gut (your whole gastrointestinal tract—starting in your mouth, down your throat, to your stomach, through your small and large intestines, and out your anus). If your gut isn't happy, either is your immune system. Gut health is in constant need of maintenance due to our usually bad diets, the chemicals in our food, and our environment.
How do you maintain good gut health?
There are a lot of ways to help maintain good gut health for your autoimmune disease that are actually pretty easy but go a long way to insuring a happy tummy.
Bone Broth: This is a staple in my home. Bone broth is easy to make, economical and you can add it to just about any dish you already make. Broth will beef up the nutritional content of any meal while providing a natural gelatin to help soothe the digest tract. Read about 10 creative ways to get more bone broth in your diet.
Reduce Inflammation: Get rid of foods that are harsh on your system. (This can be white flour, sugar, MSG or anything that your body doesn't tolerate) Reducing the inflammation gives your system time to relax and repair. Read more about Gluten-Free tips for beginners.
Keep Things Moving: The last thing your body needs is to have your digestive tract be stagnant. Keep things moving by drinking water, skin brushing, gentle exercise. All of these things helps the digestive system work better but stimulating the organs to work better. Learn more about skin brushing here.
Clean Up Your Diet: Our foods and environment are ladled with chemicals and syenthtic items. Reducing the chemicals in our diet and our environment will aid in gut repair. If the digestive tract doesn't have to fight the chemicals then it will have time to work properly.
Probiotics: A great and easy to way to give your gut health a boost is to supplement with good bacteria. This can be a huge first step in soothing your irritated digestive system and balance the gut flora in your system. Read more about how to get more fermented foods in your diet.
Culturelle® Health & Wellness Probiotic is a supplement that contains something called Lactobacillius GG, a bacteria that helps create a balance between the good and non-beneficial bacteria in your body.*
The bacteria in Culturelle works in the digestive tract, this aids in keeping your immune system healthy.* I like this brand because you only need to take one capsule a day to get 15 billion live active cultures.**
With homeschooling, gardening, and taking care of my family, I have trouble when I need to take supplements more than once a day. Culturelle is immune-support made easy.*
By adding good bacteria to your daily routine you will be helping your body to maintain a healthy immune system by boosting your body's natural defenses.* This is a great time of year to add this supplement to your routine with all the unpleasantness going around.
Win Culturelle® Health & Wellness Products
Culturelle is offering you a chance to win a $125 gift card. All of the information you need to enter is here. There are also coupons available for discounted products. (Who doesn't love a good deal?)
And let's face it, we can all use help supporting our immune system, so this makes for a good supplement for anyone looking to improve their health.*
For me, being healthy is important so that I can take care of my family. I make it a priority in my life. Gut health is essential for health. A daily probiotic can be key.
Add Culturelle Health and Wellness Probiotic to your daily routine with 100% Lactobacillus GG to support your immune system and keep you healthy, so you can be 100% you all day, every day. It's Immune Support Made Simple.*
With the seal of approval from Good Housekeeping, you can trust the daily intake of the probiotic in Culturelle Health & Wellness to support a healthy immune system.*  Visit Culturelle's website for more information.
* These statements have not been evaluated by the Food and Drug Administration. This product is not intended to diagnose, treat, cure, or prevent any disease.
††Based on the number of Lactobacillus GG clinical studies, as of August 2014.
Culturelle Probiotics sponsored this blog post. The opinions and text are all mine.