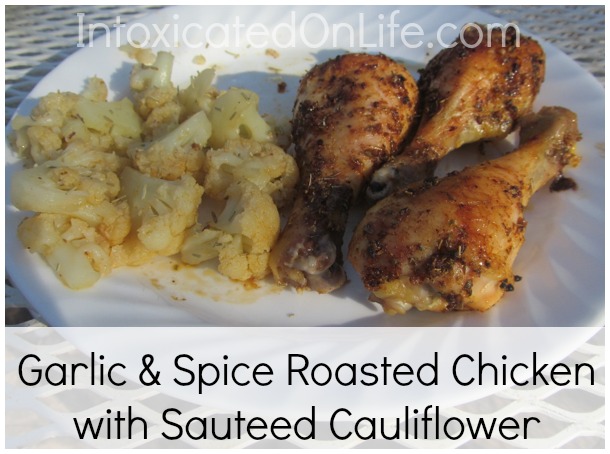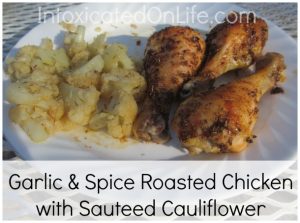 No doubt, planning healthy meals for your family, day in and day out, can be a challenge. Every mama knows it's always nice to have a few quick and easy options up your sleeve!
That is why I was so happy to see several of the cookbooks that are in the Ultimate Homemakers eBook Bundle that is selling right now (for just a couple more days).
I had the opportunity to try recipes out of several of the cookbooks in this bundle. I'm excited to checking out more of the books, but frankly, there are so many books in this bundle it will take me quite some time to go through them. That's a good thing! There are, in fact, over $100 worth of cookbooks and kitchen resources in this bundle (not to mention the other 85 eBooks and $140 in bonus products).
Here are a few recipes I've had the opportunity to try. They were quick, easy, and healthy, and on top of that my family definitely enjoyed them!
Garlic & Spice Roasted Chicken with Sauteed Cauliflower
from "Nourishing Menu Plans on a Budget"
Nourishing Menu Plans on a Budget is a cookbook with a full month of meal plans that are made from unprocessed, whole foods. Another thing I love about this cookbook is how Diana explains that it is entirely possible to eat healthy foods (including pastured meats and organic vegetables) even on a limited budget! It takes creativity, but you can do it.
Recipe posted with permission from the author. 
Ingredients:
Chicken
8 chicken drumsticks
4 cloves garlic, finely minced or
pressed
1 tsp dried oregano or thyme
1/4 tsp cayenne pepper (or 1 tsp
chili powder)
1/4 tsp cumin
1/2 tsp onion salt, or salt
2 tbls extra virgin olive oil
1/4 cup chicken broth
Sauteed Cauliflower
6 cups cauliflower, separated
1/4 cup chicken broth
pan drippings from chicken
2 cloves garlic
1 tsp salt
fresh thyme to garnish (optional)
Ranch Dressing
1/2 cup mayonnaise
1/2 cup sour cream
1/2 cup buttermilk
1/2 tsp dried chives
1/2 tsp dried parsley
1/2 tsp garlic powder
1/4 teaspoon onion powder
Directions
Chicken
In a small bowl, mix together the garlic, oregano, cayenne pepper (or chili powder), cumin, onion salt (or salt), and extra virgin olive oil. Using your hands, spread the paste onto the chicken pieces.
In a baking dish, arrange the chicken pieces and add 1/4 cup of chicken broth.
Bake at 375F for 1.5 hours or at 425F for 40 minutes.
Once the chicken is roasted, remove them from the baking dish onto a plate, cover with aluminum foil or parchment paper, and
Keep warm in the oven set at 170F.
Sauteed Cauliflower
In a large pot, bring water to a boil. Add the cauliflower and boil for 6 minutes. Drain in a colander and set aside.
Place the baking dish with it's pan drippings on the range over medium heat. Add 1/4 cup chicken broth and mix through until all the brown bits have been mixed in. Remove from heat.
In a skillet or cast iron pan, add 1/4 cup of the chicken broth/pan dripping mixture. Add the garlic and saute for 2-3 minutes. Add the cauliflower and salt and saute for an additional 10 minutes or until the flavors have incorporated. Garnish with thyme or parsley before serving.
This was a deliciously savory recipe. I typically steam my cauliflower, but I'll be making it this way more often now. The flavors of the cauliflower sauteed in chicken broth, pan drippings, and garlic melded together beautifully.
My family enjoyed every last bite! And mama enjoyed that it was easy to prepare and nourished our bodies.
.
Herb Stuffed Salmon
from "20 Minute Meals"
I paired the salmon with fresh slices of cauliflower and the sweet potato recipe from another book included in the bundle, Crock On. This salmon recipe came from the book 20 Minute Meals. I love the rules of this book:
No microwave
No processed foods
Must include whole, real foods
Must be on the table in 20 minutes
My husband loved this recipe! This is a great healthy way to cook salmon. Another healthy meal for the fam. Quick and easy: check!
.
Mexican Chicken Chowder
from "Crock-On"
Recipes from Crock-On, won't be ready in 20 minutes, but they are easy, no-fuss meals for when you have busy afternoons and evenings. Quickly throw it together in the morning and sit down to a health home-cooked meal at night.
Where most crock-pot cookbooks rely on processed mixes and canned soups, the focus of Crock-On is whole nourishing foods. This is a fantastic addition to any Mamas meal-planning arsenal.
This recipe was a cinch to throw together in the morning. We had grilled chicken two days prior so I made sure to make some extra so I wouldn't have to do any cooking the day of my crock pot recipe. I'm all about doubling up when I can! I did modify this recipe a bit and cut the corn as our family is avoiding all corn products right now (yeah, not an easy task).
My oldest son thought this recipe was awesome. I couldn't believe how much he ate! If you're craving Mexican food (like I am almost daily), this is sure to kill that craving.