I'm not really a bath person, but every once in a while I have the urge to get in the bath if for no other reason than to use one of these fizzy lavender essential oil bath bombs. I know. Goofy, right?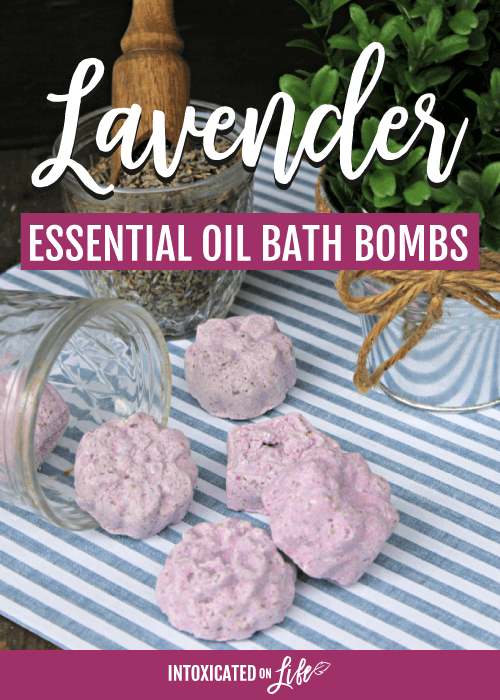 I'm not one of those daily, weekly, or even monthly bathers (showers for this girl—in and out, get the job done!). So when I finally take the time to slow down and take a bath, it's always because I'm tired, sore, and usually achey. The hot water and the ingredients in these lavender essential oil bath bombs are the perfect before-bed recipe for relaxation and relief!
Key Bath Bomb Ingredients
What makes these lavender essential oil bath bombs so awesome (and effective)?
Glad you asked!
Epsom Salts
You don't want to salt your food with epsom salts, but they do make a fantastic addition to your relaxing bath. Epsom salts break down into magnesium and sulfate when dissolved in water.
There's a number of well documented benefits of using them in your bath. I use them in this bath because they…
ease pain
decrease inflammation
relax nervous system
help with congestion (you know, when you're fighting that nasty cold the kids brought home from school!)
Baking Soda
Baking soda has all kinds of health benefits. It's not just good for cooking. I use it in this particular recipe because it's great for…
relieving pain and tension
promoting perspiration (get rid of those toxins!)
boosting circulation which encourages healing
Lavender
Lavender is one of the must-have essential oils you should have in your bathroom cabinet (just getting started with your oil stash? Here are my top 10 most versatile oils you should get started with.)
It's perfect for your night-time bath because it's calming and relaxing. It helps ease feelings of tension and promotes a restful night sleep.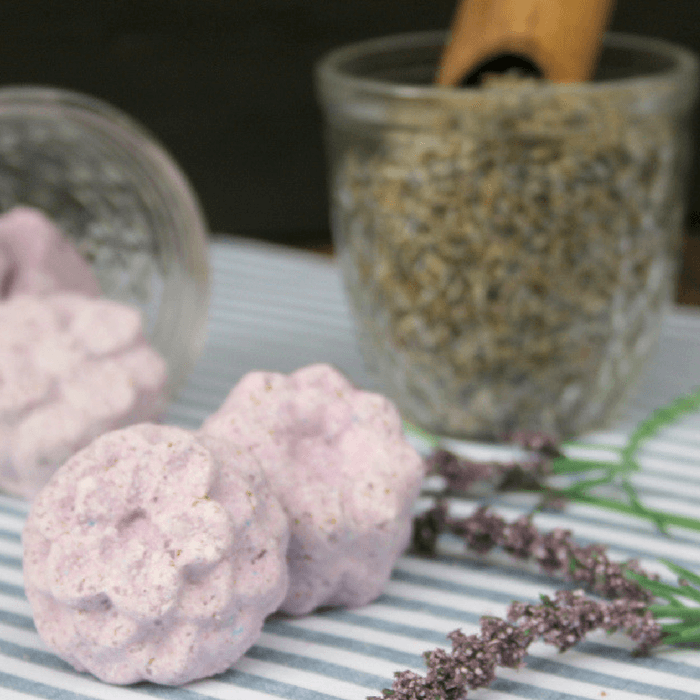 Lavender Essential Oil Bath Bomb Recipe
Ready to get started? You're going to love these lavender essential oil bath bombs. And your kids are going to beg to have them in their nighttimes baths. And they won't even realize the fizzy bath bombs they love so much are making them sleepy and ready for bed (shhh…they can be your secret weapon).
Ingredients
1 cup baking soda
1/2 cup cornstarch
1/2 cup Epsom salts
1/2 cup citric acid
2 tablespoons dried lavender
3 tablespoons coconut oil
25 drops of lavender essential oil
Blue and red or purple food coloring (optional)
3/4 tablespoon water
Silicone mold
Directions
In a medium size bowl, add all your dry ingredients (first 5 ingredients.)
Add coconut oil to dry ingredients and mix well. If you have solid coconut oil, gently heat until it becomes liquid.
Add your essential oils and mix well.
For greater visual appeal, add food coloring and mix until well combined
The mixture should be crumbly, but still stick together. If it will not form a ball, add a bit water, but do so quickly or it will start to fizz!
Scoop mixture into your molds. Be sure to pack the mixture into each mold very tightly. It should be nice and compact.
Allow to set for 2 hours and pop out gently. Store in an airtight container until ready to use.

Alternative Relaxing Essential Oils for your Bath Bomb
If you're looking to mix things up a little bit, you can switch the essential oils you use in your bath bombs. Below are some of my favorites
Bergamot
Ylang ylang
Chamomile
Serenity relaxation blend