When I went off to college, I was, what you might call, "life-skill-impaired." Cooking consisted of food from a can or bag, heated up in the microwave. I never really knew how much money I had or needed. I ran out of clean underwear more frequently than I care to admit.
Some of the most valuable things we know as adults aren't taught in a classroom, a lecture, or a sermon. This is because the most basic life skills are better learned by watching and doing.
In his book, Revolutionary Parenting, George Barna tells parents, "Own a detailed vision of what your child will blossom into as an adult." Picture your son or daughter as a well-adjusted, thriving adult. Ideally, what life skills should they have?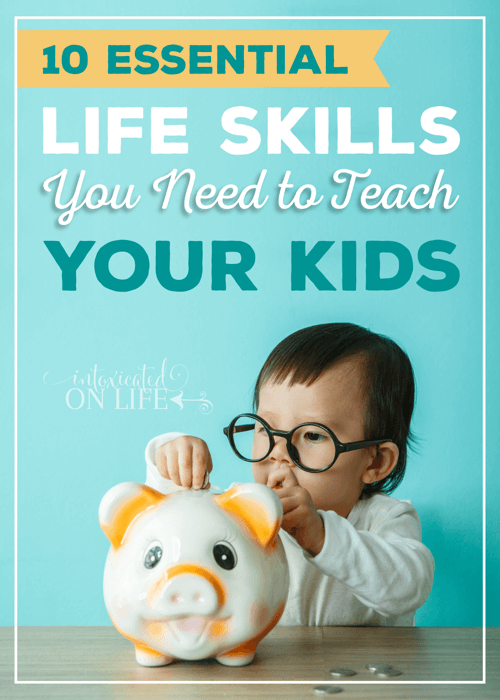 Here's a detailed vision of 10 essential life skills to teach your children, along with some simple tips for how to do these things.
* Big Takeaway
In all these skills, the basic principle is this: involve your kids in the process of living. Take them with you when you do basic chores and tasks—vocalize what you are doing and why.
1. Money Management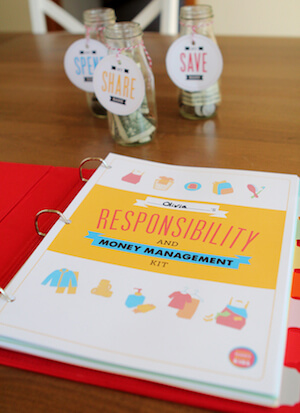 Kids need to know that money doesn't grow on trees. You need to work for it, save it, budget it, and spend it wisely.
Sit down with your kids to create a simple, crude budget with them (envelopes for saving, spending, and sharing).
When you are out shopping, vocalize to your kids why you choose the products you do—and why it pays to be frugal.
Don't bail your kids out when they spend all their money—let them feel the weight of that consequence, even if it means them missing out on an amazing opportunity.
Let your kids experience the joy of saving up for something and paying for it themselves.
An excellent printable book to help you is Kid's Responsibility & Money Management Kit, by Stephanie Morgan. It includes printable sheets to help your child keep track of what they "Save," what they "Spend," and what they "Share" with others.
2. Body Care
As kids get older, they need to learn how to wash their bodies and hair. When they are young, vocalize to your kids how you are washing their body (as you do it) and why. As they get a little older, have them wash their own bodies while you supervise.
Teach kids how to brush their teeth properly, especially the often-missed gum line and tongue. Do it for them at first, then watch them do it—you will need to do this every day for several weeks to make sure they have it down.
In the middle childhood years and pre-teen years, teach your kids about deodorant and help them to remember to apply it—attach it to a routine they already do, like brushing their teeth.
3. Social Etiquette
Child should be taught basic manners and social etiquette:
saying "please"
saying "thank you"
how to answer the phone
looking people in the eye when you talk to them
using someone's name when you address them
not interrupting
Use sibling interactions as training ground to learn how to resolve conflicts, how to share, and how to handle disagreements. Coach your children through conflicts calmly.
4. Cooking Nutritious Food
Have your kids join you in the kitchen and vocalize what you are doing when you cook. Make cooking a family affair and involve them in age-appropriate tasks.
Eventually, as kids get older, assign them the task of making a whole meal for the family (with supervision at first).
When you're shopping at the store, teach your kids why you buy the foods you do by comparing food labels.
Katie Kimball has designed a whole eCourse teaching kids to cook (which is fantastic).
5. Civic Service and Volunteerism
Volunteer together as a family on a routine basis. There are many activities where kids can get involved or come along with you: Ronald McDonald House, Meals on Wheels, food pantries, walking fundraisers, visiting a local nursing home, and park clean-ups. Or just call a local volunteer center and ask them about opportunities in your area.
Involve your family in routine "random acts of kindness" to your neighbors or community.
As kids get older (10+) have them get involved in organizations like Youth Volunteer Corp, Habitat for Humanity, or DoSomething.org.
6. Study Habits
Children need to learn good study habits if they are going to succeed academically. The most effective habits are often the simplest and most basic.
Schedule a time. Don't study "when you get time." Make time. Tell your child to treat studying like they treat any other homework: set aside time to do it.
Eliminate distractions. Help your child create a quiet space at home where distractions are minimal. Help your child recognize the difference between something they need to study and something they don't need (for instance, a computer can be helpful to study, if it is needed, but much of the time it just a distraction).
Write to learn. If your child is preparing for a quiz or test, have them write out the things they need to know, such as on flashcards or an outline.
Orally review material with others. Study groups can be a big help.
Commit to studying for a certain amount of time, then reward yourself with a small break.
7. Cleaning and Laundry
Come up with chores that are age-appropriate to give your children responsibilities for household maintenance (click that link above for a list of chores and a printable chore chart).
Set rules and expectations about cleaning, establishing consequences if those rules are broken (like giving toys away that aren't put away).
When cleaning the house, make it a point to ask your kids to join you and then give them age-appropriate tasks to help you. Make this a routine until your kids can do specific tasks on their own.
8. Car Maintenance
When taking care of your vehicle, bring your child with you to show them what you are doing.
Show your child simple tasks every car owner should know how to do: check tire pressure, check tread on tires, check fluids, check the battery, and replace windshield wipers.
If you have the means, teach your child how to change the oil, change filters, replace spark plugs, and flush the radiator.
Even if you pay to have these things done for you by a mechanic, bring your child along so they see the importance of these tasks.
When your teen gets old enough to drive, give him or her a checklist of important car maintenance tasks. Have them look up how often they should be done, and then have them mark their own calendar for the next year or two years for checking on or doing these tasks.
9. Responsibly Using the Internet
The Internet is an incredible tool, but it also comes with certain pitfalls.
Monitor (don't spy) on your kids using Internet accountability software. When you notice small problems, use them as opportunities to talk.
Teach children that time online should be informative, engaging, and purposeful, but too much of it can rob us of better ways to learn and engage. Set limits for your child.
Teach children to never download programs that aren't from vendors you approve of.
Teach children to approach online interactions (especially with strangers) with a healthy sense of distance and distrust. People are not always who they claim to be.
Teach them nakedness is meant to be a private thing, not something broadcast to others. Coach your children about the dangers of pornography before they ever run into it.
10. Prayer