Who doesn't enjoy a hearty skillet dinner? I myself love them because they're easy to make and the mess is greatly reduced because there aren't a ton of pots and pans to clean.
Plus, it gives me a chance to use my cast iron pan. I'm convinced cast iron makes everything taste just a little bit better.
Looking for gluten-free recipes and resources? This Everything Gluten Free page is a library of everything gluten free we've worked on.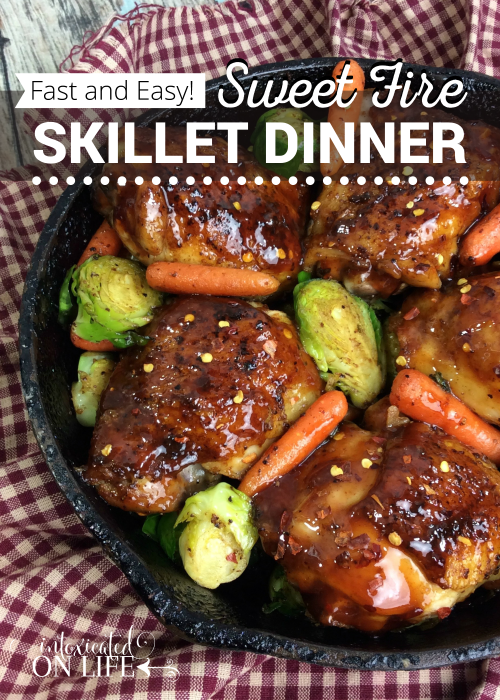 You'll notice this recipe uses coconut aminos. Have you tried this before? It's a liquid made from coconut sap. It's dark and salty and a little sweet. It's similar in taste to soy sauce—but without the soy. It's also gluten-free!
If you're like me and always looking for a way to keep your family's sugar intake on the low side, this recipe has you covered. I use a honey alternative and a no-sugar-added ketchup.
Choose Your Ingredients Wisely
You need 4 chicken thighs for this skillet dinner. Thighs are richer and more tender because they have a higher amount of fat than chicken breasts. (This is the reason I use thighs in my white chicken chili as well.)
No to mention: thighs are cheaper.
Brussels sprouts should be bright green, firm, and the leaves should be tightly packed. If they have black spots or leaves that are turning yellow, you don't want them.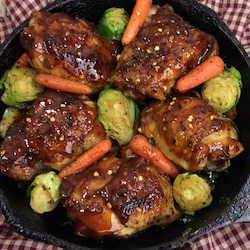 Print
Sweet Fire Skillet Dinner
Ingredients
4 chicken thighs, boneless and skinless
2 cups Brussels sprouts
2 cups Baby carrots
3 tbsp. Honey (we use Pyure honey alternative for low sugar option) http://a.co/7kV2M4X
1/4 cup Ketchup (we use no-sugar-added ketchup)
1.4 cup Coconut Aminos http://a.co/1MU2jKT
2 tbsp. Crushed red peppers
Sea salt
Olive oil
Instructions
Pour a tablespoon of avocado oil, or your favorite cooking oil in a cast iron skillet.
Pour the soy sauce, ketchup, and honey into a bowl and 2 tablespoons of crushed red pepper and combine.
Place the cast iron skillet on a medium- high burner, add the thighs and begin to cook it. Watch the thighs and turn as each piece cooks.
Cook 5-8 minutes on each side. Remove the thighs.
Slowly add the prepared veggies. Sautee them and season them with sea salt.
Dip each chicken thigh into the sauce and make sure to cover each side.
Return the thighs to the skillet to warm.
Reduce the heat to medium and let simmer for 10 minutes.
Serve!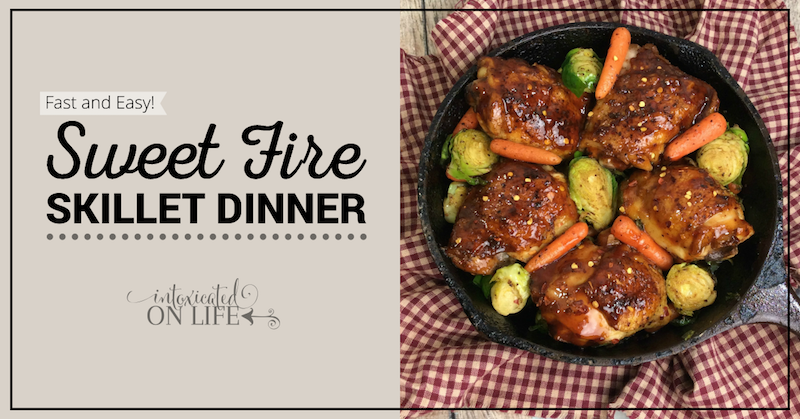 Doesn't it sound yummy? It's great any time of year, but when the air begins to feel a little crisp, it's especially delish.
As I said, a great skillet dinner is one of life's great gifts to busy moms and busy families. Always have some ingredients on hand to whip up something amazing without making a huge mess.
Do you have a cast iron skillet? They are handed down from generation to generation for good reason. If no relative has offered to give you theirs, never fear. This cast iron skillet is pre-seasoned and very affordable. You won't regret buying one, and hey, maybe you'll pass yours down to someone who'll cherish it someday!
Thank you for popping by to grab this recipe. I hope your family flips for it. If you have any terrific skillet dinner recipes, would you share them with me? I'm always on the lookout for more quick and easy meals.
Sharing at Pam's Party & Practical Tips, Denise Designed, and The Modest Mom Blog.