Go north, go north with wings on your feet
North with the wind, where the three rivers meet
Look all around you and see
Deep in the forest, there dragons will be.
Oxford scholar C.S. Lewis remarked about how in his youth he developed an intense obsession with "northernness"—the mysterious northern lands of Britain and Scandinavia and their dark Norse myths that represented for him the embodiment of an unreachable, imaginary land. He recalls how, at certain points in his life, he would be shot through with "the stab, the pang, the inconsolable longing" for another world.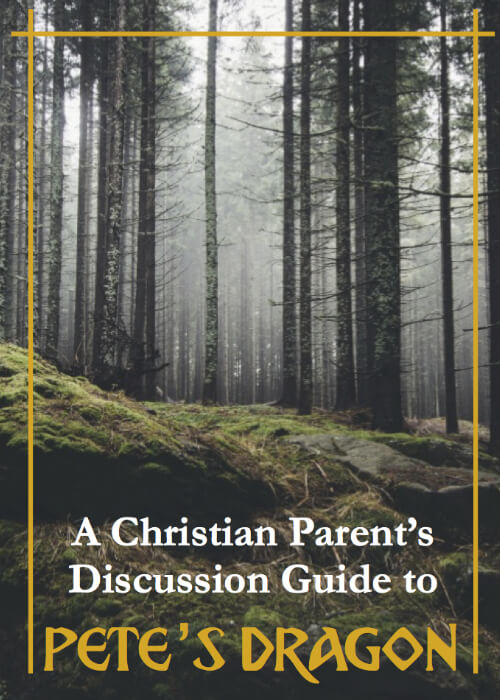 This is far more than just an escape into childhood fantasy. It is something we've all experienced: an echo of heaven in the natural world, a sort of spiritual nostalgia, an unbearable pleasure, a homesickness to return to a far country from which we've never been. Unconsciously chasing echoes of that far country, it eventually led Lewis to Christ.
He called this longing by many names, but in his autobiography he simply called it joy—and it all began with an arrow shot from the north.
Disney's Pete's Dragon (2016)
This is how Disney's new film, Pete's Dragon, begins (and ends): a fascination with the northern mountains where the dragons live. It is said that every once in a while a dragon loses his family and wanders south into the deep forests of the Pacific Northwest—and if you're lucky, you just might see one.
Meacham (Robert Redford) is the only one in his small logging community to have seen a dragon in the woods. When not embellishing the tall tale for children, in quiet moments of reflection he describes the fear and wonder of the experience, the "magic" of seeing the creature. And indeed, that's exactly the feeling the movie captures for audiences: magic.
Plot Summary: Pete's family is involved in a terrible car accident on a remote road. Four-year-old Pete survives the accident, but his parents do not, leaving Pete stranded in the deep woods. Soon after the accident, Pete meets an enormous dragon he names Elliot. Six years pass, and Pete is still living in the woods with Elliot, the two having forged a deep bond of friendship. Trouble ensues when Pete and Elliot begin to interact with local loggers, not only exposing Pete to the civilized world but exposing Elliot's existence to the small town.
Nothing Like the Old Movie
If you're like me, you grew up watching the 1977 original film by the same name. If you're looking for a "remake" of the film, don't look for it here. Aside from the obvious similarities of Elliot, a green dragon (who can become invisible), taking care of an orphaned boy named Pete, the parallels between the two films are minimal. You'll hear no musical throwbacks to the original musical score, no recognizable antagonists, and none of the same slapstick comedy.
Safe for Kids
We took our twin 5-year-olds to see the film and thought it was very appropriate for them.
Aside from the obvious intensity of seeing a large fire-breathing dragon, the film is relatively tame and violence is minimal. Some kids might find those scenes unsettling or even sad.
There was no profanity.
It is implied that the female lead, a park ranger named Grace (Bryce Howard) is living with her fiancé Jack (Wes Bentley), but there are no romantic interactions between them.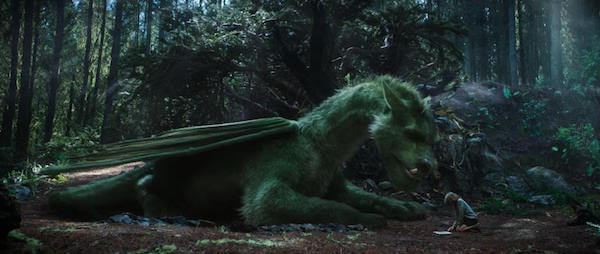 Discussion Questions for Kids
Rather than just passively watching films, discussion questions help us to engage the minds of our kids after the movie is over. You might choose to use all of these questions, or just one or two of them.
For Younger Kids:
How do you think Pete felt after the car accident? Talk to your kids about how God designed us to be raised in a loving family, but there are times when bad things happen, leaving kids orphaned, without parents. Talk about how wonderful it is that we can adopt orphans to give them loving homes, just like Jack and Grace do for Pete at the end of the film.
Do you remember when Pete was running through the woods, jumped off a high cliff, and was caught on Elliot's back? Why wasn't he scared to do that? Pete trusted Elliot completely. There wasn't a doubt in his mind that Elliot would catch him. Talk to your kids about what trust is, that this is how Christ expects us to treat Him: with childlike faith.
Why did Pete howl when he was sad or afraid? Having lived around the animals for 6 years, this was what he had learned to do. We tend to follow the examples of those around us, which is why it is important to surround ourselves with good influences.
Why did Gavin (Karl Urban) want to capture Elliot? He wanted to be famous. The movie shows us things like friendship and love are more important than being famous.
For Pre-Teens and Teens:
Meacham reminds his daughter that just because you've never seen something doesn't mean it doesn't exist. Can you think of any real-life examples? An obvious example is God: most people on Earth have never seen God, but Hebrews 11:1 says that's what faith is: it is the assurance of things we hope for, the conviction of things not seen. Another example might be things that people have seen in the past: angelic appearances, miracles, famous Bible characters, etc.
Do you think the film does a good job balancing the importance of protecting our environment and using natural resources for our good? Allow your child to respond to this. In some ways the engagement of a park ranger and a manager of the logging company is reflective of the importance of both needs: caring for the Lord's world and using the Lord's resources. Little conflict is seen in the movie between these often-competing desires.
Pete's Dragon is a modern day fairytale. Some people object to fairytales because they think it promotes "escapism"—retreating into a world of wish-fulfillment and not facing the problems of the real world. Do you think this is true? Allow your child to respond to this. Certainly anyone can use stories in a way that leads to unhealthy escapism, but C.S. Lewis had a different view of fairytales. Have your child read this excerpt below and respond to it.
C.S. Lewis on Fairytales and Escapism
Do fairy tales teach children to retreat into a world of wish-fulfillment—'fantasy' in the technical psychological sense of the word—instead of facing the problems of the real world? Now it is here that the problem becomes subtle.
Let us again lay the fairy tale side by side with the school story or any other story which is labeled a 'Boy's Book' or a 'Girl's Book', as distinct from a 'Children's Book.' There is no doubt that both arouse, and imaginatively satisfy, wishes. We long to go through the looking glass, to reach fairy land. We also long to be the immensely popular and successful schoolboy or schoolgirl, or the lucky boy or girl who discovers the spy's plot or rides the horse that none of the cowboys can manage.
But the two longings are very different. The second, especially when directed on something so close as school life, is ravenous and deadly serious. Its fulfillment on the level of imagination is in very truth compensatory: we run to it from the disappointments and humiliations of the real world: it sends us back to the real world undividedly discontented. For it is all flattery to the ego. The pleasure consists in picturing oneself the object of admiration.
The other longing, that for fairy land, is very different. In a sense a child does not long for fairy land as a boy longs to be the hero of the first eleven. Does anyone suppose that he really and prosaically longs for all the dangers and discomforts of a fairy tale?—really wants dragons in contemporary England? It is not so. It would be much truer to say that fairy land arouses a longing for he knows not what. It stirs and troubles him (to his life-long enrichment) with the dim sense of something beyond his reach and, far from dulling or emptying the actual world, gives it a new dimension of depth. He does not despise real woods because he has read of enchanted woods: the reading makes all real woods a little enchanted. This is a special kind of longing.
The boy reading the school story of the type I have in mind desires success and is unhappy (once the book is over) because he can't get it: the boy reading the fairy tale desires and is happy in the very fact of desiring. For his mind has not been concentrated on himself, as it often is in the more realistic story.
– C.S. Lewis, "On Three Ways of Writing for Children"