Thanksgiving is almost upon us.
For many families, it's a season full of traditions.
Whether those traditions are centered around family togetherness, service to those in need, jovial feasting, or some combination of all three, Thanksgiving is a holiday full of significance.
Yes, having a holiday set aside to reflect on our blessings and thank God for them is a good thing.
But in a culture immersed with entitlement and greed, it's increasingly important to teach our kids to have a spirit of gratitude all year long.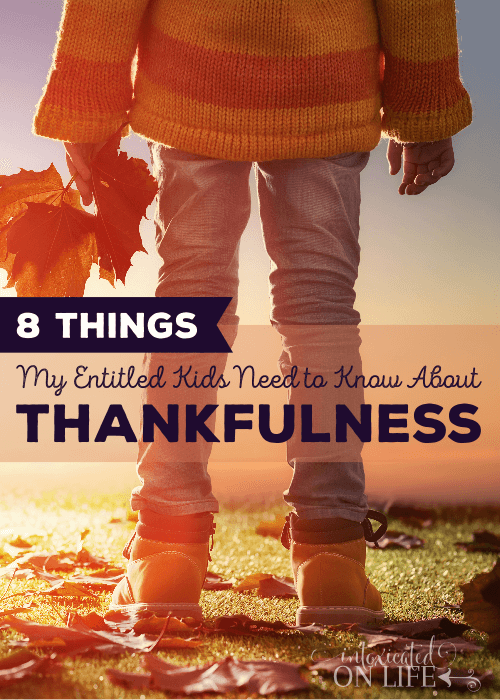 Don't believe me? Here's what God has to say about it.
What the Bible says about thankfulness
It's God's will. Whatever other reasons we have for being thankful, for a Christian, this is the primary one. We don't have to pray about it; we don't have to seek counsel about it; we just need to do it, because He has already told us it is His will for us.
Give thanks in all circumstances; for this is the will of God in Christ Jesus for you. (I Thessalonians 5:18)
It roots out complaining. Gratitude is the antidote for a complaining spirit. We see how seriously God takes complaining in Numbers 11 when His anger was kindled and blazed hotly against the Israelites for something we tend to excuse as an understandable offense. Nurturing a heart of thanksgiving helps overcome our natural desire to grumble.
Do all things without grumbling or questioning. (Philippians 2:14)
It promotes a God-centered worldview. Selfishness and pride are natural human conditions, but a Christian realizes that blessings come from God. Making it a habit to thank Him for those blessings keeps us mindful that they came from Him (and not from ourselves) in the first place.
And whatever you do, in word or deed, do everything in the name of the Lord Jesus, giving thanks to God the Father through Him. (Colossians 3:17)
It prepares the way for praise. Thanksgiving and praise go hand-in-hand. Our God is worthy of our adoration and our praise; a heart fixed on gratitude easily acknowledges this and actively participates in worship.
Enter His gates with thanksgiving, and His courts with praise! Give thanks to Him; bless His name! (Psalm 100)
It acknowledges God's sovereignty. Giving thanks to our good God helps us remember that He is the source of our provision, and that He can be trusted to be faithful in sustaining us.
Do not be anxious about anything, but in everything by prayer and supplication with thanksgiving let your requests be made known to God. (Philippians 4:6-7)
It's a testimony to others of God's goodness. David recognized this and set an example for us when he prayed "in the presence of the whole assembly," giving thanks and praise to God. (1 Chronicles 29) Thanking God in the presence of others for what He has done in your life is a powerful testament to His character and His provision.
Give praise to the LORD, proclaim His name; make known among the nations what He has done. (Psalm 105:1)
It glorifies God. The writer of Psalms admonishes us to give God the glory He is due (29:2, 96:8), and a primary way we accomplish this is by offering thanks to Him.
The one who offers thanksgiving as his sacrifice glorifies Me. (Psalm 50:23)
God deserves it. For His grace, His mercy, His love. For His Spirit within us, His Son who died for us, His Word that guides our path. For our material blessings, our physical health, our relationships and experiences. For all this and so much more, He is worthy of our gratitude.
Give thanks to the Lord, for He is good, for His steadfast love endures forever. (Psalm 136:1ff)

How to help your kids practice giving thanks
Hopefully you're convinced of the importance of giving thanks to God. Here are some resources you'll find helpful when you consider what that looks like for your family. Some of these ideas pertain specifically to the Thanksgiving holiday, but can easily be amended for year-long practice.
How have you cultivated a spirit of thanksgiving in your family? What benefits have you seen from this training?