I'm kinda funny about chicken. All right, I admit it. I don't really like chicken that well. I'd much rather have beef or pork. Chicken is just kinda…blah. But, if I am going to eat chicken, eating chicken with a Mexican flair, like this Fiesta Chicken, is the way to go. Chicken with homemade salsa or creamy guacamole definitely ups the yum factor. And having an easy to throw together recipe, like this one, is always a bonus for this busy mama!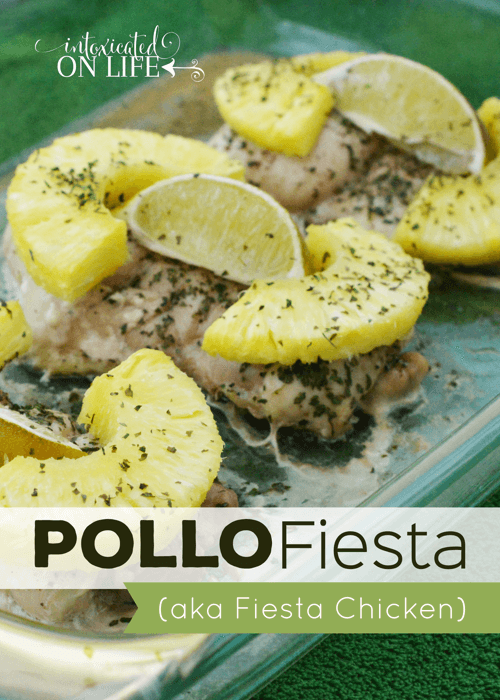 A few things to know before making Fiesta Chicken…
I think one of the things that has turned me off to chicken is learning how they're raised. I'm not fooling, it's pretty nasty guys. A few things to keep in mind about conventionally raised chickens…
They're under a high amount of stress from being raised in very cramped industrial shelters. While you might not be all that concerned about the mental stress of a chicken, I can assure you it has a great impact on a meat (stressed out chickens aren't nearly as tasty, that's for sure).
The feed the chickens receives often includes animal byproducts (i.e. ground up animal parts and animal droppings…yum, yum), sewage sludge, and soybeans. This, as you might guess, decreases the nutrient profile and increases the toxic load in the meat you're eating.
Not only does chicken feed often have pesticide residue on it, but chickens and the chicken houses are often sprayed down with pesticides. Again, not something I'm particularly keen in putting into my body and especially not the bodies of my growing kids.
There is widespread use of arsenic in chicken feed—while it's not the most toxic form of arsenic, it's certainly not good for your body.
I don't say all of this to terrify you, but so you can be an informed consumer. Obviously, people aren't dropping dead on the spot from eating conventionally raised chicken. But I have no doubt that eating this type of chicken on a day-to-day basis is having a negative impact in the long-term on the health of many Americans.
You can find chicken that is raised without all that nastiness!
If you're looking for a good source of grass-fed meat,
Butcher box
has high-quality meat that they will deliver right to your door.
If you use this link to Butcher Box, you can get FREE meat in your first box!!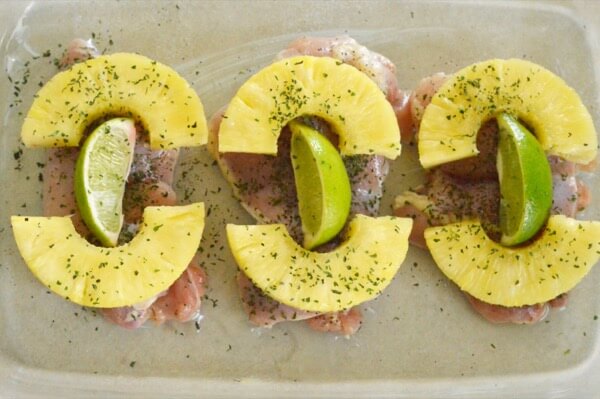 What to Look For on Your Chicken Label
When you go to the grocery store, be aware some labels are worthless. For instance, "raised without hormones." Ummm…hello, the US law prohibits the use of hormones in chickens. Don't pay extra for that one. Another worthless one is "natural." It sounds good, but a chicken can have all of the above mentioned issues, and still be called "natural."
Below are some labels to look for instead…
"Pastured" or "Pasture Raised"
These chickens have been partially raised on pasture to eat bugs, seeds, grasses, etc. Having this denotation will ensure they have a higher nutritional content.
"Organic"
Becoming certified organic is no small feat for a farmer. These chickens must receive organic, non-GMO feed, with no animal byproducts, and no sewage sludge. They must also have outdoor access, not been exposed to synthetic pesticides in their feed or grazing areas.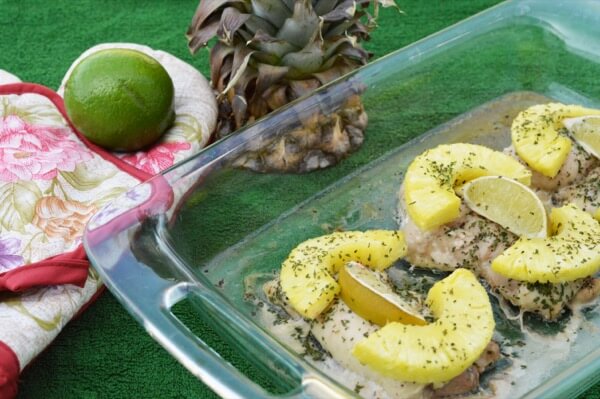 Buying from Local Farms
While finding organic and pasture-raised chicken can be difficult and often-times expensive at your local grocery store, there are other often, more-affordable options. Look for local farms to purchase your chicken from. Often these small farms use organic standards, or better than organic standards, but have not gone through the process of being certified by the government given the pricey and lengthy process. Talk to the farmer and ask questions.
Now that you know how to buy chicken, let's get on with the recipe! You can use boneless skinless chicken breasts for this meal, or boneless skinless thighs for more flavor and to save a little money. Either way, Fiesta Chicken is delicious!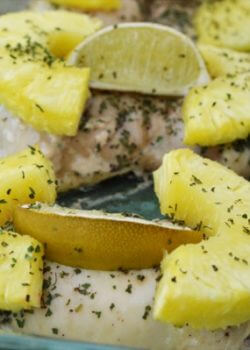 Print
Pollo Fiesta (aka Fiesta Chicken)
This flavorful meal is sure to be a hit with your family, especially if you love food with a Mexican flair!
Ingredients
3-4

Boneless Skinless Chicken Breasts

1

Lime

4

Pineapple circles

canned or fresh works

2

teaspoons

Cilantro flakes

1

teaspoon

Salt

1/2

teaspoon

Pepper

1/8

teaspoon

Cayenne Pepper

optional
Instructions
Place the chicken breasts in a 9x13 baking dish. Be sure to line the dish with butter or cooking spray.

Salt and pepper the chicken and then cover each chicken breast with cilantro flakes.

Cut the pineapple circles in half. Lay one half on one end of the chicken and the other half on the other end.

Slice the lime into wedges and place one wedge in the middle of the chicken and two pineapple slices.

Sprinkle with cilantro flakes one more time. If you are looking for a little spice, sprinkle the chicken with a little cayenne pepper before baking.

Place in oven and bake for about 30 minutes at 350 degrees or until chicken is cooked through.
Nutrition
Calories:
137
kcal
|
Carbohydrates:
11
g
|
Protein:
18
g
|
Fat:
2
g
|
Saturated Fat:
1
g
|
Cholesterol:
54
mg
|
Sodium:
681
mg
|
Potassium:
401
mg
|
Fiber:
1
g
|
Sugar:
8
g
|
Vitamin A:
80
IU
|
Vitamin C:
12
mg
|
Calcium:
19
mg
|
Iron:
1
mg