Hearty and comforting, this quick and easy potato soup will be sure to become a regular in your house.
Easy Potato Soup for the win.
There are many, many types of food that I love dearly, but my favorite is definitely anything that falls into the category "easy." With five kiddos running around, homeschooling, etc., easy is something that is quite important to my life!
Soups usually fall into the easy category, and therefore they make it onto my menu often. While some of our favorites are my Quick & Easy Veggie Lentil Soup, and my Chicken & Sweet Potato Chipotle Chili, there is definitely a soft spot in my family's heart for easy potato soup.

All the potatoes.
Potatoes might look like a humble food, but they're really packed with nutrients. Not only are they full of vitamin B6, B3, and C, they also contain copper, manganese, phosphorus, fiber, and more potassium than bananas! That's pretty impressive for a veggie you dig out of the dirt.
Not only are potatoes full of nutrients, they're also pretty cheap, which goes nicely with the whole "easy" thing. They whip up quickly into scalloped potatoes, potato salad, or make a nice carrier for sloppy joe filling.

Instant Pot love.
Lately, my favorite way to make potatoes has been in my new favorite toy appliance, my beloved Instant Pot®. Not only does it make meat fall-off-the-bone tender in minutes, it cooks beans and potatoes in no time flat! And soups have never been more easy.
Easy potato soup is usually fairly quick to make anyway, but with the Instant Pot, easy gets taken to a whole n'other lever. Even though this easy potato soup recipe is basically just a chop 'n dump one, I do love sautéing my onions in butter or bacon fat before adding the remaining ingredients. It really brings out their flavor and adds a wonderful delicious depth to the soup.
Quick & Easy Potato Soup in the Instant Pot
Ingredients
1/2

yellow onion

diced

2

T.

minced garlic

2

T.

butter

bacon grease, or tallow

8

medium-sized russet potatoes

chopped (peeling optional)

1

qt.

stock

beef, chicken, or veggie

2

t.

parsley

1/2

t.

dill

1

t.

salt

1/4

t.

pepper

1/2

c.

sour cream
Instructions
Turn on the Instant Pot to 'saute.' When hot, saute the onions in butter/fat until golden-brown. Add in garlic, stir around, and turn the IP off.

Add in potatoes and remaining ingredients. Cover the pot with the lid, close the vent, push 'manual' and set for 7 minutes.

When the pot beeps, quickly release the pressure.

Stir potatoes around roughly to mash them up, then stir in sour cream and serve.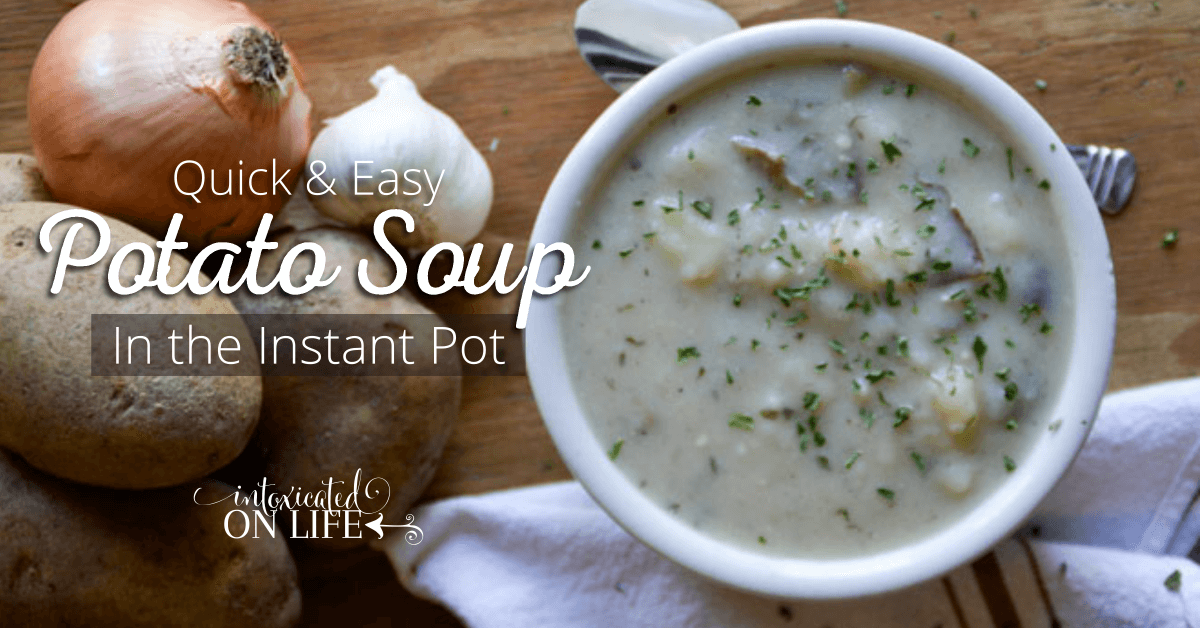 Love soup? Check out our Soup and Stew recipes for more inspiration!
Sharing at The Modest Mom Blog, Create with Joy, The DIY Mommy, Raising Homemakers, Saving 4 Six, Pam's Party & Practical Tips, and Denise Designed.