I just love pancakes. This grain-free sweet potato pancake recipe is the best comfort food and the perfect delicious way to enjoy a Saturday brunch.
When I am pregnant, pancakes have been one of the comfort foods I frequently long for. Those cravings are for real—what everyone says about pregnancy cravings is true. Listen to those who tell you about pregnancy cravings (just don't listen when Grandma Janie tells you that holding a black cat will steal away your baby's soul).
Though, now that I am thinking about it, when hasn't there been a Saturday morning that I haven't wanted pancakes—pregnant or not? I certainly can't think of one. I think that would be an impossibility.
Pancakes are for always. Pancakes will never let you down.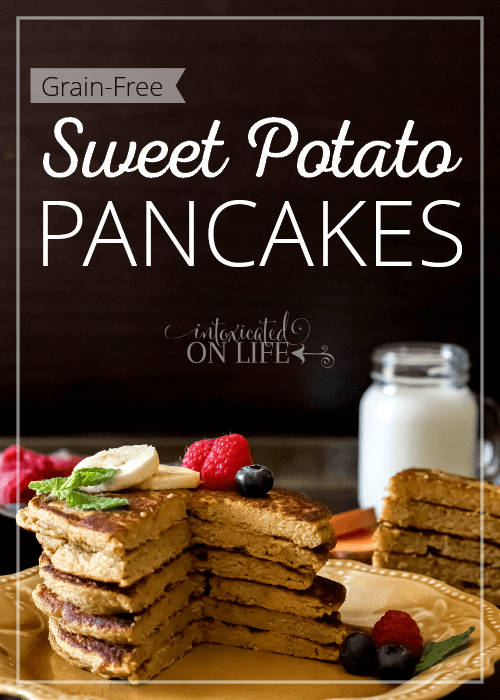 As wonderful as pancakes are however, traditional pancakes are the grain-free, allergy-free, and sugar-free eater's worst nightmare.
Flour.
Milk.
Sugar.
Various unpronounceable ingredients (if you happen to buy the packet mix).
They're all present—present and waiting to really steal away your soul. Okay, maybe not your soul, but certainly they aren't doing your health any favors.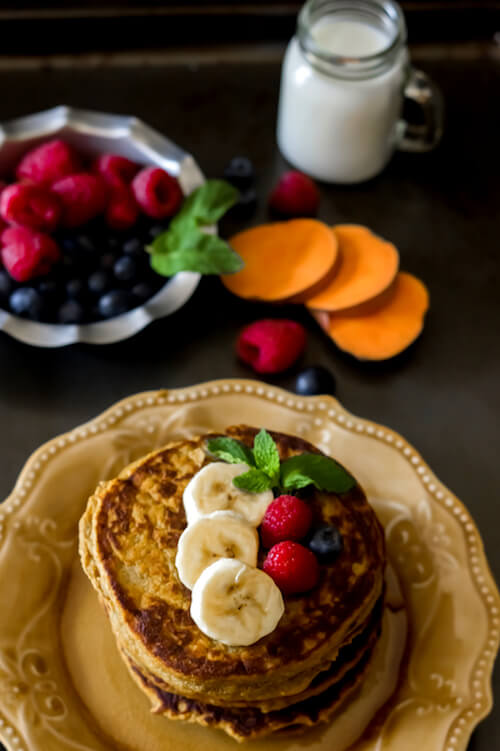 That's where this delectable sweet potato pancake recipe comes in. These particular pancakes are particularly good for you and your family because they are grain-free, and one of the primary ingredients is coconut flour.
This ensures that your brain will be kept out of a fog for the morning ahead, as there are no grains weighing you down and messing up your gut—just pure, grain-free, coconutty goodness.
I just love baking with coconut flour. Low in carbohydrates and high in fiber and protein, it makes an excellent baking flour substitute. Coconut flour is worth trying as a substitute for other baking flours (and a better choice for brainy breakfast baking!), because it is has:
A naturally high nutritional content, which makes it a healthier, allergy-free choice
A high protein content (14 grams of protein per 100 grams of flour!)
A high fiber content, containing a whopping 43 grams of fiber per 100 grams of coconut flour—that's double the amount found in wheat bran! The fiber content present in coconut flour is also effective at lowering cholesterol levels.
A low glycemic index, and so is better at regulating blood sugar levels.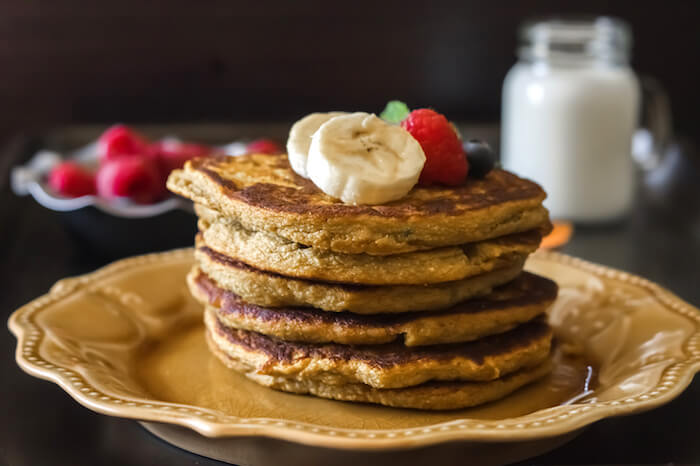 I was watching a TED Talk the other day that talked about reversing Type II Diabetes where the speaker said that coconut flour was a great substitute for diabetes sufferers!
Coconut flour can be a bit tricky to learn how to use, as it has a far different texture to regular baking flours.
I have been experimenting with a sweet potato pancake recipe for a while—and finally came up with pancakes that are fluffy, light, and didn't fall apart when I flipped them in the pan. Once you get the hang of how it works, it's very easy to use and tastes great! Just have a go of these sweet potato pancakes and see for yourself!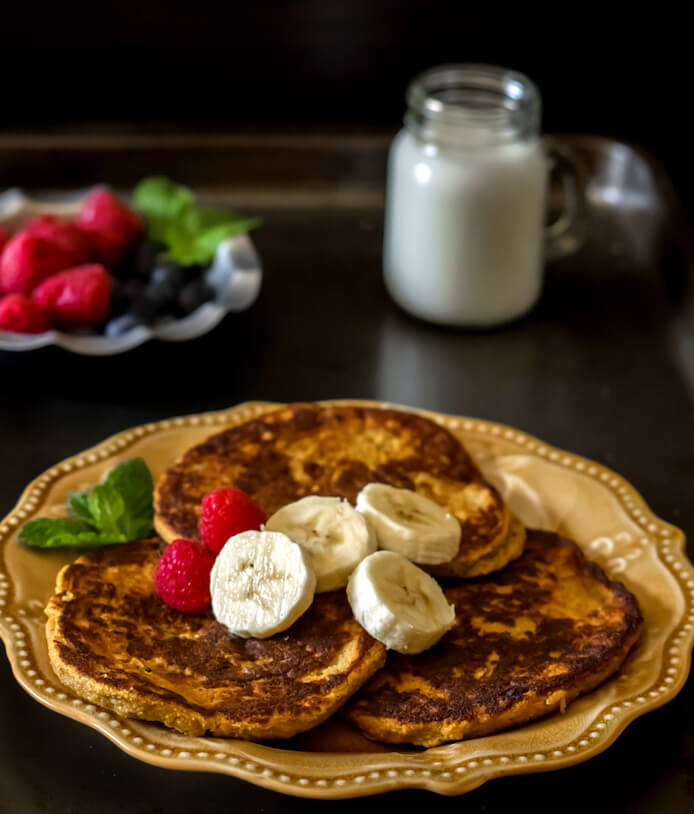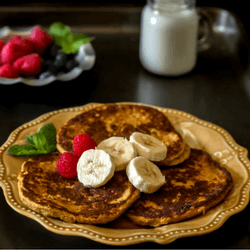 Print
Sweet Potato Pancakes
If you're craving pancakes but avoiding wheat, gluten or dairy, these sweet potato pancakes are for you!!
Servings:
2
people, 2 pancakes each
Ingredients
1

cup

sweet potato

any variety, skin removed, cooked, cooled, and pureed (You won't taste this, I swear! I used leftovers from another night—hooray for batch cooking!)

1/4

cup

coconut flour

4

eggs

4

tablespoons

coconut milk

1

teaspoon

baking soda

1

teaspoon

cinnamon

1/4

teaspoon

vanilla extract

4

teaspoons

coconut oil
Instructions
In a food processor or high speed blender, blend the sweet potato until smooth, then add the rest of the ingredients and blend until smooth.

Heat a fry pan on low-medium with 1 tsp coconut oil.

Pour 1/4 of the mixture into the pan, and gently spread around into a circle shape.

Sear the pancake for 5 seconds, then turn the heat down to low (for my stovetop, this was the very lowest setting). Cook for a further 1 1/2 - 2 minutes before flipping gently.

Keep the heat on low and cook for an additional 1 - 1 1/2 minutes.

Repeat steps 3-5 with the remaining mixture.
Nutrition
Calories:
378
kcal
|
Carbohydrates:
24
g
|
Protein:
15
g
|
Fat:
25
g
|
Saturated Fat:
17
g
|
Cholesterol:
327
mg
|
Sodium:
744
mg
|
Potassium:
412
mg
|
Fiber:
8
g
|
Sugar:
4
g
|
Vitamin A:
9910
IU
|
Vitamin C:
2
mg
|
Calcium:
85
mg
|
Iron:
3
mg
Love this Sweet Potato Pancake recipe? Need some more tasty, kid-friendly breakfast ideas?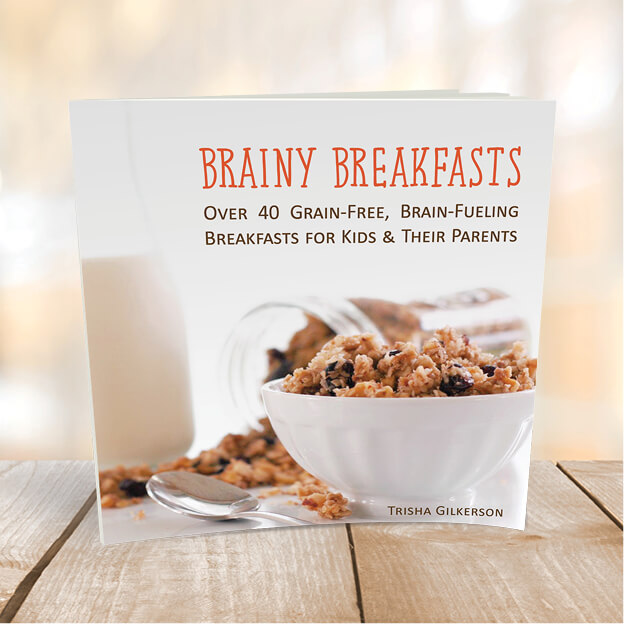 Check out our cookbook Brainy Breakfasts – it's filled with over 40 grain-free, brain-fueling breakfast recipes to keep things new and exciting! It's available as a downloadable or softcover book. You won't run out of healthy, tasty breakfast recipes anytime soon with this cookbook ?
More Grain-Free Breakfast Recipes:
---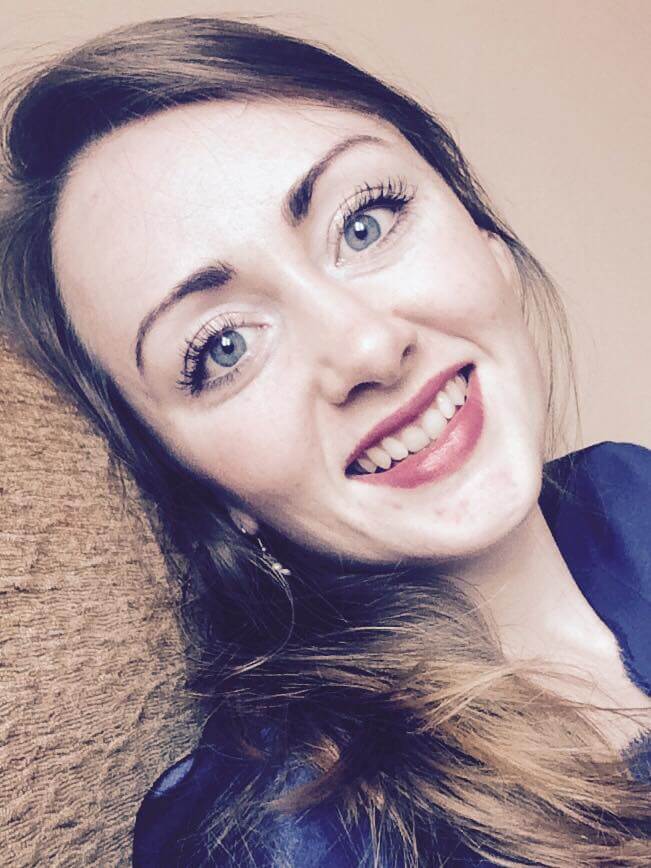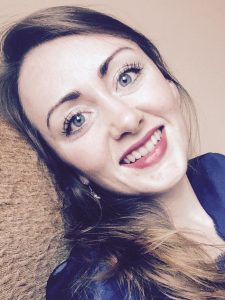 Chantelle Marie Swayne is a 27-year-old Australian, wife to an American missionary, personal trainer, aspiring artist, and espresso addict, currently living and working in Singapore. She recently gave birth to her first child. As well as loving to share her faith with others, she has a passion for helping others to take hold of and reshape their health. She loves helping others to find food that is not only great for them, but delicious and easy-to-make as well. It has been told her that half the conversations she engages in are about food–which is probably true.
Connect with her and keep up to date with her most recent recipes and ramblings on her blog, happyhealthyholyhome.com. Also connect with her on Pinterest or at Bloglovin'.