Another day I forgot to get the meat out of the freezer to thaw…
Another day when I was too tired by the end of the day to cook…
Another evening basketball game with nothing prepared for dinner afterwards…
Can you relate? The struggle is real. Your story might be a little different, but I've talked to hundreds of other moms who struggles with these types of scenarios day in and day out. The details are a little different, but the stories always sound so familiar.
By the way, if you are looking for gluten-free resources, make sure to check out my Everything Gluten Free resource page!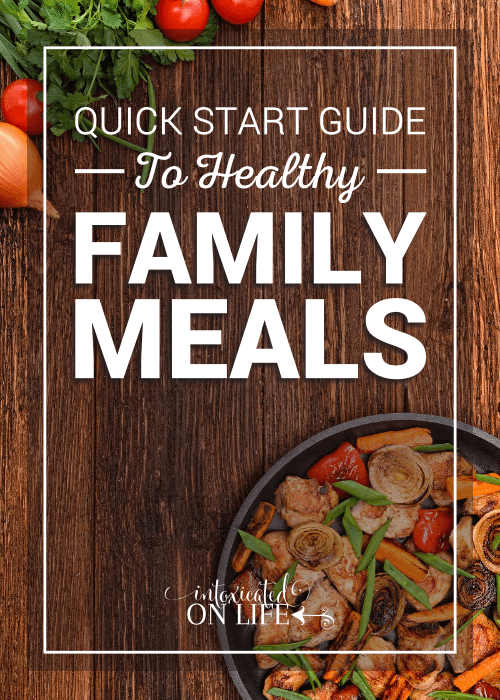 These moms are too tired, too busy, and sometimes lack the motivation to keep healthy, family meals on the table. They often default to eating out and fast food more often than they'd like to admit. Sometimes it's a box of cereal.
Are you ready for change?
Are you ready for a change? If you're ready for change, you can use the tips I'm going to share with you to create new, healthier habits for your family.
You have to be ready to spend just a little bit of time and effort each week on this new endeavor. It isn't hard, but it means spending a little time in planning and a little time in preparation. If you truly believe feeding your family healthy meals will have a lasting impact on their health and longevity, like I do, determining to do this should be a no-brainer.
The tool you need to get started!
I've created a quick start guide to help busy moms like you. I believe even the busiest moms can create delicious, nourishing meals that will heal and nurture their families' bodies without the use of grains or sugar.
Four tips that will help you rock a meal-plan and have dinner rolled out on the table with no-fuss.
3 page printable that will help you keep track of your meals, what you need, and what you have stashed in the freezer (otherwise known as the great abyss).
4 strategies for creating a back-up plan when life happens – we all have those days! You'll never be caught off guard again (ok, maybe never is a stretch, at least you won't be caught off guard nearly as often).
You don't have to be a gourmet chef or real food pro to make delicious, healthy meals for your family. Join our community and learn to make foods that delight and nourish your entire family.
Click the button below to get started with your quick start guide to healthy, family meals!