Every year one of our Christmas traditions is making shortbread cookies. I have taken them a little past the traditional white flour and brown sugar over the years and now we are going a step further to grain-free—and still just 3 ingredients!
How awesome is that? Easy to make traditional shortbread cookies, with just 3 ingredients, and your kids are going to love them. They're a versatile cookie too, I'll give you some ideas below for how you can mix it up with these cookies.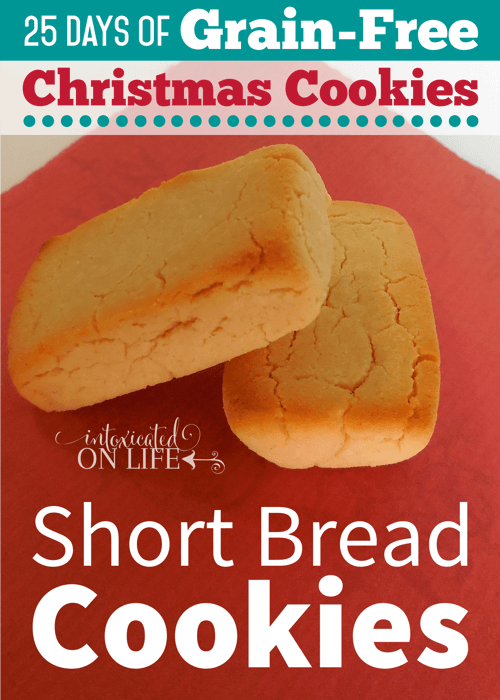 These Traditional Shortbread Cookies Are Great With…
a little chocolate ganache on top
a couple teaspoons of fresh orange zest
1/4 tsp Gingerbread Spice Mix
a little cinnamon sugar sprinkled on top
Be creative with the additions you add to your shortbread cookies! That's part of the fun.
So go make some homemade low-carb eggnog, and take a sip while enjoying some simple, guilt-free traditional shortbread cookies and enjoy the Christmas season!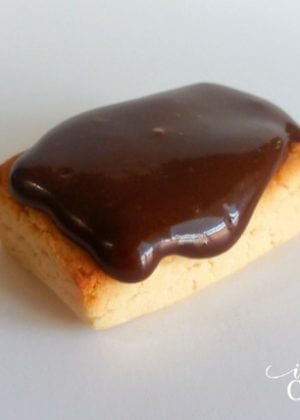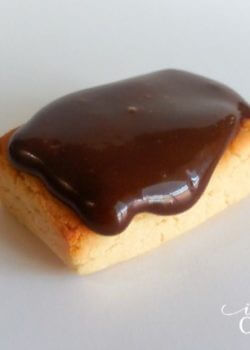 Print
25 Days of Grain Free Christmas Cookies: Traditional Shortbread Cookies
Servings:
24
cookies, approximately
Instructions
Leave your organic butter out to come to room temperature and soften. You can also take the maple syrup out and measure a little while before you start baking so it is not cold either. Heat the oven to 350° F.

Cream all 3 ingredients together, no need for a mixer, a good old spoon will work. I like to make the cookies fairly small, about one tablespoon.

You can either press it out and use cookie cutters, or use a cookie scoop then roll and flatten. Bake for 8-10 minutes until lightly browned. I like to use a baking stone for almost all cookies. If you don't have a stone, use parchment paper on top of your cookie sheet.

Let cool for a couple minutes before you remove them from the sheet. Let cool fully before decorating with ganache, if desired.
Notes
These are actually a little easier to shape, but they are also more delicate. And a little crumbly if you don't let them cool off before removing from your baking stone.
Nutrition
Calories:
128
kcal
|
Carbohydrates:
10
g
|
Protein:
1
g
|
Fat:
9
g
|
Saturated Fat:
6
g
|
Cholesterol:
20
mg
|
Sodium:
89
mg
|
Potassium:
17
mg
|
Fiber:
4
g
|
Sugar:
5
g
|
Vitamin A:
236
IU
|
Calcium:
10
mg
|
Iron:
1
mg

25 Days of Grain-Free Christmas Cookies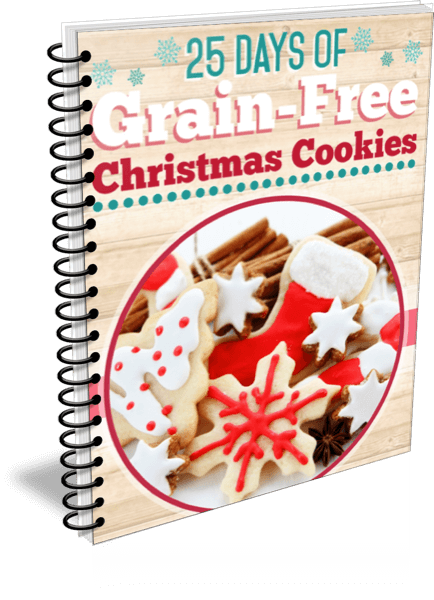 Christmas and cookies go hand-in-hand, but most traditional cookie recipes use wheat flour and other grains. If you are grain-free, or you are looking to cut back on the grains you eat, this cookbook gives you 25 amazing cookie recipes to continue to fill your home with the pleasant traditional tastes and aromas.
Of course, you can use these cookie recipes year round! Your family is going to love having these healthy, delicious alternatives.

More Healthy Holiday Desserts You Will Love: