The week of Valentine's Day is Random Acts of Kindness Week. Because our culture associates Valentine's Day with love, it affords us a perfect time to show kindness to our neighbors.
As Christians, we believe followers of Christ should lead the way in showing kindness. Scripture tells us to put on kindness (Colossians 3:12) because one of the chief marks of Christian love is kindness (1 Corinthians 13:4).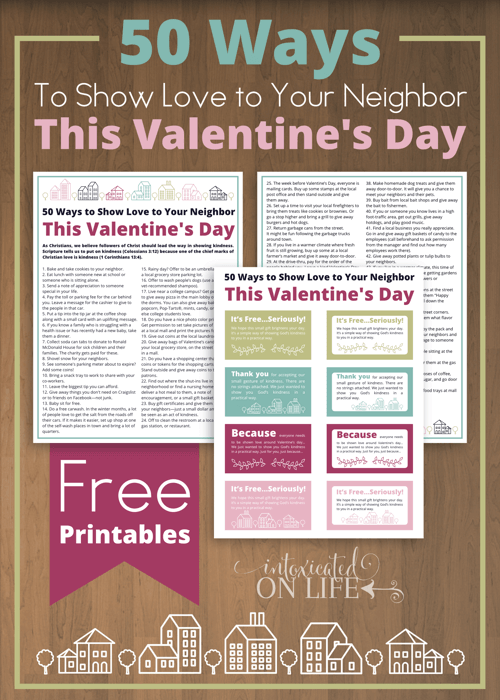 Better yet, our random acts of kindness can serve as an arrow to the gospel. God's kindness is meant to lead people to repentance (Romans 2:4). Showing kindness allows us to talk about the One who has shown us all great kindness by giving us seasons of joy and abundance (Matthew 5:44-45; Acts 14:17).
How to Show Christian Random Acts of Kindness
Print out the provided cards below. Any time you perform random acts of kindness to another, tell them you are trying to show God's kindness in a practical way and give them one of these cards. Its a very non-invasive way pointing others to God.
Such random acts of kindness are not a replacement for sharing the gospel message, but they can be a powerful tool used by the God to inspire conviction of sin (Romans 12:20-21) and lead people to glorify God (Matthew 5:16). These acts of kindness also provide creative opportunities to start spiritual conversations.
Fill out the form below to have the free printables delivered straight to your inbox!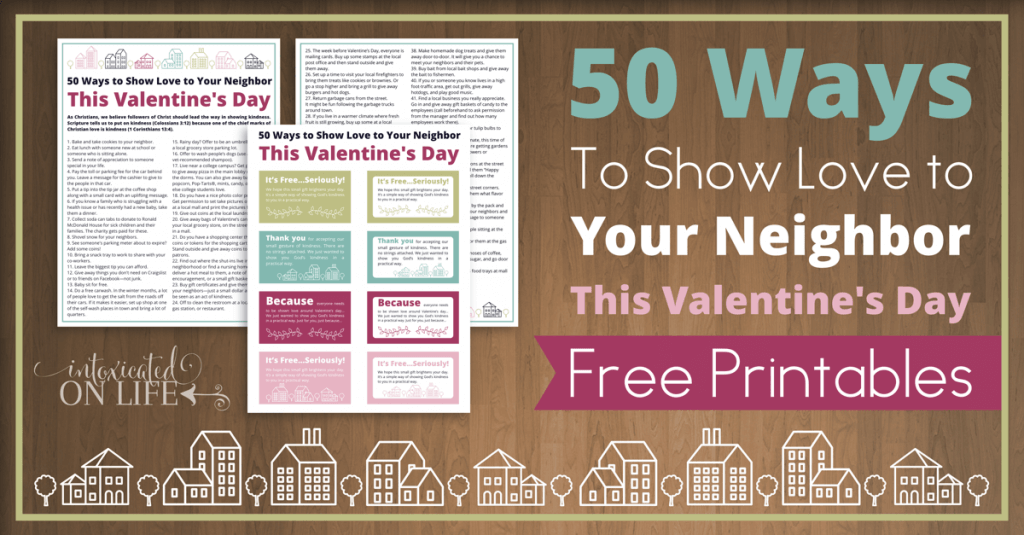 50 Ways to Show Random Acts of Kindness to Your Neighbor
Here are some ideas for ways to show kindness to your neighbors and those in your community. Most of these ideas are good for any week of the year, and some are perfect for Random Acts of Kindness Week.
Bake and take cookies to your neighbor.
Eat lunch with someone new at school or someone who is sitting alone.
Send a note of appreciation to someone special in your life.
Pay the toll or parking fee for the car behind you. Leave a message or one of the cards for the cashier to give to the people in that car.
Put a tip into the tip jar at the coffee shop along with a small card with an uplifting message.
If you know a family who is struggling with a health issue or has recently had a new baby, take them a dinner.
Collect soda can tabs to donate to Ronald McDonald House for sick children and their families. The charity gets paid for these.
Shovel snow for your neighbors.
See someone's parking meter about to expire? Add some coins!
Bring a snack tray to work to share with your co-workers.
Leave the biggest tip you can afford.
Give away things you don't need on Craigslist or to friends on Facebook—not junk.
Babysit for free.
Do a free carwash. In the winter months, a lot of people love to get the salt from the roads off their cars. If it makes it easier, set up shop at one of the self-wash places in town and bring a lot of quarters.
Rainy day? Offer to be an umbrella escort at a local grocery store parking lot.
Off to wash people's dogs (use a good vet-recommended shampoo).
Live near a college campus? Get permission to give away pizza in the main lobby of one of the dorms. You can also give away baked goods, popcorn, Pop-Tarts®, mints, candy, or anything else college students love.
Do you have a nice photo color printer? Get permission to take pictures of couples at a local mall and print the pictures for free.
Give out coins at the local laundromat.
Give away bags of Valentine's candy outside your local grocery store, on the street corner, or in a mall.
Do you have a shopping center that requires coins or tokens for the shopping carts. Stand outside and give away coins to the patrons.
Find out where the shut-ins live in your neighborhood or find a nursing home and deliver a hot meal to them, a note of encouragement, or a small gift basket.
Buy gift certificates and give them away to your neighbors—just a small dollar amount will be seen as an act of kindness.
Off to clean the restroom at a local rest stop, bass station, or restaurant.
The week before Valentine's Day, everyone is mailing cards. Buy up some stamps at the local post office and then stand outside and give them away.
Set up a time to visit your local firefighters to bring them treats like cookies or brownies. Or go a stop higher and bring a grill to give away burgers and hotdogs.
Return garbage cans from the street. It might be fun following the garbage trucks around town.
If you live in a warmer climate where fresh fruit is still growing, buy up some at a local farmer's market and give it away door-to-door.
At the drive-thru, pay for the order of the people behind you. Leave a kind Valentine's Day message to the cashier to pass on to them.
After a heavy snow or ice storm, clean off the windshields in your neighborhood, especially at apartment complexes where there are no garages.
Go door-to-door and give away kindling or small wood bundles for fireplaces (stop only at the houses with chimneys).
Learn how to make simple balloon animals and give them away to kids in the neighborhood (clown outfit optional).
Give away ice scrapers.
Find the local bike trail and give away bottles of water to the walkers and bikers.
If the really cold weather of winter is over, offer to clean up yards. There will often be leftover leaves in flowerbeds and in small corners.
If you've got a four-wheel-drive truck or SUV, during a heavy snow day, drive around town and help get cars out of the snow.
Leave a collection of change at your local library and instruct the librarian to use it for anyone who has overdue fines. Give her an envelop with a Valentine's Day greeting for the library patron who needs it.
Make homemade dog treats and give them away door-to-door. It will give you a chance to meet your neighbors and their pets.
Buy bait from local bait shops and give away the bait to fishermen.
If you or someone you know lives in a high foot-traffic area, get out grills, give away hotdogs, and play good music.
Find a local business you really appreciate. Go in and give away gift baskets of candy to the employees (call beforehand to ask permission from the manager and find out how many employees work there).
Give away potted plants or tulip bulbs to your neighbors.
If you live in a warmer climate, this time of year is when a lot of people are getting gardens ready. Give away seeds for flowers or vegetables.
Hand out roses or carnations at the street corner near a traffic light. Tell them "Happy Valentine's Day" when they roll down the window.
Hand out donuts at busy street corners. When cars are stopped, ask them what flavor they want.
Buy Valentine's Day cards by the pack and stamps. Give these away to your neighbors and ask them to write a nice message to someone they love and mail it.
Purchasing meals for people sitting at the food court at the mall.
Wash people's windows for them at the gas station.
Brew a couple large thermoses of coffee, grab some cups, cream, and sugar, and go door to door giving away coffee.
Offer to clean up people's food trays at mall food courts.
Fill out the form below to have the free printables delivered straight to your inbox!
Make Valentine's Day Special For your Spouse, too: