Spinach scrambled eggs might not sound like an ideal breakfast for some. Not everyone is used to veggies for breakfast. But I promise, it's worth a try– it really is so good and so good for you!
As a busy homeschool mom, it is easy for me to just get up and start running without thinking twice about breakfast. But when I make bad breakfast choices, I can really feel it throughout the day.
I start getting sluggish and lack mental clarity. Because of this, I've started trying to be a little bit more intentional about what I'm eating for breakfast. When I carefully choose our breakfast, I notice a difference in my performance for the day, as well as my kids' performance. Our homeschool day goes so much smoother!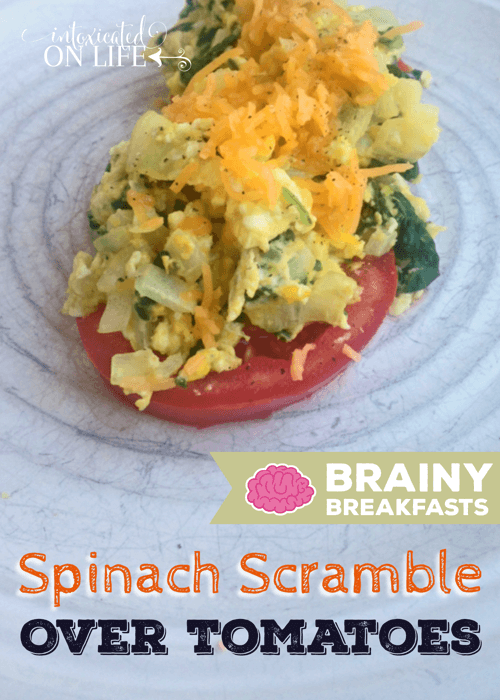 Today, I'm sharing a recipe with you that we recently tried. It's simple enough. Spinach and onions sauteed in coconut oil and then cooked into scrambled eggs. Just serve the egg mixture over fresh tomatoes.
At first, I was hesitant to put it over the tomatoes. It just seemed weird. But then, I remembered how I used to put salsa on my eggs and thought maybe it would be good after all. I'm so glad I gave it a try. It is good! It gives me a great way to get some fresh veggies in my morning meal and also gives me some extra brain power for my day.
My Brainy Ingredients for Spinach Scrambled Eggs:
Coconut Oil – It has been known to improve memory, increase energy and even reduce depression. (It's also able to reduce cholesterol and obesity as well.)
Spinach – Also known to boost memory. It also helps your body to eliminate toxins and improves overall health.
Eggs – Eggs, especially the yolks, are a great source of choline. Choline is a precursor for acetylcholine, a neurotransmitter involved in helping you remember things like where you left the car keys. Swiss researches say that eating protein-rich foods like eggs, can improve overall cognitive performance throughout your day.
Tomatoes – Tomatoes contain lycopene. Lycopene has been known to combat free radicals, which have been known to damage brain cells. Preventing this damage increases memory, attention span, and concentration. Eating a diet full of tomatoes has been known to decrease the chance of brain related diseases, such as Alzheimer's and Parkinson's.
These ingredients sound like just what I need!  It doesn't hurt that I happen to love spinach and eggs!
Print
Spinach Scrambled Eggs Served Over Fresh Tomatoes
This flavorful, veggie-loaded breakfast tastes great and is fantastic for your brain health, too!
Ingredients
1

tablespoon

Coconut Oil

1/2 to 1

cup

Spinach

Chopped

1/4

of a small Onion

Chopped

1/2

teaspoon

Garlic Powder

2

Eggs

2

Tomato Slices

Shredded Cheese

optional (leave out for dairy-free)
Instructions
Saute spinach and onion together in coconut oil.

Sprinkle with garlic powder.

Whisk together 2 eggs.

Pour over spinach and onions.

Scramble eggs as normal.

Place 2 slices of tomato on a plate.

Put the spinach/onion/egg mixture on top of the sliced tomatoes.

Top with cheese (optional), salt and pepper.
Nutrition
Calories:
276
kcal
|
Carbohydrates:
7
g
|
Protein:
13
g
|
Fat:
23
g
|
Saturated Fat:
15
g
|
Cholesterol:
327
mg
|
Sodium:
142
mg
|
Potassium:
373
mg
|
Fiber:
1
g
|
Sugar:
3
g
|
Vitamin A:
2332
IU
|
Vitamin C:
14
mg
|
Calcium:
64
mg
|
Iron:
2
mg
I've found that as I've gotten older, my memory has gotten horrible. Maybe filling my brain with these 4 power ingredients will help my memory go back in the right direction!
---
Sarah Robinson blogs at SidetrackedSarah.com. She is passionate about Crockpot Freezer Meals and loves sharing other homemaking ideas to make life easier for busy mom. Follow her on Facebook or Pinterest.