I cannot believe the nicer weather has finally arrived! My kids are so excited and happy to be outside again. They have been so cooped up this winter with all the snow and low temperatures. We plan to fully enjoy these beautiful Spring days!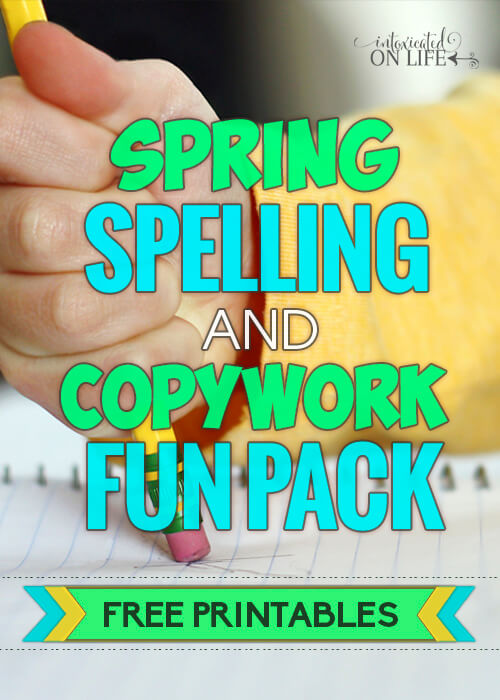 When the weather gets nicer outside, it's often difficult to keep my kids interested in their school work. So I like to incorporate more seasonal and fun activities to keep their interest, while sneaking in some much needed school time.
One of those ways is through fun Spelling and Copywork. By this point in the year, my younger ones have already gone through the alphabet several times and "know their letters," so the practicing gets a little old. And my oldest has breezed through his spelling curriculum, so it's time to start supplementing to finish out the year (I can't stand to start a new year's curriculum with only a few weeks left in our school year).
So this year I am creating some fun seasonal spelling and copywork printables you can use throughout the school year or when you just need a break from the "regular." These packs are chocked full of learning while making it fun for the kids and less stressful for Mom.
To make a fun mini Spring unit, you can pair this pack with these Spring Tot/PreK/K pack and Emergent Readers for your younger kids. For the older kids, check out these Spring puzzles, writing prompts, math grid printables (great for practicing those math facts) and these Spring Scripture copywork printables.
Included in this Spring pack:
55 pages of printables
Spelling lists (K-1, 2-3, 4-5)
Spelling test sheets
Definition sheets to use when defining the spelling words
Copywork (PreK, K-1, 2-3, 4-5)
Coloring pages
Even on our "slow weeks" the kids seem to have fun with the seasonal printables. It's really a win-win for everyone. They don't think they're doing real school work and we're sneaking in some learning time while they're having fun! Pair it with some fun Spring activities and crafts and you've got a great week of stress-free (or at least less stressful) learning!
To download your freebie, simply click the link below.