Let's talk about how to Stop the Stomach Flu in Its Tracks: Home Remedies that Work.
First, some typical background story:
You're sleeping peacefully in bed, then you hear the first, "Mommy!"
You give your child a chance to go back to sleep, but then you hear the second, "Mommy!"—this one just as pitiful as the first.
Maybe you "accidentally" kick your husband in hopes that he'll wake up enough and decide to respond to a potentially distressed child. After all, the bed is so cozy. But you're not one hundred percent convinced yet that your child is fully awake themselves and in true need of help.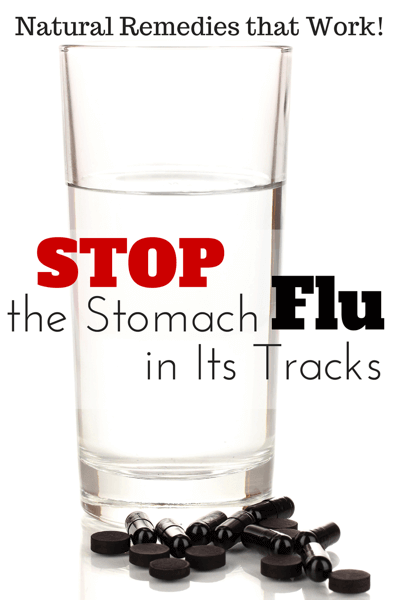 Then you hear four dreaded words, that you never want to hear in the middle of the night.
"Mommy my tummy hurts!"
Suddenly with the speed of Superman, and not the half-asleep humanoid you are, you spring into action, jump over the dog, the basket of clothes, and into your child's room just in time to see…Well you know what you see. I'll spare you the description. 
Stop the Stomach Flu: When the Stomach Flu Strikes
About 6 months ago we had a stomach flu sweep through our family. You know the type: one child wakes up during the middle of the night and suddenly everyone is laying on various pieces of furniture for 48 hours with buckets, blankets, and ice chips. And mom and dad spend the same 48 hours between the bathroom themselves, trying to keep shared surfaces clean, and running to the store to buy Gatorade, all while wishing they could just curl up in a little corner and cry. (Tell me it's not just me.)
I hate the stomach flu. I mean seriously hate it (not that anyone loves it). As far as maladies go, it's probably my least favorite, especially since half of my family isn't really old enough to make it to the toilet every time they get sick.
And we all know that almost no amount of Lysol, hand sanitizer, and scrubbing will prevent it from picking off family members one by one until all have succumb to it's disgusting symptoms.
After that particular bout of the stomach flu, I decided this mom was going to fight back the next time the devious little germs made their appearance in our home. I was determined to stop the stomach flu in our home. I would be ready with a game plan to shorten our family's sufferings and hopefully prevent it from spreading to every last one of us.
Fighting the Stomach Flu with Natural Remedies
In my research, I came across two particular remedies that stood out in our family's quest to stop the stomach flu.
1. Use an immune blend oil to support the body's own defenses.
2. The other remedy is using activated charcoal to shorten and lessen the symptoms.
The activated charcoal works to stop the vomiting and adsorb (bind to and hold onto) whatever bug is causing the sickness until it makes it's way out of the body. The immune blend oil helps to support the body's immune system.
We use 2-3 capsules of activated charcoal for adults, and 1 capsule for children.
I read story after story of moms who had used these remedies to combat the stomach flu, and I simply couldn't believe how effective they seemed to be, until I got the chance to try them in my own family 2 months ago.
I can't say I was excited that the stomach flu was striking our house, but what happened next was amazing.  Between proper doses of activated charcoal and, the immune blend oil it was the MILDEST case of the stomach flu my family ever had.
I kept everyone up on their doses of activated charcoal, and kept rubbing the oil on everyone's feet for a week. I also diffused it.  I wouldn't have believed it was actually the stomach flu that hit our house.
Next time my family starts showing signs of the seasonal issues, I will definitely be using activated charcoal and my immune blend oil. It worked that well. It's so important for me to find solutions and home remedies to stop seasonal issues in our house.
**Please use your best judgement and consult a doctor when using any natural remedies.  Especially when using activated charcoal do not overdose your children.  I am not stating a dose here because recommendations vary wildly and your children's health is unique to them. Some doctors don't like giving children activated charcoal at all.  Also keep your kids hydrated and make sure they are having bowel movements after the flu has ended.  Remember the illness you think might be the stomach flu could be something else entirely, when in doubt contact a physician.
What remedies do you use to stop stomach flu?  Have you come across anything that will stop it in it's tracks?
More posts for insight on how to stop the Stomach Flu:
---
Free Download: Mom's Essential Oil Cheat Sheet
Would you like a resource to help you learn to use essential oils with your family? Download this free 3-page printable:
Basic guidelines for using essential oils around kids
A list of safe, kid-friendly oils essential oils
Helpful essential oil recipes
Click the link or image below to download the 3-page Mom's Essential Oil Cheat Sheet. I'll follow it up with more resources and free printables to help you on your essential oil journey. Grab your copy now!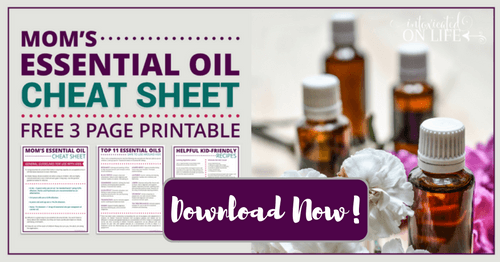 *FDA disclaimer: "These statements have not been evaluated by the Food and Drug Administration. This product is not intended to diagnose, treat, cure, or prevent disease."