Summer is quickly approaching…well, at least that's what the calendar says. If you live somewhere like I do, it seems the weather is a tease — a few days with warmish weather where the kids get out and play and we can take family walks followed by bitter cold and snow. But I must believe that summer truly is on the way!
When the sun comes out, it's important for those of us who are essential oil users take a few things into consideration. Not only are there some extra precautions to take, but there are also some essential oils that are must-haves for your summer toolkit!
Learn more about my favorite essential oils in this post.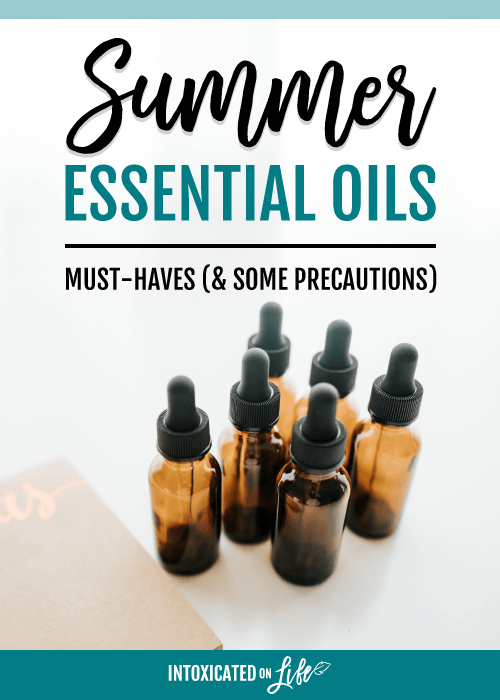 Precautions with essential oils: Photosensitization
Every summer I see pictures circulated on social media showing pictures of some poor soul with red skin and terrible blisters claiming essential oils are dangerous and this can happen to you too!
Are essential oils dangerous? No.
But stupidity is.
Like many things in life, you just have to have some understanding of the proper guidelines for using essential oils.
The aforementioned pictures are an example of photosensitization. Photosensitization can happen when certain oils are applied topically. When they are exposed to UV radiation (i.e. sun or tanning bed exposure) a chemical reaction occurs which in turn causes your body to mount an inflammatory response. This reaction can cause damage to the cells and the stuff in the cells (cellular membranes, organelles, etc.).
Signs of photosensitization
What does photosensitization look like? In a lot of people it looks like a severe sunburn. But it can include a number of different reactions including:
redness like a sunburn
skin irritation
blistering
darkening of skin
hives
swelling of the tissue (edema)
Depending on the severity, these reactions can last for several days after the exposure to UV light.
Oils that can cause photosensitivity
Some essential oils contain naturally occurring compounds called furocoumarins. These furocoumarins make some people's skin more sensitive to UV radiation.
Like most things, photosensitivity is a very individual response. Some people might be able to get away with using these oils with no problems at all, and some might end up looking like they were ravaged by the sun. So, it's best to be on the safe side with photosensitive oils.
Commonly used oils that can cause a phototoxic reaction include:
Bergamot
Cumin
Grapefruit
Kumquat
Tangerine / Mandarin
Lemon
Bitter Orange (sweet/wild orange is typically considered safe)
You don't have to completely stop using these oils in the summer, but there are some good precautions to take.
If you're applying these oils topically and will be exposed to UV light, be sure to dilute them appropriately. Tisserand and Young recommend using four (4) drops total of any citrus fruit essential oil combination per 30 mL of a carrier oil as a safe general rule of thumb when exposed to UV light (Tisserand & Young, 2014). You can get more oil-specific recommendations in their book Essential Oil Safety.
If you've used a higher than recommended dilution, be sure to wait at least 12-18 hours before exposing that portion of your skin to UV light.
If you need to cover a portion of your skin, be aware that thin t-shirt material may not offer enough protection. You may need to consider a heavier fabric or one that does not allow UV radiation to penetrate.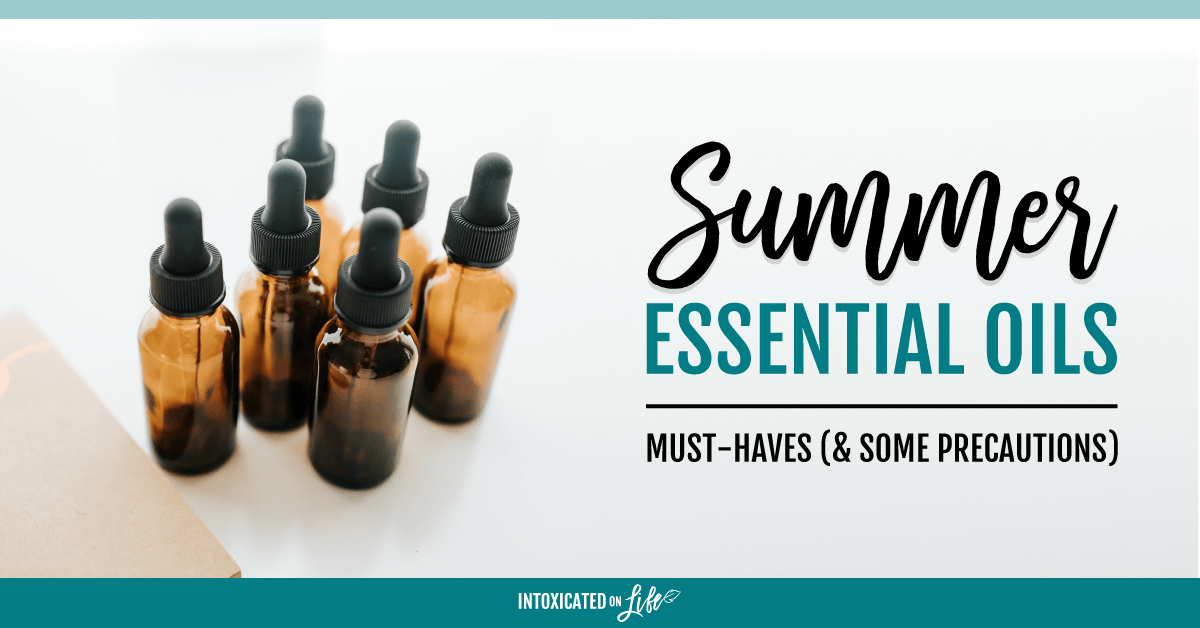 MUST-have summertime essential oils
Lest you think this post is all doom and gloom, skin damage and blisters, lets chat about some essentials you must have in your summer toolkit.
While I love love love giving my skin some much needed exposure to the sun and soaking up some vitamin D, my skin and I aren't getting any younger. We can use oils to help nourish our skin. Oils can also be applied to your skin to help promote healing and cooling after staying out in the sun a little bit too long (whoops).
My favorite summer oils that promote healthy looking skin and reduce the appearance of lines and blemishes include:
lavender
helichrysum
myrrh
roman chamomile
frankincense
sandalwood
You don't have to worry about photosensitivity with these oils. Just dilute one or more of these oils in a carrier oil and apply to your skin. (You can check out this dilution guide for more information.)
---
Interested in essential oils? Let's talk! Click here to learn more about essential oils and how to find good-quality ones for your family.
You don't have to be afraid of oils this summer. In fact, you can make them work for you!