How (and when) do you talk to your kids about sex? Often, Christian parents don't want to tell their children about sex and sexuality until its time to gear up for adolescence. These parents fear saying "too much too soon."
Unfortunately, the fear of too much too soon often means we speak too little too late.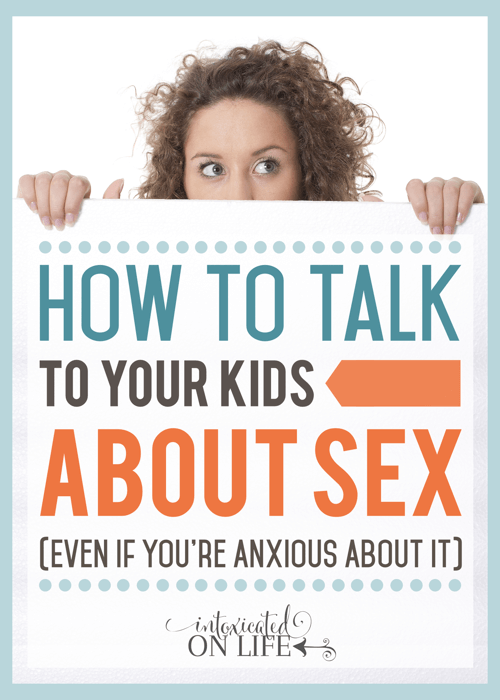 The World is Screaming about Sexual Values
If parents are silent about sex, the world is more than happy to fill the void. We need to be able to talk to our kids about sex first.
Between 1998 and 2005, the number of sex scenes on TV nearly doubled.1
Magazines readily visible in grocery stores (like Cosmo2) routinely publish cover stories about sex.
Among today's young adults, 51% of men and 32% of women say they first saw porn before their teenage years (12 and younger).
Recent studies show that the portrayal of women in the popular media over the last several decades has become increasingly sexualized.3 In prime-time programming, for instance, 74-84% of episodes contain at least one incident of sexual harassment.4
Sharna Olfman, psychology professor at Point Park University, wisely says, "When we deny children access to meaningful eduction about their burgeoning sexual development, we give them no choice but to glean what they can from a highly sexualized media."
Be the First to Talk to Your Kids about Sex
WHEN should you talk to your kids about sex?
Christian counselor Brad Hambrick gives some advice to parents about the timing of our initial conversations about sex.5 "As a parent, I want to begin to have that conversation before they are having it with their friends. As a parent, I want to take advantage of that opportunity to be first."
In today's world, talking first often means we must not be afraid to talk early.
Innocence ≠ Ignorance
Parents are often driven by a desire to protect a child's innocence. By this, of course, we don't mean that children are truly "innocent"—any parent will tell you their child is far from sinless. Rather, parents want to keep their children away from information they aren't ready to process.
Parents often think, "If I tell my child about sex too soon, they might start showing an unhealthy interest in sexually acting out. Children aren't emotionally or morally ready for information about sex." There is, of course, some truth to this.
We should strive, whenever possible, to give our children information in small, digestible doses, packed in good theology and expressed in concrete language they can understand. Likewise, we should try to keep our children away from information about sex that communicates an incorrect or ungodly ideas.
But the subject of sex itself is not the problem. According to Focus on the Family's book, The Complete Guide to Baby & Child Care,
"Giving a child facts about reproduction, including details about intercourse, does not rob him of innocence. Innocence is a function of attitude, not information. A school-age child who understands the specifics of sex, while seeing it as an act that, in the proper context, both expresses love and begins new life, retains his innocence. But a child who knows very little about sex can already have a corrupt mind-set if he has been exposed to it in a degrading, mocking, or abusive context."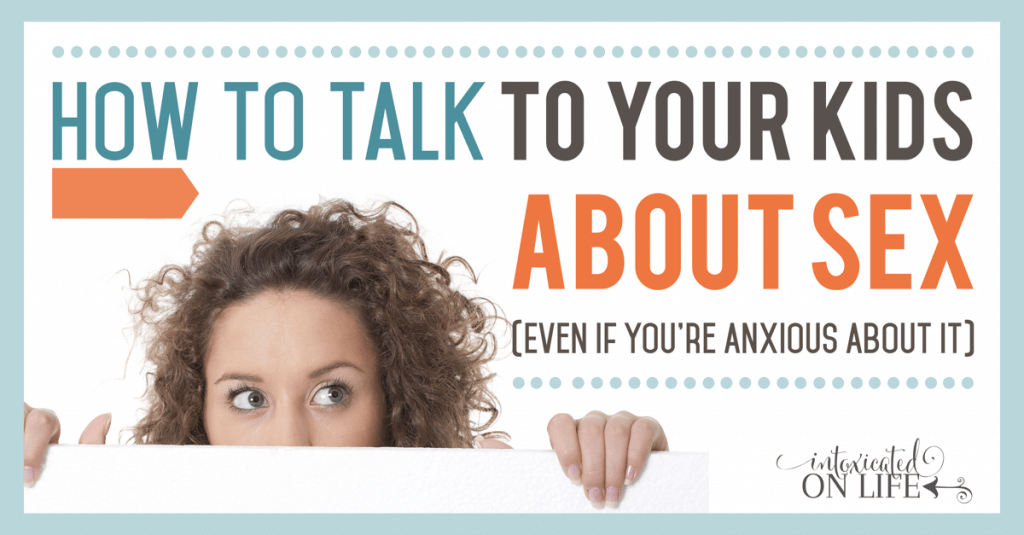 Preparing Your Child's Heart
Here's some tips on things to keep in mind when you talk to your kids about sex.
The atmosphere, conversations, and routines of your home will help to prepare your child to appreciate and honor God's gift of sex and sexuality. Here are three principles to keep in mind.
1. Familiarity – Children should grow up in homes that are very comfortable with conversations about how our bodies work. From a child's birth, parents should model a balance of talking frankly about the body with a sense of modesty. Children should know the correct names for body parts and be taught to show respect for privacy. Parents should not be shy or embarrassed about a child's questions but encourage curiosity.
2. Formative Teaching – If you want to be able to have conversations with your child in the elementary years about sex, take time when they are very young to establish a routine of formative teaching in your home. Family devotions, Bible time, family worship—call it whatever you want—but establish a habit of sitting with your kids to read the Bible, pray, and discuss. Become a spiritual leader in your home. When you later sit down to have conversations about sexual matters, it will seem natural to your kids.
3. Familial Love – Sexual education isn't just taught. It is modeled. Married parents should model what romantic love looks like—honoring, cherishing, stealing kisses in the hallway, dancing in the living room, compliments, gifts, etc. Single parents should honor God's standards of celibacy and sexual integrity in their dating relationships. Parents need to model virtues of modesty and honoring the dignity of others—in how we speak about others, in our media choices, and in how we interact. The value and centrality this modeling cannot be overstated.
Let the Bible Break the Ice for You
One of the best ways to have formal conversations with your children about sex is to simply read the Bible without trying to "sanitize" it. There are many, many stories in the Bible that address the subjects of sex, marriage, and intimacy. Simply be true to the stories when you read them.
Think about all the central texts you could study with your child. Genesis 1 opens the discussion about the differences between male and female and the command from God to multiply and fill the earth. Genesis 2 talks about the goodness of sex and the intimacy created through sex. Psalm 139 talks about the development of human life in the womb. Multiple passages throughout the Bible address sexual sin, like adultery or sexual abuse.
Virtually every book of the Bible contains allusions or references to sexual topics. As the Bible brings sex into the story, you can bring sex into your conversations.
Sex Education Training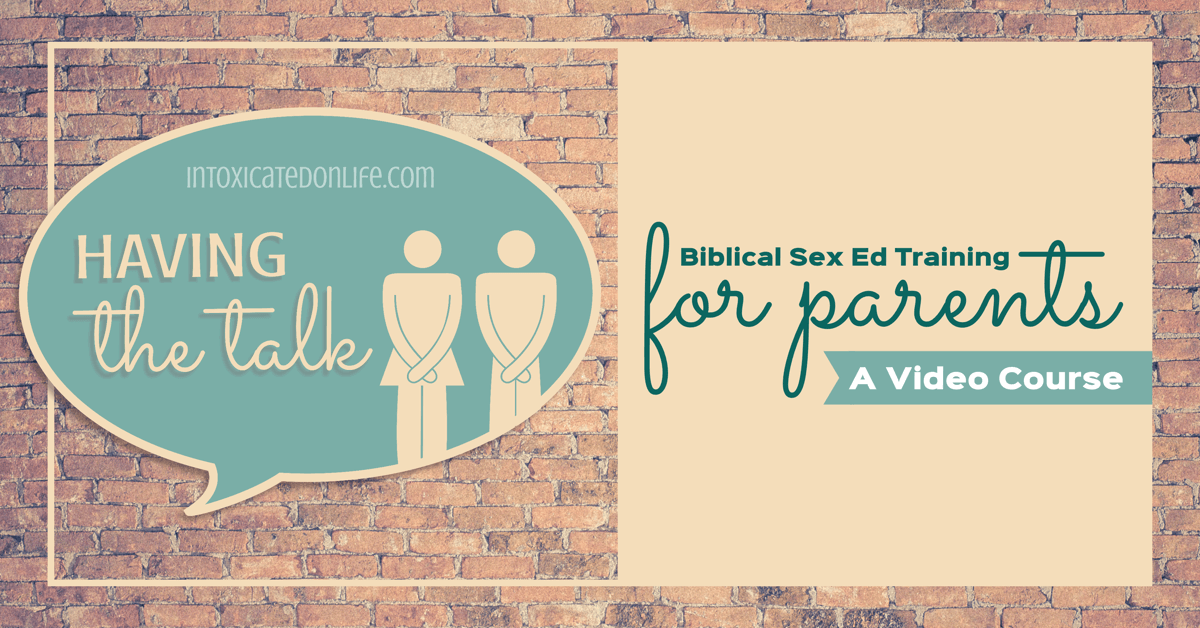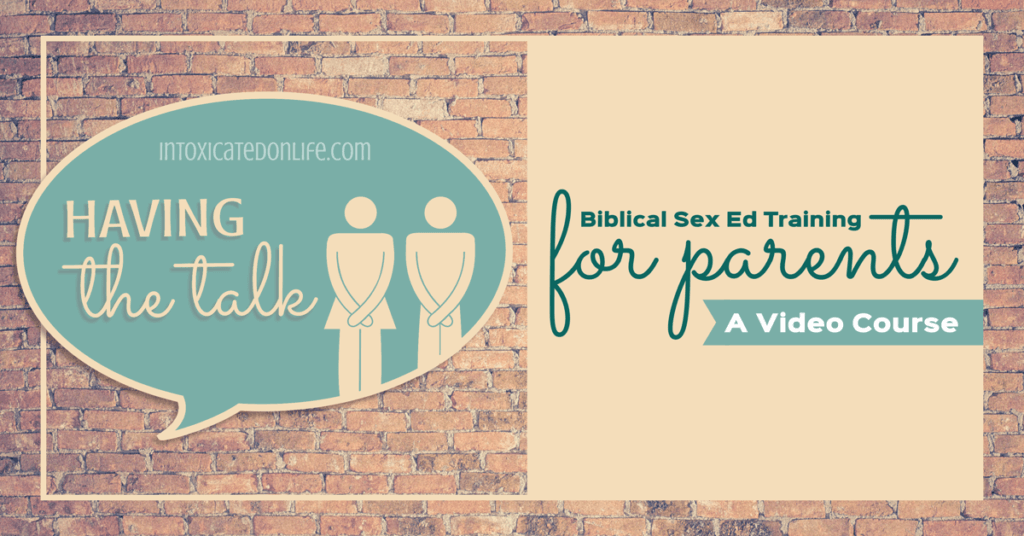 If you want more training on how to talk to your kids about sex and how to use the Bible to break the ice, my wife and I have released a brand new e-course called Having the Talk: Biblical Sex Ed Training for Parents.
In this course we talk about…
How to know when to begin talking to your kids about sex
Talking to kids about the differences in male and female anatomy
How to communicate the function and purpose of sex with your kids
How babies develop in the womb
The importance of sex within a marital relationship
How to talk to your kids about adultery and sexual sin
How to talk to kids about sexual abuse
Many frequently asked questions both kids and parents have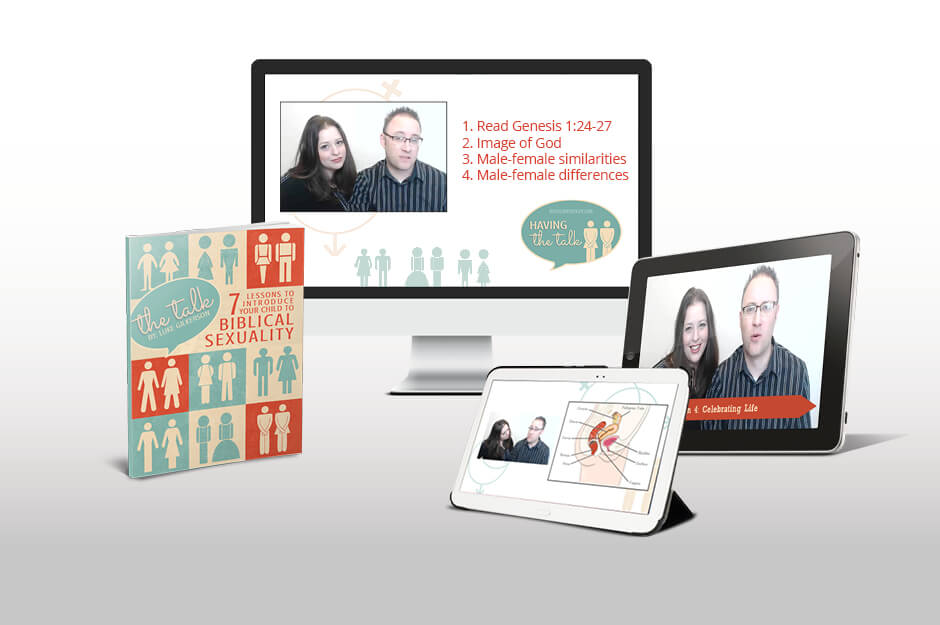 Sources
More Resources on to Learn How to Talk to Your Kids About Sex: