With my first son, I spent a lot of time fretting about making sure he was prepared for school. I wanted to be sure he was prepared to excel at school. I read. I researched. And I even enrolled him in a Christian preschool that met 3 days a week for 3 hours.
Fast forward many years and baby #5 entered the picture. I still want my littlest one to be prepared and well educated—I firmly believe a solid education serves our kids well. But I have no intentions on enrolling him in preschool. I'm confident this can be done (better) at home. In fact, I know, from experience, teaching preschool at home doesn't have to be complicated or expensive.
You have more tools right at your fingertips than you probably even realize! The amount of learning your little people can do spending time helping you around the house is simply astounding!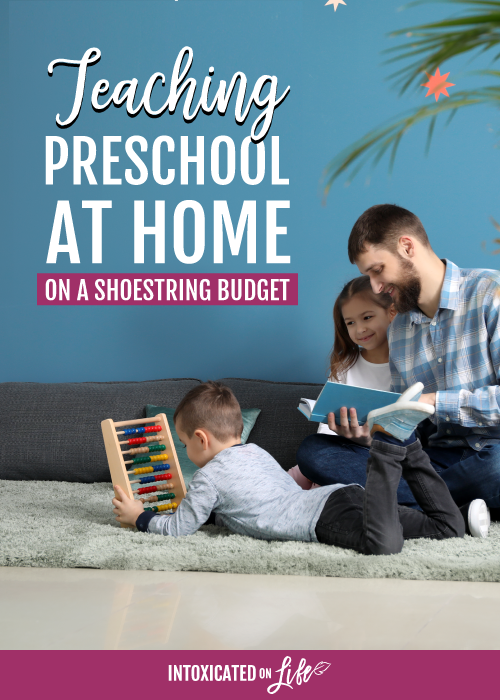 But I get it. Maybe you're a planner like me. You want a little structure?
I've got ya covered.
Below, you'll find some ideas to plan out just enough structure (without being rigid) to make the planners happy—or if you're more fly by the seat of your pants, you can do that too! 😉
Preschool at Home: Focus on the Basics
In these early years, it's important to focus on the Rs — reading, writing, and arithmetic. That doesn't mean you won't be teaching your kiddo anything else! Quite the opposite.
Preschoolers are expert question-askers! They seem to always want to know "Why?" or "Where did that come from?"  Of course, not all questions need to be (or can be) answered immediately, but try to encourage their natural curiosity. Don't know the answer to a question? Take time to look up the answer to the question and learn alongside them, or better yet—head to your local library to grab a book!
Nurture your child's God-given fascination with the world around them. This will go a long way in giving them the tools they'll need to continue to learning and growing.
Reading and Language Development
Reading aloud to your child is probably the single most important thing you can do at this age. In fact, research has shown numerous benefits of reading aloud to children starting in the womb all the way through high school! Reading aloud can help your child with…
language recognition
vocabulary skills
encourage interest in books and lifelong love of learning
…and it can even encourage better behavior (one study that promoted parents reading and playing with their kids, found these students were less likely to exhibit behavior problems like aggression, hyperactivity, and difficulty with attention)
Reading to your child for even 15 minutes a day, as simple as it seems, can have a huge impact on your child's future education. You don't even need an extensive book collection (be sure to use your local library).
While reading, it's also a great time to begin learning letter recognition. Spend time pointing out letters, or asking your child to point out letters on pages as you read. You can also use different materials and mediums to shape letters—play dough, pieces of pasta, ribbons, even random toys or household items.
Handwriting
Handwriting often gets a bad rap and is often seen as unimportant. For those that think handwriting is worthless in the computer age, think again!
One fun way to begin introducing handwriting is by teaching your kids how to write their name. Most students are proud of learning this accomplishment! However, if you have kiddos that seem more resistant, I recommend just focusing on their fine and gross motor coordination during these years. You'll have time to put those skills to work later by introducing writing skills!
Check out this list of 21 easy (and fun) activities you can do with your child to prepare your kids for handwriting success. And when you're outside, plan on implementing some of these fun ideas, too! Your kiddo will be having so much fun, they won't even realize they're doing "school."
If you have a preschooler that's ready for something a bit more structured, check out Write Through the Bible Junior.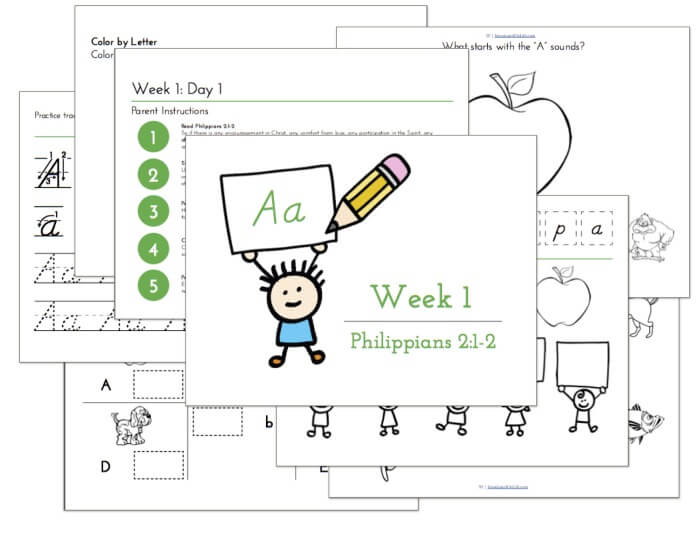 This program focuses on…
fine motor coordination
beginning letter sounds
letter formation
bible memory
biblical study
vocabulary
…all in one daily activity!

Numbers and Counting
Integrate math skills into everyday routines such as…
folding laundry ("How many socks are in the pile?")
doing dishes ("Count all your forks and spoons")
helping with cooking and meal preparation ("Let's measure the cups of flour")
teach fractions by cutting sandwiches, pizza, fruit, or into sections
small items such as dried macaroni, buttons, or cotton balls can be used for teaching how to count by twos, threes
looking at the calendar and learning about days of the week and months
Do you have a preschooler ready for a more formal program? I've used Saxon Kindergarten Math with each of my kiddos the year before kindergarten. It's hands on, and super kid friendly. My boys have always loved playing with the manipulatives and it's laid a great foundation!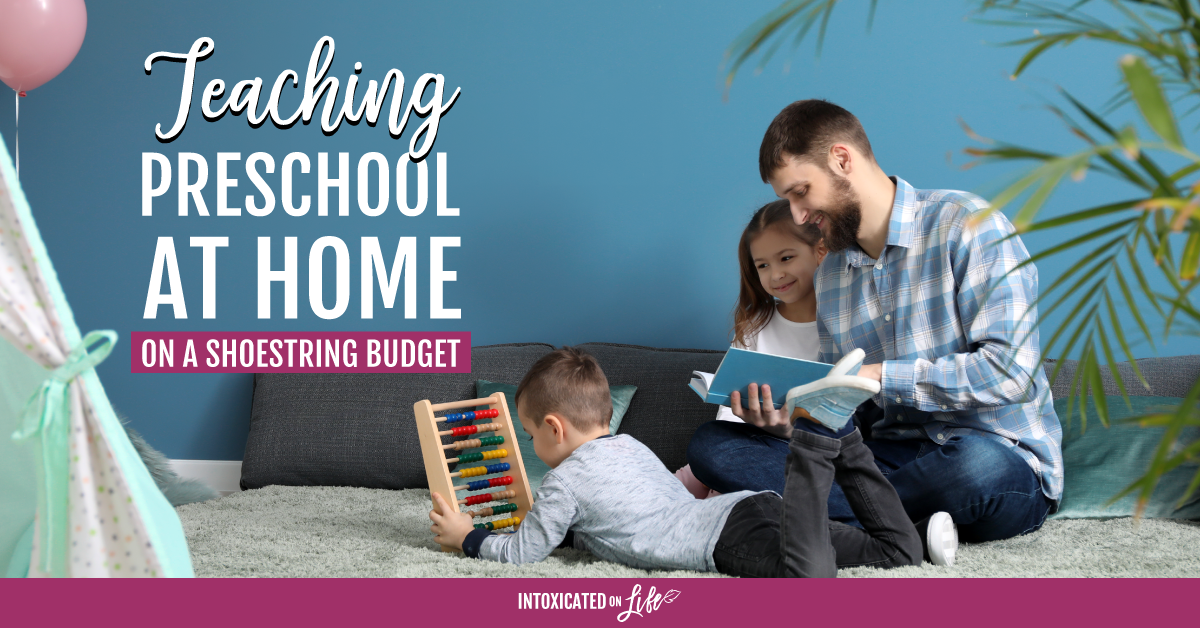 Technology and Preschool at Home
Finally, a note about using technology when teaching preschool at home. While we'd never want to use technology as a replacement for reading, and other hands on activities we've mentioned there are certain apps and even TV shows that can be a beneficial adjunct to everything you're already doing. Check out this post that has a list of learning apps (for both littles and bigs) you might enjoy incorporating into your preschool at home!
More Resources!
If you're looking for more preschool resources, our Early Learning Bundle is a great place to start. It includes four activity packs perfect for doing preschool at home. These activities are ideal for preschoolers and Kindergarteners who are building fine-motor skills, learning to recognize letters.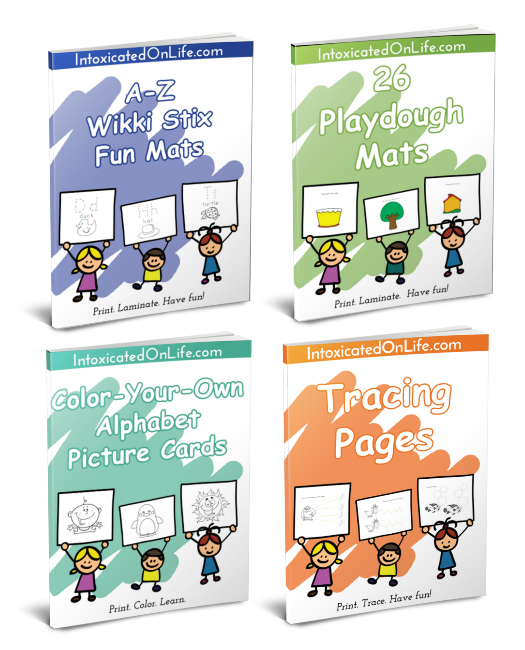 Included in this pack you'll find:
26 Wikki Stix Mats: Kids can trace any number of things on paper or laminated paper using Wikki Stix, such as tracing letters, shapes, and numbers. This assists with letter recognition and fine motor development.
26 Play Dough Mats: This is a fantastic tool for fine motor development. Print out and laminate these mats to guide play dough creativity.
26 Color-Your-Own Alphabet Picture Cards: There are 26 pages of picture cards included in this set, one for each letter of the alphabet. Each card has 4 pictures. Print these pages out on card stock and cut them out along the lines to make them more like flash cards. Have your kids color the front and you can write the letter on the back.
10 Tracing Pages: Tracing lines is a great pre-writing skill. Print out these pages on regular paper. You can print several copies and have your kids use them over and over to continue to develop fine motor coordination.
Teaching preschool at home doesn't have to be costly, either in time or finances. With a little thought and preparation you can work learning opportunities into many of your daily activities.