What are the odds your son or daughter will tell you they're gay? If Gallup Polls have anything to say about it, and all other things being equal (which they rarely are), your child has a less-than-4% chance of identifying as gay, lesbian, or bisexual.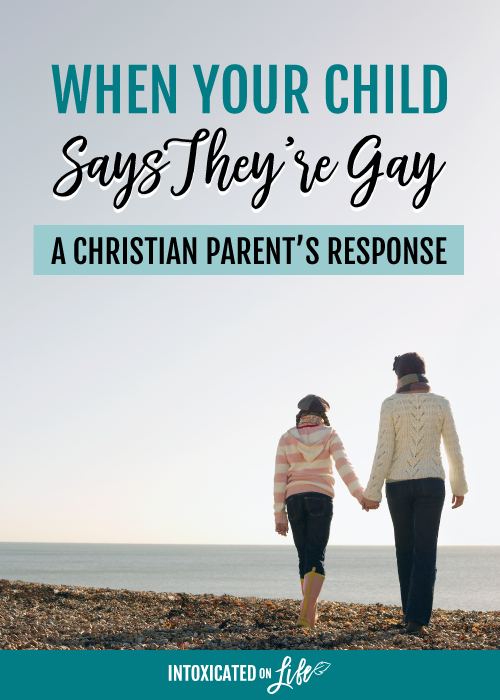 So the odds are small.
Regardless of what you think about same-sex attraction, for many parents those smaller odds allow them to breathe a sigh of relief. No one wants their child to grow up feeling "different" or "weird."
And yet those smaller odds means for those kids to do experience same-sex attraction, they feel all the more alone.
As a Christian parent, how should you react when your child tells you they're gay?
Your Child is a Person, Not an "Problem"
Homosexuality is a highly politicized issue today. It is easy to get argumentative about it.
But when homosexuality hits close to home—or in your home—you learn quickly you will never sit across the table from a "problem." The person sitting across from you is just that—a person.
Brad Hambrick, Pastor of Counseling at The Summit Church, says when a child comes to a parent and confides in them about "being gay," one of the most important things we can do is keep the conversation open. He give some great ideas about how to do that.
How do we keep the conversation open?
Be grateful. Your child chose to tell you something deeply personal and perhaps a bit scary. They didn't know how you were going to react, but they told you anyway. So thank them. Show them your love for them has not diminished.
Ask lots of good (not loaded) questions. "Tell me: when you first started experiencing same-sex attraction?" "What was that like for you?" "Who else have you talked to about this?" "What have you read about this that you've found really helpful?" "Who do you want to talk to about this?" "How can I pray for you?" Then listen really, really well.
Don't make it about you. Don't make the conversation about you, how others will see you, or some kind of speculation about "what you did wrong." Even the American Psychological Association says there is no consensus about the exact reasons that an individual develops same-sex attraction, so don't speculate. It will keep you focused on your child and his or her experiences.
Have compassion for the experience. Hambrick says when our children first share their story with us, our posture should not be argumentative: "If the people on the Internet get them, and we just debate them, who are they going to side with?"
In short, be quick to listen, slow to speak, slow to become angry (James 1:19). Make the first conversations about listening to your child well.
Living According to Creative Intent
At some point in your conversations with your child, if you've raised them with a Biblical worldview, the question will arise: "How does God expect me to live?"
Joe Dallas of Genesis Counseling gives some sage advice to parents.
How do we speak to our kids moving forward?
Speak to them as a fellow sinner. Properly understood, same-sex attraction is, by and large, not a chosen experience; it is something discovered. Yes, it is a desire that is part of a fallen world, but that should give us all the more ability to have compassion on our children who experience it—because all of us know what it is like to have disordered desires we did not choose to be there. Let your child know: they're no worse a sinner than anyone else simply because they have these feelings and attractions.
Live according to creative intent, not feelings. God is the creator of sex and sexual desire, so he is the one who gives us the blueprint for how they ought to be used and experienced. All of us experience sexual desires that, if we lusted or acted according to them, would go against God's design. Ask your child if they would like to explore (with you or with someone else you both trust) what the Bible says about sex.
Early on, it's probably best to avoid getting too preachy or sharing too much of your own opinion about what the Bible says. This allows your child the space to really discover for themselves what Scripture teaches. The ministry Living Out has an excellent set of articles where your child can start.

Preparing Christian Kids for an LGBT World
All of this really only scratches the surface of when and with what demeanor we talk to our kids about LGBT issues. For more information, access our online training series, Preparing Christian Kids for an LGBT World: Modeling Love, Honoring Truth, Tackling Tough Questions.