Until a couple years ago, we lived within miles of most of our family. So, we really didn't travel much – or at all, except at the holidays. And even then, it was minimal. But, now that we live over 600 miles from our families, traveling is a must.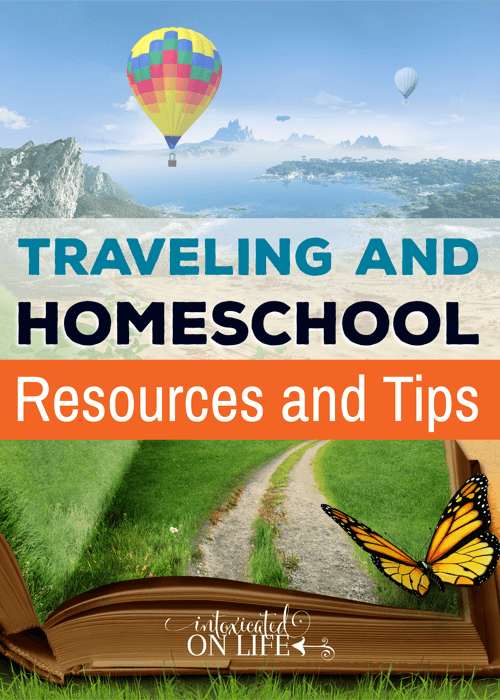 Living in a new state has also given us a new appreciation for homeschooling. We have so much fun traveling around and learning about the rich history in which we now live. But, I quickly realized that our "day trips" were not as exciting for the kids as they were for my husband and I. So, I knew something needed to change.
I mean…we homeschool. Surely there was a way to incorporate some wonderful learning opportunities in to our travels. That's when I decided to be more diligent about Traveling Homeschool. I call it like I see it – we're traveling and doing homeschool, so traveling homeschool it is.
Can you homeschool while traveling?
YES! I know that while we're traveling, we are always pointing out new landmarks or historical sites we see along the way. Sometimes those sightings lead to more informative talks and sometimes they don't. Either way, we are exposing our children to new information and making it real by showing them something tangible.
Why should you homeschool while traveling?
I'm not saying everything should be about school, but learning is a natural process – so why not take advantage of it every chance you can? At first our children squawked when we paused the movie or made them stop to look at something. Now that they are a little older and able to retain more of the information they are given. They enjoy hearing stories and learning about what they see. They also engage and ask questions, which often leads to longer, more in-depth conversations than we anticipated.
3 Tips for Homeschooling while Traveling
1. Plan ahead – Planning your stops ahead of time will help you know what to look for and where you might want to stop for more learning.
2. Stop often – Sometimes while traveling, we find historic markers we didn't know existed. We stop to read them and take pictures, because they are so interesting. Learning more about the area in which you live can be fascinating, if you just know where to look.
3. Take paper – Now, you don't have to take any formal printables along, but I highly recommend taking along some blank and/or lined paper with you on your trip(s). Older kids can jot down information they find fascinating or new facts they want to remember. Younger kids (and older ones too) can draw or color a picture of what they say, what they thought was interesting or about something they learned along the way.
By giving them the freedom to express what they've learned in their own voice, they will retain more of the information. PLUS…you now have a nice little souvenir from your trip that will fit perfectly in to their yearly portfolio.
NOTE: If you're taking along papers for them to fill out, don't forget to bring along a clipboard!
Resources for Homeschooling with Traveling
If you want more specific printables for your destination, usually a quick Google or Pinterest search will give you plenty of options. Gather your resources, plan ahead and print away!
How do you homeschool while you travel?