Let's talk about flu shot facts.
One, two, three, four little boys fall prey to the flu. I begin to cough. The congestion descends upon like a vice. I feel a little queasy and my temperature begins to rise, I wonder if maybe I should have taken our pediatrician up on her suggestion to get the flu shot.
She and the nurse both asked us about it when we were in for the well-child visit. I declined.
I received not one but two phone calls from her office after that visit asking me if I changed my mind. Nope.
But now I was wondering if I made a mistake…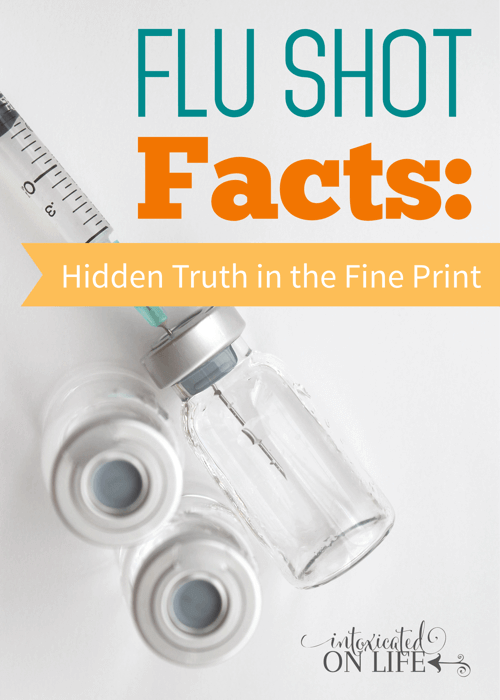 When I made the decision to decline the flu vaccine, it wasn't based on any great research that I had done. As I told my husband, why would I get a vaccine for the flu? That just seems silly. It's the flu. You get it and get over it. No big deal, right? Anyone who has taken care of four sick little boys while being sick yourself will tell you that it's certainly not fun. Yes, I found out that year just how not-fun it was.
Selective Vaccination
I'm a selective vaccinator. That means, we don't get every single vaccine that our doctor recommends (there are a lot of them these days), but we do get some of them. When making my decisions on whether or not to vaccinate I want to know: do the benefits out-weight the drawbacks and risks.
Despite what the medical community may say, there are risks for every single vaccination you put in your body. To vaccinate or not to vaccinate is not a simple cut-and-dry issue. It's a complex, multi-faceted issue that involves doing your homework.
Flu Shot Facts: What is the Flu Vaccine?
There are two major types of flu vaccine: (1) the nasal inhalation virus (a living but weakened form of the virus), and (2) the injection (a killed virus). When the vaccine enters your body, your body creates anti-bodies to the different types of viruses that were introduced in the vaccine. This gives you protection to those virus types.
It is important to emphasize, that individuals receiving the vaccine will only be protected from the strains of viruses they received in the vaccination. While there are literally, thousands of strains of the influenza virus, a flu shot will only protect against 3 or 4 (depending on whether you receive a trivalent or quadrivalent vaccination). It's also important to understand that the influenza virus is constantly mutating to create new strains.
Fact #1: The flu vaccine will protect you from only 3-4 of the potential thousands of flu strains. Don't let the "experts" fool you. This is nothing more than a guessing game. They really have no good way to tell which strains are the best ones to vaccinate against.
Flu Vaccine Recommendations & Death Rates
If you've ever checked out the information on the Center for Disease Control's website, you'll notice that they refer to flu as if it's reached epidemic proportions—a virus that is a major killer. It's no wonder that the CDC currently recommends:
Everyone 6 months of age and older receive the vaccine
Individuals should receive the flu vaccine as soon as it becomes available
Each year the CDC claims tens of thousands of individuals die from the flu. It's quite alarming when taken at face value. If this is the case, of course, shouldn't we all get vaccinated? I've never personally known someone who's died from the flu, but if tens of thousands of people do each year, it's just a matter of time, right?
Here's a funny thing about some of these statistics: sometimes you need to read the fine print. Sometimes, you need to consider of the source. Do you think the vaccine makers are the best source or independently funded researchers? Probably not. (Throughout this post, I try to mainly focus on research that has been independently funded, but some vaccinator funded research is difficult to avoid since it's so prevalent.)
In Are US Flu Death Figures More PR than Science?, an aptly named article in the British Journal of Medicine, the author reports:
"[According to CDC statistics], 'influenza and pneumonia' took 62,034 lives in 2001—61,777 of which were attributable to pneumonia and 257 to flu, and in only 18 cases was the flu virus positively identified."1
Do you see what the CDC did?
They combined both Influenza and Pneumonia deaths so as to inflate the numbers and make it look like more of a problem than it was.
They estimated what the flu related deaths are and did not report on the actual number, which was 18.
Fact #2: The statistics that the CDC throws around regarding death from influenza are grossly exaggerated. Furthermore, much of the research out there has been funded by the vaccine makers—this is problematic for obvious reasons.
Flu Shot Facts: What's in a Flu Vaccine?
Despite the fact that the CDC's death numbers are grossly inflated and that the vaccine only prevents 3-4 of the flu strains, I don't believe that alone is reason to discount the flu vaccine. We need to look further at flu shot facts, such as the actual ingredients of the vaccine. What are you putting in your body, besides the virus (be it living or dead)?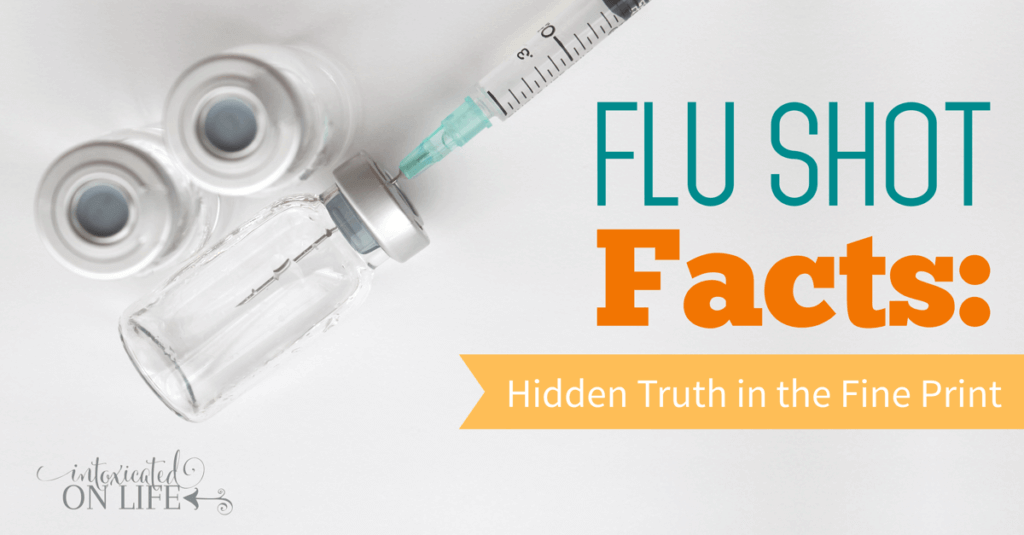 Flu Shot Ingredients
Below is a break down of each of the ingredients found in the flu shot. To make an informed decision, it's important to know what the ingredients are that we're considering putting into our bodies. What are they there for? What is the impact they have on the body?
Most of the preservatives used are known to be toxic and some are recognized carcinogens listed by the Environmental Protection Agency (EPA).
Cell Cultures: Egg protein is used to grow the flu virus, so there is enough to make the vaccine. Obviously, if you have an allergy to eggs you should avoid getting the flu vaccine.
Stabilizers: Sucrose, gelatin, or polysorbate 80 are used to stabalize the vaccines for transportation and storage. Polysorbate 80 can be quite a problematic ingredient. It is used to treat chronic kidney failure, so can be quite harsh on the liver. It's also been drug been used to help drugs pass through the blood-brain barrier. And possibly most disturbing, is a study which reports polysorbate 80 causes "severe non-immunologic anaphylactoid reactions."2 Yikes!
Adjuvants: Aluminum salts are added to the vaccine in order to stimulate an immune response to the killed virus. The problem is that aluminum is a known neurotoxin. That means, it is toxic to your brain and exposure has been linked to Alzheimer's disease and dementia.3
Inactivating ingredient: Formaldehyde is added to the vaccine during the production process in order to prevent bacterial contamination. Formaldehyde is a pretty strong disinfectant and is listed as a human carcinogen by the National Toxicology Program.4
Preservatives: Thimerosal (mercury) is added to multi-dose vials of the flu shot. It's purpose is to prevent contamination, because each time a needle enters the vial there is a risk of exposure to impurities. Thimerosal is quite a controversial ingredient and rightfully so. It is mercury, a toxic heavy-metal. It has been linked to the suppression of the immune system resulting in systemic inflammation and development of autoimmune diseases.5 6 Because of the negative impact of thimerosal, some vaccine manufacturers have begun to create thimerosal-free vaccines which are available in limited quantities.
Antibiotics: Penicillin or other sulfa drugs are added to the vaccines in order to prevent bacterial contamination. If you have an allergy to any sulfa drugs, it's wise to skip the flu shot.
Fact #3: There are toxic ingredients in the flu vaccine. Make no mistake, these ingredients place strain on your body. This has a number of implications. One of the more important ones, there can be long-term implications of putting these toxins in your body year after year.
Flu Shot Side Effects

Adverse Reactions. All drugs, surgeries, and vaccines have them, but do we pay much attention to them? Considering this: there are more claims submitted to the Vaccine Injury Compensation program about the flu vaccine than any other vaccines.7
There are many immediate adverse reaction listed in the vaccine inserts, they range from mild to severe. Some of the fairly common side effects include: pain (64%), fever (29%), fatigue (20%), headaches (26%), nausea/vomiting (12%), runny nose/nasal congestion, (58%), decreased appetite, (21%), and more (percentages vary depending on the specific vaccinations). Did you see those percentages? Those aren't what I would call "rare" side effects.
There are also more serious, albeit rare, side effects for which no percentages are given. They include: narcolepsy, seizures, tachycardia, swelling of the mouth, throat, or tongue, vertigo, injection site abscess, injection site cellulitis, facial palsy, neuropathy, respiratory distress, vasculitis, facial swelling, chest pain, and the list goes on and on. Oh, also there is increased incidence of fever and ferbile seizures in children 5 and under. That's pretty scary, if you ask me.
Flu shots that contain live viruses are capable of actually causing side-effects identical to the flu.
In addition to these side effects, you also need to be on the look out for allergic reactions. As mentioned earlier, if you have allergies to antibiotics or eggs the flu shot should definitely be avoided!
You can check out vaccine inserts here for a full listing of side-effects. 
Fact #4: There are a lot of fairly common side effects individuals experience from the flu shot. It's important to be aware of these. There are also some very serious side effects that can cause long-term damage or death. Additionally, those who are allergic to eggs or antibiotics should skip the flu shot.
Flu Shot Facts: Flu Shots & Your Immune System
Another serious implication of the flu vaccine is it's impact on the immune system. The toxins in the vaccine weaken the immune system.
Not only this, but the Journal of Virology found the immune systems of children who have been vaccinated against seasonal flu strains are weakened, making them more susceptible to becoming infected with flu strains not included in the vaccine.8 T cells are essential for immunity. This study found that the T cell response was absent in the vaccinated children.
Fact #5: The flu shot may help you avoid some strains of the flu virus, but it will also likely decrease your ability to fight off other strains of the flu virus along with other infections.
Flu Shot Facts: Safety Studies
There are large groups of the population for which there have been no safety studies done. Considering the fact that the CDC recommends the vaccination for everyone over the age of 6 months is a bit disturbing to me.
There have been no controlled studies in women who are pregnant, nursing, and children under 3 years old. The flu vaccine insert claims:
"Unknown whether it's excreted in human breast milk."
"Safety has not been established for children under 3 years old."
"There are, however, no adequate and well-controlled studies in pregnant women…should be given to a pregnant woman only if clearly needed."
This doesn't apply to just one or two vaccines, you see pretty much the exact same wording on all of the vaccine inserts.
Fact #6: There have been no studies to indicate whether vaccines are safe for children under 3, or pregnant or nursing moms. Use extra caution if you're in one of these groups!
Effectiveness of the Flu Shot
Is the flu shot effective in decreasing incidence of the flu? That is the million dollar question, right? If it's not effective, then none of this really matters. If it's highly effective, well, everything we just talked about is a bit more interesting.
Please note, I have not read every single journal article about this. I read a number of journals that concluded that the flu vaccine was quite effective, but many of those were sponsored by the flu vaccine makers. I was more interested in what researchers who were not getting paid by the vaccine industry had to say about the flu shot. I placed most of my focus on meta-analysis: journal articles that looked at the results of numerous studies. Below I've given some excerpts of some of the most poignant findings on flu shot facts.
A review of the current research on the flu vaccine concluded:
"…the available evidence is of poor quality and provides no guidance regarding the safety, efficacy, or effectiveness of influenza vaccines for people aged 65 or older."9
This same article goes on to explain that it is rare that the upcoming seasonal flu strain is ever predicted with any accuracy. On the rare occurrence when it is matched correctly, however, 100 people need to be vaccinated to avoid one set of influenza symptoms, and there is no evidence that vaccines affect complications (such as pneumonia) or transmission. 
Another review of over 40 studies, concluded:
"…it is clear that the performance of the vaccines in healthy adults is nothing to get excited about. On average, perhaps 1 adult out of 100 vaccinated will get influenza symptoms compared to 2 out of 100 in the unvaccinated group. To put it another way we need to vaccinate 100 healthy adults to prevent one set of symptoms. However, our Cochrane review found no credible evidence that there is an effect against complications such as pneumonia or death."10
Woah. So, said another way, if you do get the vaccine, you have a 1% chance of getting the flu. If  you don't get the vaccine, you have a whopping 2% chance of getting the flu. Doesn't sound like too much of a difference to me.
Another meta-analysis found even less of an impact from vaccines. They reported an 8.5% flu risk for those who had been vaccinated and an 8.9% risk for those who have been unvaccinated.
Finally, a meta-analysis published in The Lancet Infectious Diseases, declared,
"There are no randomized controlled trials showing efficacy of TIV (the inactive flu virus) in people aged 2-17 years or adults aged 65 and older. For LAIV (the live flu virus), there are no randomized controlled trials showing efficacy in people aged 8-59."11
Fact #7: There is little support that flu vaccine is effective. At best it only ever-so-slightly lowers your chances of getting the 3-4 strains of the flu virus it vaccinates against.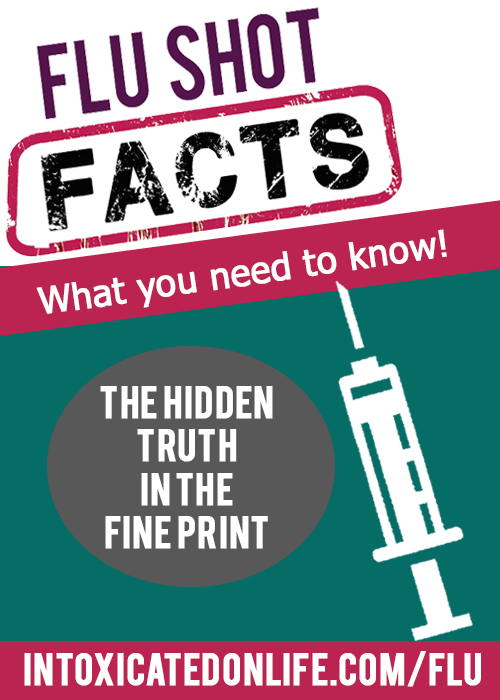 Mortality Rates
Whether or not the flu vaccine has a real impact on mortality is of great significance. If we can decrease mortality connected to the flu, that would be win, right? The research all pretty much says the same thing.12 13 14 15
Despite increased rates of influenza vaccinations, there has not been a decline in influenza related mortality since 1980 (when the flu shot became readily available). The American Journal of Respiratory and Critical Care Medicine, said it best, "Both the rates of flu infection and death have increased in people 65 years and older, and they continue to increase as vaccine coverage becomes more widespread."
Fact #8: Millions more people are getting the flu vaccine, but there is no evidence that there has been a decrease in flu related mortality. In fact, it appears the more people get the vaccine, the higher the death rates become in the elderly.
If you made it this far, kudos to you for really taking the time to read and think about this flu vaccine topic seriously. Whether you come to the same conclusions as I do or not, I'd encourage you to earnestly consider this topic before just got along with whatever your healthcare provider suggests.  Are we just taking what the vaccine makers and government officials saying at their word? Or are we really digging into the research to see if what they are reporting is based on good solid research?
So, back to the original question. Should I have taken my doctor up on her suggestion to get the flu shot? No, I'm convinced that certainly wouldn't have been the best option. Could we have avoided getting the flu? Maybe. Maybe not. But there are far greater things at stake that could have long-term health implications for my family.
Do you vaccinate or not vaccinate for the flu? What have been the most important factors to you in this decision?
More Articles about the Flu
We have some more posts in this series on the flu vaccine:
The Flu Shot's Not Enough: How to Make it More Effective (plus some ways to detox!)
Sources: