Let's talk about ways to teach your kids the Word of God.
As parents, we want to use every method we can to fill our children's minds with ideas from the Word of God. What methods did God use to help His people grasp His word?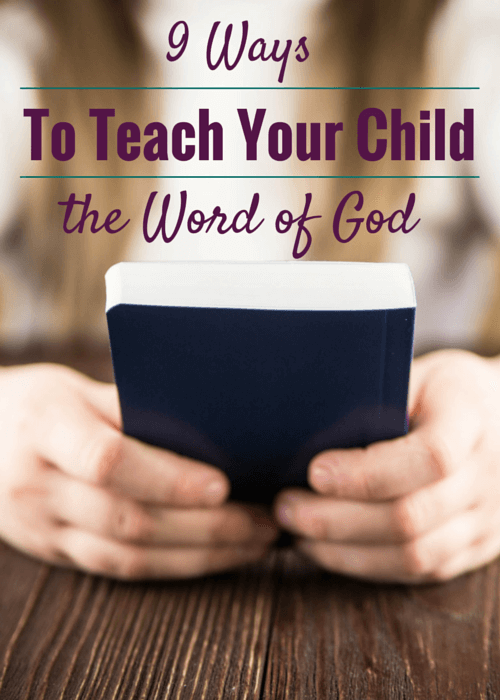 9 Ways to Teach Your Kids the Word of God
Reading aloud: Like many books written in a predominantly oral culture, the Bible was written to be read aloud. This is what God told His teachers to do (Deuteronomy 31:11; 1 Timothy 4:13; Colossians 4:16; 2 Chronicles 34:18) and we can do this for our own children.
Personal reading: By reading the Scriptures with our own eyes, we can reflect more deeply and prayerfully about what they mean (Daniel 9:2). We can teach our kids to get into a rhythm of daily Bible reading.
Music: He inspired gifted song-writers and musicians to present His word in song (1 Chronicles 15:1-24; Psalms). Start a collection of Scripture songs for your kids to listen to.
Conversation: He told parents to remind their children of God's commandments in the daily rhythms of life (Deuteronomy 6:7).
Personal repetition: God commands his people to meditate on His Word, or more literally, "growl," "utter," "mutter," or "speak" to ourselves (Joshua 1:8; Psalm 1:2). Choose verses for your kids to memorize and teach them recall the verse throughout the day under their breath.
Parables: Jesus often used parables to draw his listeners in, provoking the curious to search for more understanding (Matthew 13).
Study: God wants us to rightly handle and analyze His word of truth (2 Timothy 2:15). As kids grow, we can teach them to study the Bible for themselves.
Visual demonstrations: Often, God would command his prophets to not only proclaim His Word but act it out in some symbolic fashion, making the message take on a new life (Ezekiel 5:1-17; Isaiah 20:1-6). When telling Bible stories, have kids act out what is being read.
Writing: When we write the words of God with our own hand, it allows us to study His Word in a new way (Deuteronomy 17:18). 
This is my list of ways to teach your kids the Word of God. These are the methods we use in our family.
We aim to read aloud to our kids and encourage them to read the Bible themselves as they get older. We use analogies, parables, and even physical demonstrations to get the word of God across to our kids. We sing Scripture songs as a family.
We should use teachable moments throughout the day to reinforce lessons. We should all encourage our kids to memorize and mutter the word of God aloud throughout the day. We should have our kids write Bible passages. Because teaching our children about the Word of God is the most important thing we can do as parents.
Did this list of ways to teach your kids the Word of God inspire you? How? Tell me in the comments!
.
---
Check out our family Bible studies!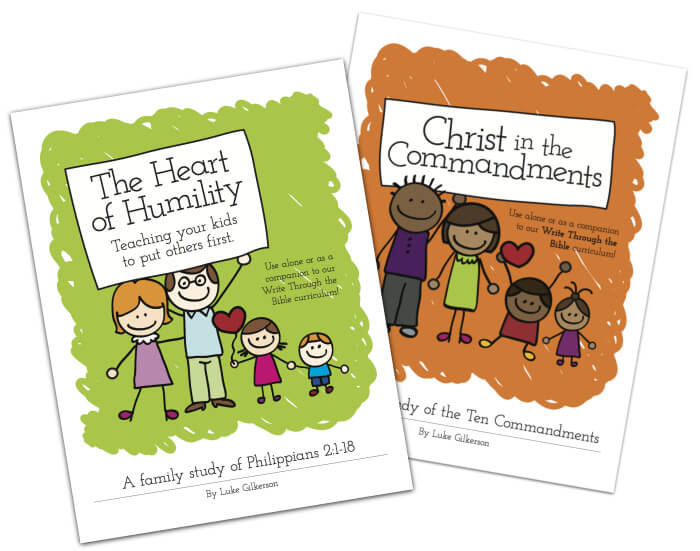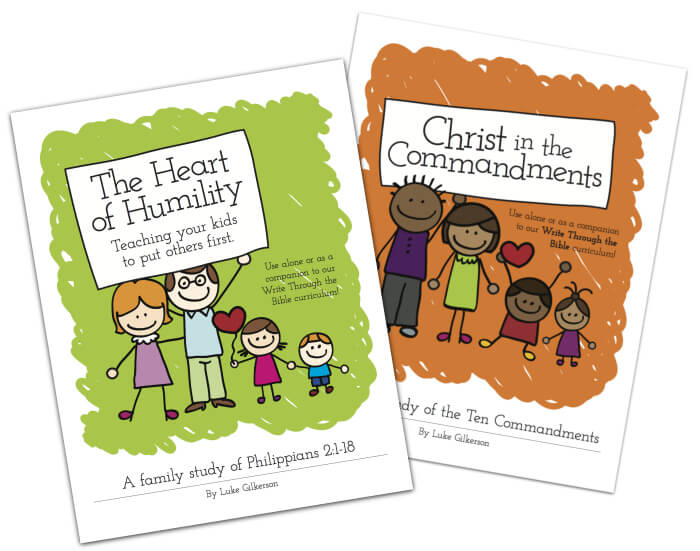 As a parent, I know how much I appreciate a well-written family devotional—something that engages my children's imaginations and helps them to grasp the Word of God.
That's why I wrote these family Bible studies:
All these studies contain 30 lessons. Every lesson begins with opening thoughts and questions, followed by a Scripture reading, followed by a commentary and more questions to apply the Word to your family's life.
---
More Resources for Christian Parents: