What brand of essential oils do you use?
That innocent-sounding question has become incredibly divisive in recent years. Many essential oil "wars" have begun with that one question.
But I don't like conflict. I like everyone to get along.
While there are some brands I've used more than others, I've stayed pretty brand-neutral—both in personal purchases and the brands I promote to my readers.
But after doing a lot more research, I knew a change was needed. I wanted to be able to point my readers in a specific direction when it came to essential oils. I wanted to partner with a company that makes high quality oils at a fair price—and helps me fulfill my mission of creating great healthy living education.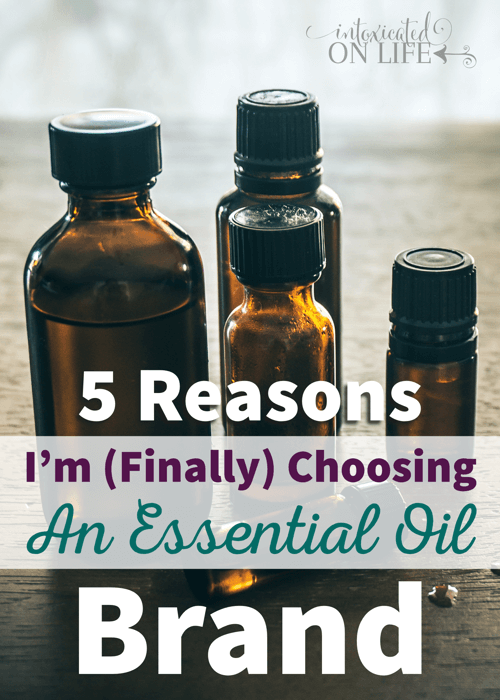 Obviously, I still don't want any conflict. You might think your brand of oils is the best, and it might be different from mine, and that's fine. I still love you.
Learn more about my favorite essential oils in this post.
5 Reasons I'm Choosing an Essential Oil Company
I hemmed and hawed about partnering with just one company. I had prided myself on being brand-neutral—not being one of those essential oil bloggers. You know, the ones that cut every other oil company down.
After wasting a lot of time stressing, I came to peace with it. A friend wisely told me, "Get a grip girl! Being brand-loyal doesn't mean telling people what every other company gets it wrong. It means promoting the company you love because of what you see it does right." So true.
So, here we go. Below are the 5 primary reasons that influenced my decision…
1. Quality
The #1 reason I decided to make the switch was quality. The more I read about the quality of different oils, this brand kept sticking out to me.
Now, I'm not naive enough to think just one essential oil brand has the corner market on quality—that's ridiculous. But I think some brands are more consistent with quality. Some brands have better checks in place to make sure they are consistently producing quality products.
2. Education and Support
One of the big missions of this website is researched-based education, and the more I have learned about the benefits of essential oils, the more I wanted to share what I was learning with others.
But I'm also only one person, and there are some wonderful experts out there who know far more about essential oils than I ever could. One of my big reasons to want to partner with one company was the desire to really get to know the researchers in the industry.
Make no mistake, I'll continue to do my own research and pass what I'm learning along to you. But I'm super excited to be connected with a company that will enhance my learning experience!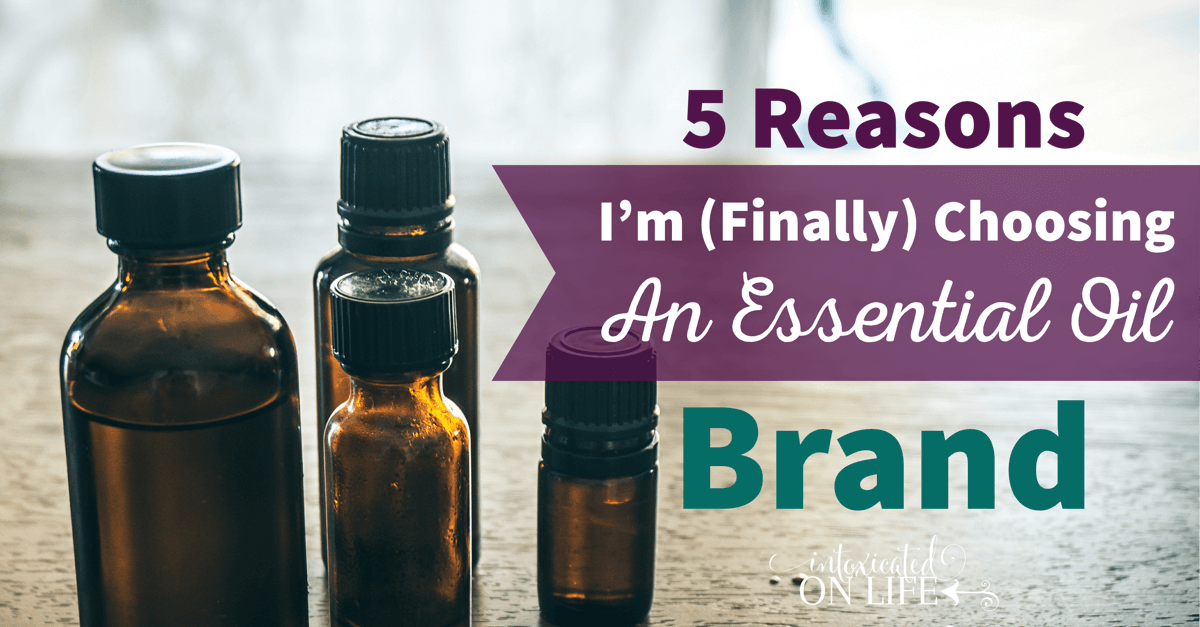 3. Testing
This goes hand in hand with the first point. Some companies go above and beyond with the testing of their oils. They have them tested by third parties to make sure their oils are not adulterated. I like this.
4. Cost
Let's get real. We all live on a budget. Nobody can afford to spend their entire wage on essential oils, so we want a solution that is cost effective.
I used to think my now-preferred brand was more expensive—that is, until I actually took the time to compare prices.
It turns out, when you pay a small yearly fee (like you would for a Sam's Club® or Costco® membership), you can buy at wholesale prices. What I found was, comparing oil prices on an oil-by-oil basis, some oils were the same cost, some slightly more, and some slightly less—but overall, the prices were fairly comparable.
5. Concerns about the quality of another brand I was using…
While I don't want to belabor this point too long, because it is not my intention to be negative or bash other brands, I do believe it's important to touch briefly on this point.
Some months back, it came to my attention that there was a pretty major issue with one of the oils that another brand I was using sold. In fact, it simply wasn't the oil it was labeled and sold as. It was a cheaper, inferior oil. Eek…not cool.
Eventually, this was made right, but it took many, many people causing a big stink before the company would admit the fault. Now, I completely understand that sometimes problems like these occur, but the way the situation was handled by the company left a really bad taste in my mouth. The fact that they didn't own up to their mistake immediately and make it right wasn't cool. In their defense, since that time, they do seem to be putting some more quality control parameters in place.
Who Did I Choose?
I went with doTERRA for my oils. I believe they met all the criteria above. I'm no essential oil Nazi. I don't believe they're the only good oil provider, but they do provide consistently quality oils at good prices when you are a wholesale member (and even better deals if you're a frequent oil buyer and participate in their Loyalty Rewards Program).
I know some don't like doTERRA because you have to sign up for the good prices. Their program is similar to having a Sams or Costco membership. You simply sign up and pay a $35 yearly fee. No strings attached. No minimum orders every month. No selling. Just sign up and get great oils.
If you'd like to chat more about getting started with doTERRA, shoot me an email at [email protected].
Free Download: Mom's Essential Oil Cheat Sheet
Would you like a resource to help you learn to use essential oils with your family? Download this free 3-page printable:
Basic guidelines for using essential oils around kids
A list of safe, kid-friendly oils essential oils
Helpful essential oil recipes
Click the link or image below to download the 3-page Mom's Essential Oil Cheat Sheet. I'll follow it up with more resources and free printables to help you on your essential oil journey. Grab your copy now!