Today, I'm going to focus on the subject of how to talk to young boys about masturbation.
Since we released The Talk (our sex-ed Bible study for families) probably the most common question we've had from parents is this: How do I talk to my son about the subject of masturbation?
Masturbation, for many boys, is something they will experiment with in their lives—at least a few times, if not habitually. According to The Janus Report on Sexual Behavior, 25% of adult men say they masturbate daily or several times a week. 55% percent said they masturbate daily to monthly.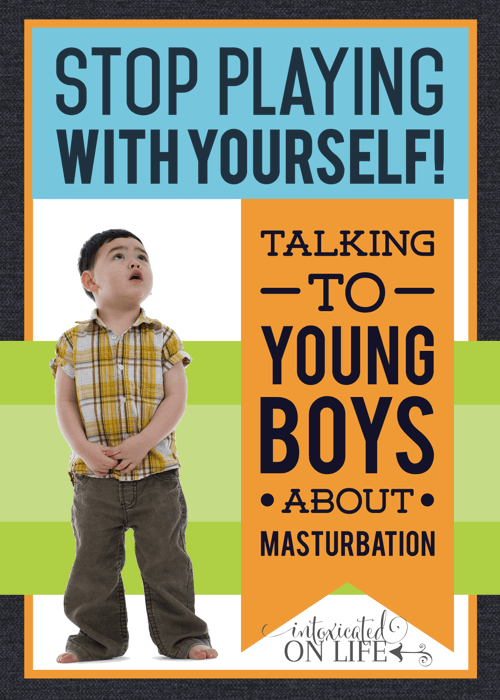 As for teen boys, it is very common. According to the National Survey of Sexual Health and Behavior, about half of boys 14-17 years old masturbate at least twice a week.
With something that is so common for boys, it is good for parents to have a response about . How do we plan for conversations about it? How should we talk to young boys about masturbation?
(For the record, yes, I know women and girls masturbate, and yes, daughters should receive education about this as well. I've deliberately chosen to focus on boys in this article because (1) I am a man, and (2) I have four boys and no daughters. I assume much of what I have to say here applies to girls as well as boys, but I'll let my female readers be the judge of that.)
The focus of this article: Pre-pubescent boys (10 and Under)
My next article will address boys who are more likely to be capable of lustful fantasy, but this article will focus squarely on pre-pubescent boys and how to talk to young boys about masturbation.
Several independent studies confirm that the average age of first sexual attraction is just over 10 years old, with first sexual fantasies starting between 11 and 12. For the purposes of this article, I'll be addressing boys 10 an under. 
What do you mean by "masturbation"?
Before we, as parents, can talk to our children about the ethical implications of masturbation, we have to first know what we're talking about.
Not everyone means the same thing when they use the word "masturbation." For the purposes of this article, I'm going to stick with Merriam-Webster's definition:
Masturbation is erotic stimulation especially of one's own genital organs commonly resulting in orgasm and achieved by manual or other bodily contact exclusive of sexual intercourse, by instrumental manipulation, occasionally by sexual fantasies, or by various combinations of these agencies.
That's a mouthful. Let me pick it apart…
"Stimulation…of one's own genital organs…exclusive of sexual intercourse" – We're not here talking about "mutual masturbation" (two or more people pleasuring one another). This definition includes only solo stimulation.
"Commonly resulting in orgasm" – Masturbation should be distinguished from early exploration of the body or "fiddling" mindlessly with one's genitals. Masturbation is a concentrated activity that usually builds to orgasm. (Yes, young boys are capable of orgasm, but until semen is produced in the body during puberty, there is no ejaculation.)
"Occasionally by sexual fantasies" – Here we see two types of masturbation in the definition: (1) that which is done without the aid of fantasy, and (2) that which is accompanied by sexual fantasies. Dr. Doug Weiss, in his book Sex, Men, and God, talks about both forms of masturbation, saying that even into adulthood there are men who, when they masturbate, "stay connected" to themselves and concentrate only on the physical sensation itself. They do not escape into lustful fantasy. Others, however, are "disconnected," focusing on a mental image or an actual image (such as pornography).
Since we are addressing the subject of masturbation in younger, pre-pubescent boys and how to talk to young boys about masturbation, we'll be addressing the first kind of masturbation: one where the focus is the act itself, not something driven by lust.
What does the Bible say about masturbation?
Nothing.
While the Bible says a great deal about about sex and says a fair amount about lust (one of the motives for masturbation), it says nothing directly about the act of masturbation itself.
In the 18th century masturbation was (wrongly) called the sin of "Onanism." This was a reference to the Biblical character Onan who was bound by the custom of levirate marriage: he was obligated to marry his brother's widow to produce offspring in his brother's name. However, whenever he would have sex with her, he always pulled out of her to deliberately avoid pregnancy. While it is true God called this a great evil (Genesis 38:10), this is not the act of solo masturbation by any stretch.
For this reason, when parents ask if they should tell their children masturbation is a sin, I do not recommend they put the act of masturbation itself into the sinful category. This, of course, is not the end of the matter, but it is an important place to start: In all God said about sexual topics, He never once said the act of masturbation is sinful, and neither should we, when speaking only of the act.
Two important categories: wise/unwise and moral/immoral
In the absence of the Bible addressing masturbation, many parents rush to one of several courses when thinking about how to talk to young boys about masturbation:
Approach #1: Despite this biblical silence, they tell their kids the Bible condemns the act as sinful anyway.
Approach #2: Because of this biblical silence, they say nothing to their kids about masturbation, believing it isn't really a big deal.
Neither of these approaches is preferable. The first is based on ignorance about the Bible (or perhaps deception), and the second is neglectful.
We do ourselves and our children a disservice when we have only one way to categorize our behavior: moral vs. immoral (right vs. wrong). The Bible gives us more than this, however. Our behaviors can also fit into the category of wise vs. unwise.
Paul brings this point out in his first letter to the Corinthians: "'All things are lawful for me,' but not all things are helpful. 'All things are lawful for me,' but I will not be dominated by anything" (1 Corinthians 6:12). Paul is saying there are things that can be considered "lawful" (i.e. not immoral), but still unhelpful or even potentially enslaving.
We might put the drinking of alcohol, for instance, into the wise/unwise category. The Bible clearly says drunkenness is immoral (Deuteronomy 21:20; Proverbs 23:29-35; Isaiah 5:11-12,22; Hosea 4:10-11; Amos 6:4-7; 1 Peter 4:1-5), but wine and other fermented drinks are also repeatedly called divine blessings, meant to be enjoyed (Deuteronomy 7:13; 14:26; Psalm 104:14-15; Isaiah 24:6; Hosea 9:2; Joel 1:10; Amos 5:11; Luke 7:33-34; John 2:6-11; 1 Timothy 5:23). And in cases where drunkenness is not a problem, wisdom steps in and asks, "Drinking is lawful for me, but in what cases is it unhelpful or in what cases does it bring me under its power?"
The wisdom approach regarding masturbation for young children
1. Distinguish between exploratory fondling and masturbation. It is common for very young boys to discover they have a penis and that playing with it feels good. Boys who are doing this in a mindless manner, much like thumb-sucking, are not masturbating, since masturbation involves more concentrated effort in a fashion that might lead to orgasm.
Still, fondling one's privates is a social issue to address. Boys should be told that their privates are special and they should not draw unnecessary attention to them in public places. Getting children into the habit of not "playing with themselves" in public is a good habit to train, but the tone we use here is important. Often, simply saying, "Not in public, honey," or "Not here at the store" will let them know their behavior isn't good to do out in the open. For many kids this will train them out of the habit altogether.
2. Distinguish between momentary and habitual masturbation. If you catch your son masturbating, resist the urge to make a big deal about it right away. It is, after all, not a moral issue yet—it is a wisdom issue. See if a pattern develops.
3. If masturbation is habitual, consider a re-directive approach. No matter the age of the young child, instead of emphasizing masturbation as a dirty activity—which can easily be mistaken with the message "sexuality and/or your body is a dirty topic"—help them re-direct their efforts to other activities that are very pleasurable and don't involve a lot of sitting still (so, watching a Dora the Explorer for an hour would not be a good option).
4. If masturbation is habitual, consider making a change in diet. One study suggests frequent masturbation is associated with reduced estradiol levels. Increase foods high in phytoestrogens, Vitamin C, carotene, and complex B vitamins. Sometimes these nutrients can imitate estrogen or actually increase estrogen production.
5. If masturbation is habitual, make an effort to reconnect with your child. One study suggests that the onset of frequent masturbation is often associated with a stressful life event, like weaning from breastfeeding or the birth of a sibling or separation from parents. Some studies suggests that it can be a reaction to a lack of affectionate tactile contact or emotional deprivation. Make an effort to reconnect with your child, not just through "quality time" but a greater quantity of time. Play together, read together, pray together, walk together. Often in doing these things, parents see the masturbation habit disappear altogether.
6. If habitual masturbation persists, consider how to have meaningful conversations about it. If your child is old enough to understand (perhaps 6 and up), talk about the physical process they are experiencing.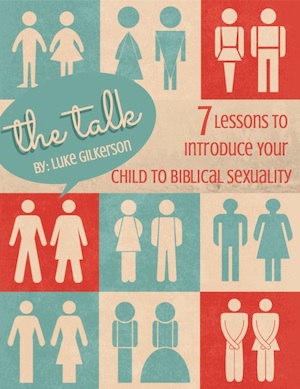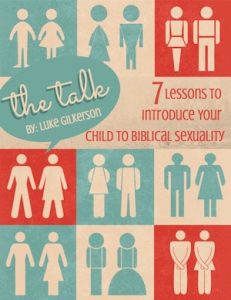 Don't lead with a conversation about masturbation, but lay a good foundation about human sexuality in their mind. Use great resources that make this easy (such as The Talk: 7 Lessons to Introduce Your Child to Biblical Sexuality, or the Learning About Sex Series for boys and girls, or the God's Design for Sex Series).
Talk about why the penis becomes erect and what the purpose of an erection is. Explain that it is normal and natural for an erection to feel good because they were designed by God this way.
Talk about the importance of habits. Tell them that masturbation is a tough habit to break and that you don't want them to train their mind to believe that their sexuality ultimately belongs to them. Use three principles from 1 Corinthians to teach this…
They should never merely stop at the question of right and wrong but wise habits and unwise habits (1 Corinthians 6:12). Masturbation may technically be lawful, but it is not good to be brought under its power.
They were bought with a price: if they are a Christian, their body belongs to God (1 Corinthians 6:18-20). They should not develop any habit that trains their mind to think, "I can do whatever I want with my body."
If they will get married some day, they will not have ultimate authority over their body; their wife will (1 Corinthians 7:4). They should not develop any habit that trains their mind to believe, "I have authority over my body."
Any questions about how to talk to young boys about masturbation?
Do you have any questions about this topic? Please let me know. I'll be happy to answer anything to the best of my ability.
For further reading: