What happens when you're homeschooling multiple kids?

If you don't watch out, it'll drive you bonkers, that's what!

But, not to worry, today I'm sharing five strategies for homeschooling multiple kids without going crazy. We want our homeschools to be productive, happy, and welcoming to our children. When you are juggling multiple kids and multiple grade levels, homeschooling can feel chaotic, stressful, and cold. It doesn't have to be that way.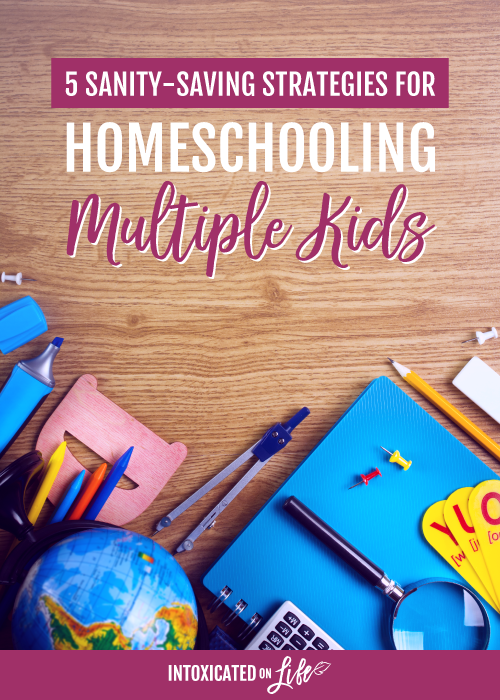 Strategies for Homeschooling Multiple Kids
Here are five suggestions and tips to give you peace of mind and a path forward for homeschooling multiple kids. Let's go!
1. Make a Plan when Homeschooling Multiple Kids
When you are homeschooling multiple kids, having a plan is invaluable. Now, I am not the "strict schedule, the plan is set in stone" kind of mom, but I do have a general plan for our homeschool routine.

When you are making your plan for your homeschool, take your general daily routine into consideration.
Do you have a baby that will be napping?
Do your children work better in the morning or afternoon?
Are there frequent appointments or lessons outside the home that need to be taken into consideration?

I find it helpful to write items down on a monthly calendar that hangs on our kitchen wall. That way everyone knows what's going on throughout the week and month. It also gives me a big picture of the week. Do we have a lot going on this week? Or are there some slow days where we can get more done? 

It's important to remember that no plan is going to be perfect or work forever. Create a plan that is going to work for your family in this season. Then, as your family routine changes, change the homeschool plan.

Next, let's talk about a few strategies for making your homeschool day flow as easily as possible when you are teaching multiple ages.
More posts on homeschool planning:
2. Gather Together as Much as Possible when Homeschooling Multiple Kids
Let's face it, some subjects lend themselves to multiple ages and some just don't. We like to snuggle on the couch together for history, geography, read alouds, and Bible. Even my three-year-old likes to join in!

We use a lot of living books in our homeschool, so it's easy to keep everyone interested. For history we use the Usborne Encyclopedia of World History with internet links and everyone always enjoys watching the videos about different periods in history after we look at the pages for the day.

Art and science are also subjects that we do together most of the time. For art, my oldest and I are working through an art theory book. My middle daughter completes the art project, but doesn't follow the same guidelines or she loses interest and doesn't finish. That's fine with me because she still picked up some of the concepts and she enjoyed herself.
Create a plan that's going to work for your family in this season. Then, as your family routine changes, change the homeschool plan.

Surya, Teach Me. I'm Yours.
My youngest, a toddler, likes to participate, so I give her the same art supplies and she just goes to town. She's happy because she's getting to "do school" and I'm happy because she's occupied. I'm also frequently surprised at just how much she picks up from listening and doing art with her sisters.

Going through one or more subjects with younger kids and older siblings together is a great way to knock out a big chunk of school all at once.

But, what about subjects like math and language arts that don't work so well as a group?
3. Have the Kids Take Turns with Mom
Working with more than one school-aged children at the same time can be insanity-inducing. My girls are still young enough they need a lot of attention during homeschool hours and they like to have me near them to ask questions. That's all fine, but working with both of them at the same time can be hard.

I've found the best strategy is to take turns working with the girls. This works for a few reasons :
I can help each daughter for the duration of our time and she has my undivided attention, which they enjoy.
It also frees up one child to play with the littlest

and that is always helpful!
We take turns a few different ways in our house and they both work equally as well.

One way we take turns is for me to work with one daughter on a subject or two, then switch and work with my other daughter. This lets the girls have frequent breaks. I think frequent breaks are important in elementary school when their attention spans are shorter. If your children are older, then maybe you can do longer stretches with each child.

Alternatively, we'll use an alternating days method. Sometimes I'll work with one child one day and another child the next day. This can be helpful on days when you are busy with appointments or errands.
4.Use Online Resources for Homeschooling Multiple Kids
You know those days when your kids are just having melt-down after melt-down? Or they just can't work on their own for more than 3 minutes?

Well, those are the days I just surrender and steer the kiddos to educational screen time. Check out these 25 no-guilt educational apps.
On the days I just need a few minutes, I pull out the tablet. They see it as "screen time", but I hear them learning about counting, parts of speech, and phonics, so I put a check in the 'time well spent' category. My littlest loves to watch Sesame Street clips and she has learned a ton from them. Some days, you just gotta bring in the reinforcements, right?

Using online curriculum can give you a great opportunity to work with one child while the other is working on the computer. My second grader is working on Duolingo learning Spanish. While she does that I will often run through some phonics or have the others work on Teaching Textbooks.
More resources on using online curriculum:
Our courses at Journey Homeschool Academy offer a unique opportunity for parent's looking for an engaging video curriculum, with hand-on learning opportunities…that practically teaches itself!

5. Make Use of Unit Studies for Homeschooling Multiple Kids
Unit studies are a great way to extend what you can do together as a family. A unit study is basically learning about one topic across multiple subjects. You can tailor what is covered based on the age of your children.

For example, we like to study animals, so when we were studying bees it gave us the opportunity to read books, watch videos, color some pages, and my husband also raises honeybees, so the girls were able to hold a drone (boy bee, with no stinger). My oldest also did a lapbook, while the younger girls did a cut and paste activity. The lapbook incorporated some facts about bees that brought in math (wing beats per minute, etc.) and the younger ones were working on cutting skills and hand-eye coordination.

Everyone got what they needed while studying the same topic. Awesome-sauce. Unit studies are very versatile. Play around with them and find a format that works for your family.
More resources on unit studies: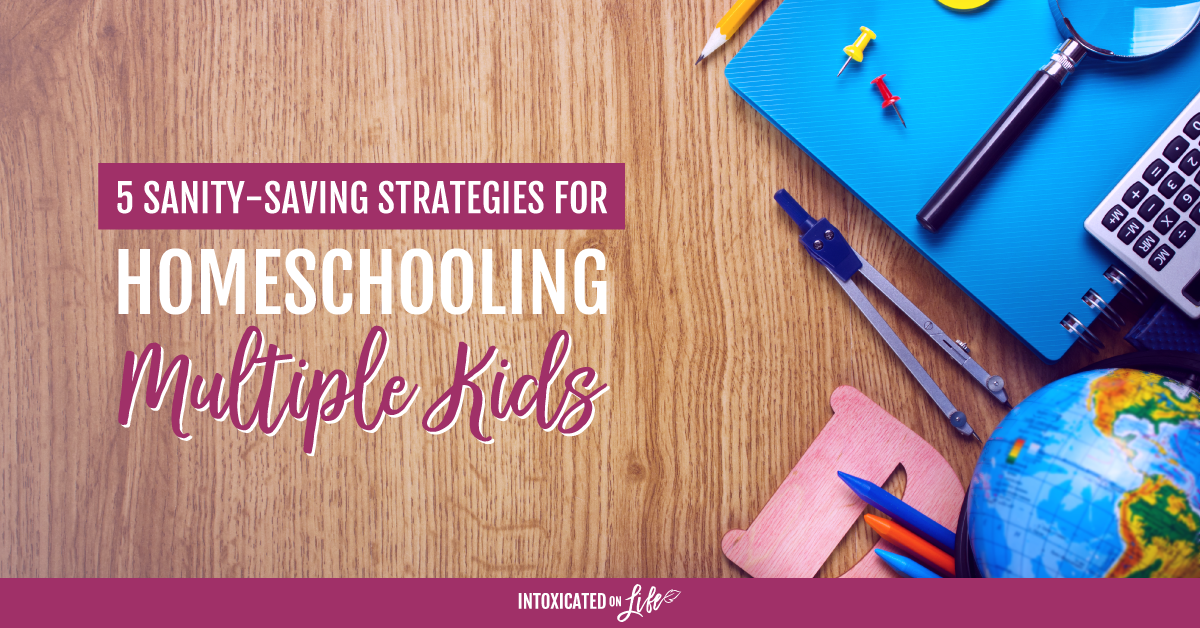 Above All…Be Flexible when Homeschooling Multiple Kids
When you are teaching multiple children at one time in your homeschool, there are going to be challenges. My best advice? Just go with the flow. Find what works for your family in this season. Then, when the next season rolls in, reevaluate and make a new plan.
---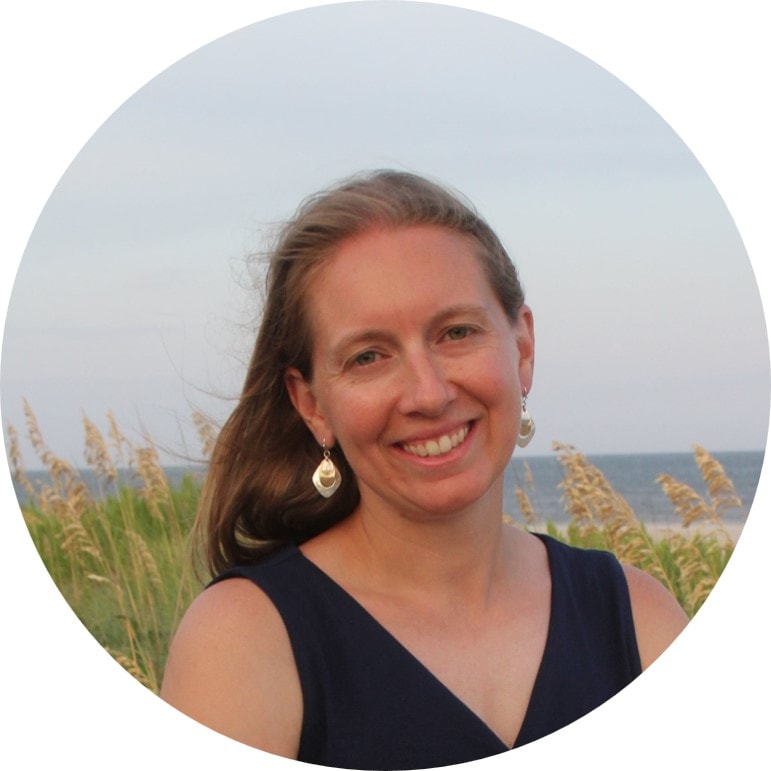 Surya is the owner of Teach Me. I'm Yours where she shares ideas and resources for keeping homeschooling simple and exciting all at the same time. When she isn't homeschooling her three girls or running behind on housework, she loves to read and travel. You can connect with her on Pinterest, Facebook, and Instagram.