Here it is. The Ultimate List of 101 Easy Gluten-Free, Grain-Free Snack Ideas for Kids (and Parents). Enjoy.
So, you've decided to cut gluten or maybe all grains in your kids' diet (or maybe you've just determined to cut back on them), but whatever in the world will you feed them for snacks? Crackers, tortilla chips, muffins, cookies, granola bars…virtually all snacks seem to have some sort  of grain in them.
Not so, my dear friend, not so. I've compiled a list of 101 snack ideas for kids that are gluten-free and grain-free. Both you and your kids can enjoy these!
Looking for more gluten-free resources? This Everything Gluten Free page is a library of everything gluten free we've worked on.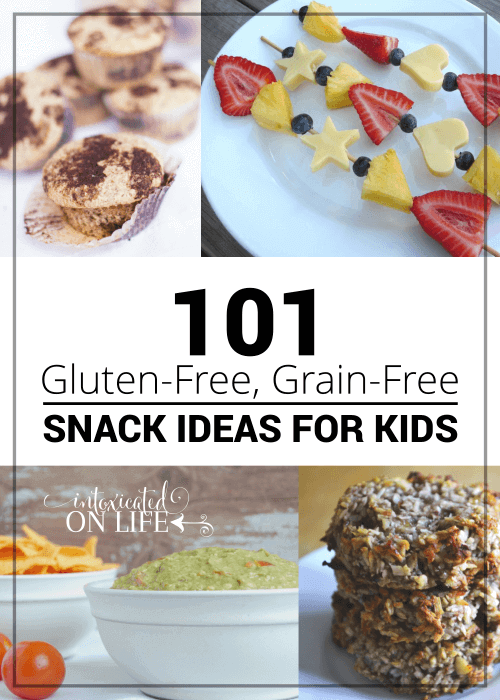 These 101 gluten-free, grain-free snack ideas for kids are divided up into categories: fruity & veggie snacks, crunchy snacks, dips, crackers and other fun dippers, sweet snacks, muffins & more, homemade puddings etc., cookies & bars, smoothies, healthy pre-packaged snacks, and other stuff. Hopefully there is something here to fit your every snack craving!
Need more kid-approved recipe ideas? Check out my Grain-Free, Brain-Fueling Breakfasts for Kids and Their Parents.
.
Fruity & Veggie Snack Ideas for Kids
Of course, any raw fruit or veggie makes a yummy snack. Our kids love fruit. Here are a few gluten-free and grain-free fruit and veggie snack ideas for kids to spice things up if you're looking for something different.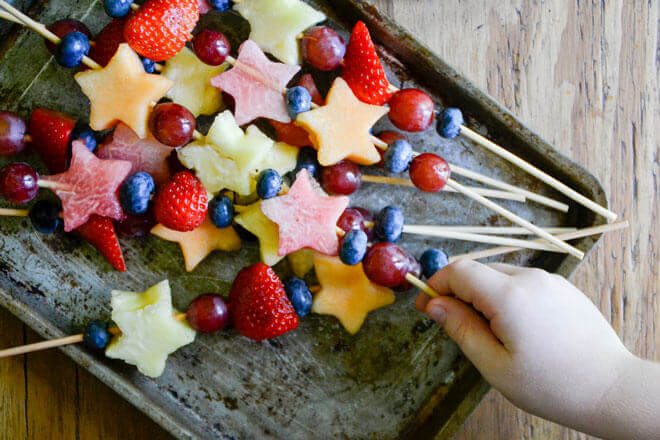 1. Dried Fruit
2. Apples with peanut butter
4. Olives
5. Strawberries and homemade whipped cream
6. Celery and cream cheese
8. Homemade Fruit Snacks (kind of like a Fruit Rollup, only healthy)
9. Apple Chips
10. Strawberry Coconut Popsicles 
11. Bananas with Peanut Butter and Raisins
.
Crunchy Snack Ideas for Kids
Sometimes ya just have to have something that has some crunch. These snack ideas for kids are sure to satisfy an addiction to crunchy snacks!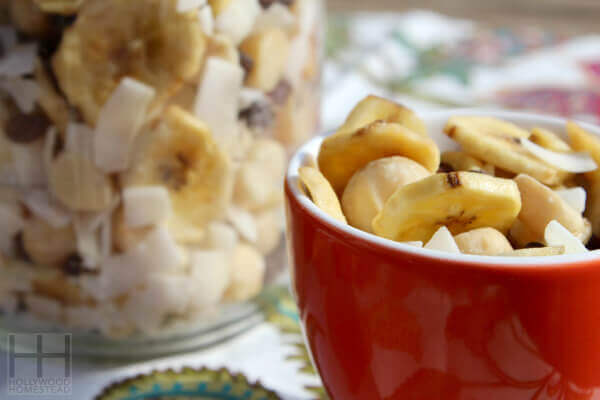 13. Maple Roasted Walnuts (recipes for plain, cinnamon vanilla, or curried)
14. Trail mix (this is one recipe, but the possibilities are endless)
.
Dips Snack Ideas for Kids
Creamy. Cheesy. Sweet. Salty. I love dips. It's not hard to come up with dip ideas if you're gluten-free, but here are a few of my favorite dip snack ideas for kids. Coming up with dippers when you don't eat grains can be a bit trickier. Many of these recipes will work well with fresh veggies or fruits, but don't forget to see my dipper ideas below.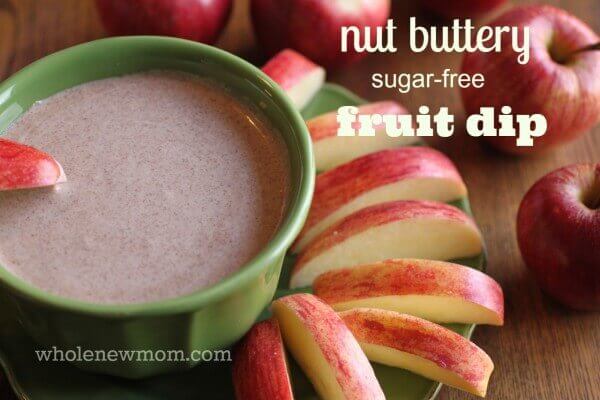 16. Dill Dip
17. Hummus (my kids are crazy about hummus)
21. Kalamata Spread
22. Spicy Chive dip
23. Homemade Ranch and Potato Chips
24. Nacho Not-Cheese Sauce (dairy free)
25. Sombrero Dip
26. Pepper Dip
.
Crackers and Other Fun Dippers Snack Ideas for Kids
Looking for hearty grain-free dippers to use in place of crackers or tortilla chips? Look no further! One of these 7 snacks ideas for kids recipes are sure to suit your needs.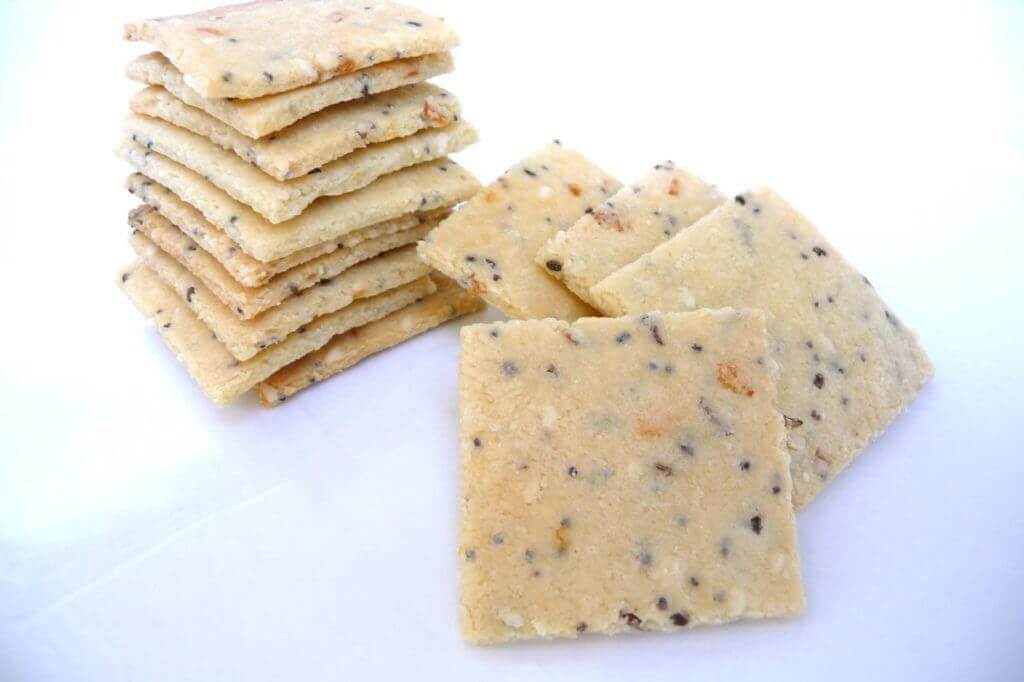 27. Raw Kale Crisps
29. Parmesan Crisps
31. Coconut Curried Beet Chips
.
Sweet Snack Ideas for Kids
If you have a sweet tooth and are looking for candy or other sweet treats, this is the section for you. Most of these snack ideas for kids recipes are made with natural sugar alternatives such as honey, maple syrup, or stevia.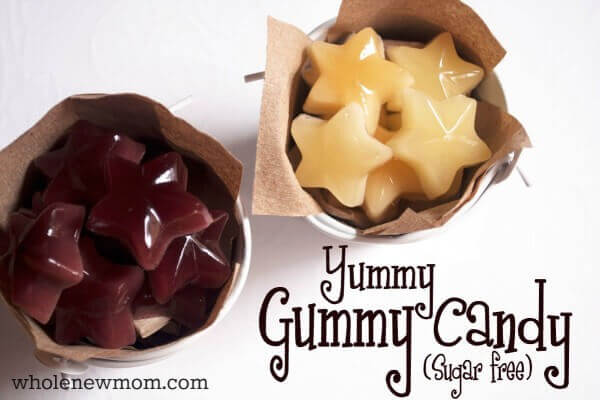 34. Homemade Fudgesicles (dairy-free & sugar-free too!)
36. Sugar-Free Peanut Butter Chocolate Candy
37. Cocoa Crack (Healthy Chocolate Candy)
40. Chocolate and Coconut Macaroons
43. Fried Plantains
44. Mock "Pay-Day" Peanut Treats
46. Raw Cookie Dough Bites (because, who doesn't love cookie dough?!)
.
Muffins & More Snack Ideas for Kids
Just because you're not eating grains doesn't mean you can't indulge in bread, like muffins, scones, and biscuits!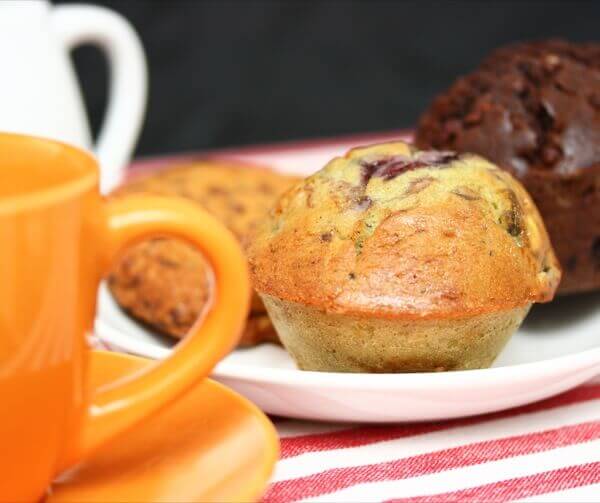 48. Cinnamon Muffins (this recipe is one of our family favorites!)
50. Cheesy Biscuits (I love making a double or triple recipe for dinner so we have extras to snack on the next day)
52. Orange Rosemary Mini-Scones
53. Raspberry Scones
56. Cranberry Pistachio Biscotti
.
Homemade Puddings, etc. Snack Ideas for Kids
These would make the perfect after-dinner or bedtime snack ideas for kids. Easy to whip up and sure to delight your tastebuds!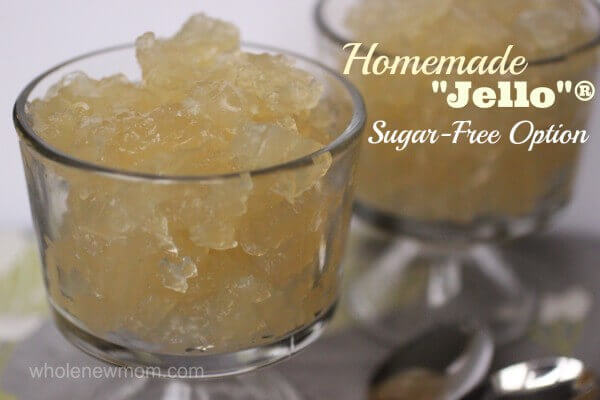 58. Chocolate Mousse
59. Banana Coconut Chia Pudding
60. Homemade Jello
61. Banana Custard
.
Cookies and Bars Snack Ideas for Kids
Your kids don't have to give up cookies and bars just because they are gluten-free. Oh no. This list of 17 recipes proves that. Perfect recipes for that after-school snack 🙂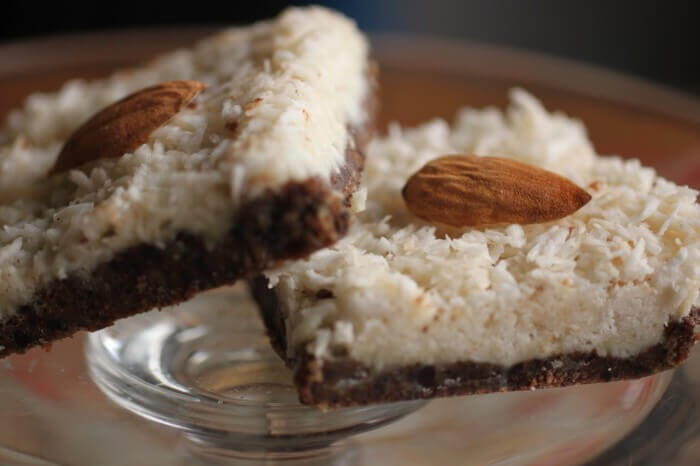 62. Rich and Delicious Brownies
64. Gluten-Free, Sugar-Free Ginger Snaps

67. PB& J Bars
70. Homemade "Lara" Bars or this "Lara" Bar Recipe
71. Homemade "KIND" Fruit and Nut Bars
72. Coconut Flour and Almond Butter Cookies – 3 Ways!
74. Double Chocolate Chip Cookies
75. Cashew Coconut Flour Shortbread Cookies
76. Chocolate Chip Trail Mix Cookies
*For more homemade protein-packed bars check out the book High Protein, No Powder.
.
Smoothies Snack Ideas for Kids
My kids love smoothies! Whipping them up in my Blendtec blender makes them especially easy (you can also check out this budget-friendly refurbished blender). If your kids like them too, here's some smoothie inspiration for some great snack ideas for your kids.
79. Berrylicious Dairy-Free, Sugar-Free "Milkshake"
80. Dairy-Free, Sugar-Free Chocolate Coconut "Milkshake"
82. Blackberry Coconut Smoothie
*For more homemade protein-packed smoothies check out the book High Protein, No Powder.
.
Healthy Pre-Packaged Snack Ideas for Kids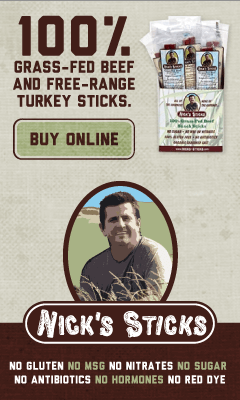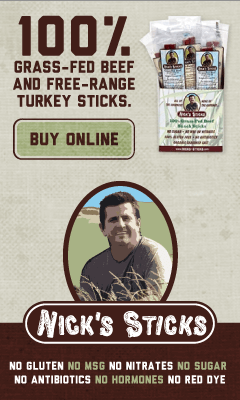 Though I'd rather make everything from scratch, sometimes I need a grab-and-go snack or a healthy mix that I can whip up quickly. These aren't easy to come by. Most grab-and-go snacks and mixes are filled with grains, sugar, soy, and more. Here's a list of snacks you can fill your pantry with for times when you don't have the time or energy to whip up a homemade treat.
85. Nick's Beef or Turkey Sticks (My family absolutely loves these sticks made from grass-fed beef and free-range turkey.)
86. Lara Bars
87. Quest Bars (these are some of my favorite sugar-free packaged protein bars!)
88. Organic No-sugar Added Applesauce (I especially like to get them in the squeeze pouches for easy on-the-go snacks!)
89. Organic Yogurt
90. String Cheese
92. Chocolate Muffin Mix from Simple Mills (You will not believe that these mixes are made from 100% healthy ingredients. They are that good!)
93. Banana Muffin Mix from Simple Mills
94. Pumpkin Muffin Mix from Simple Mills
96. Peanuts (the little packets are so easy to throw in the diaper bag or purse)
97. Raisins (I like the little boxes of these to throw in my purse or diaper bag too)
.
Other Stuff
These are the snacks that just didn't fit in any of the other categories. Don't miss out on them though, they're tasty and make great snacks too!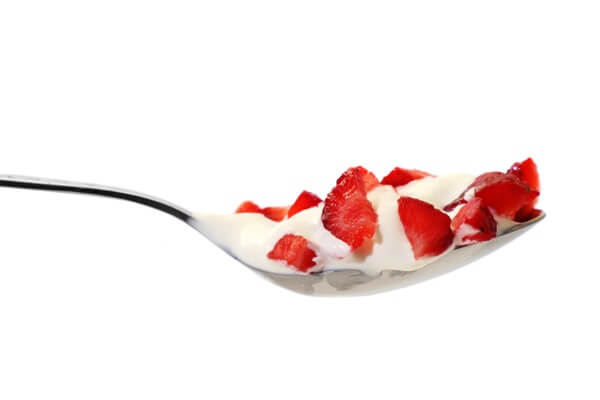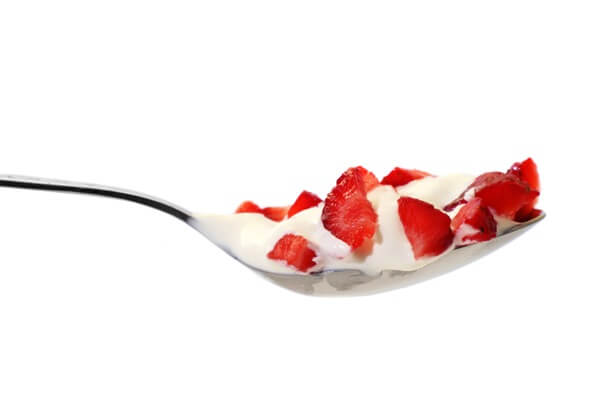 98. Homemade Yogurt (My kids can eat boat-loads of this. Their favorite way to eat it is mixed with some pureed fruit and vanilla stevia or with a little bit of  honey. But you can mix lots of things with homemade yogurt or make fruit and yogurt parfaits.)
99. Hard boiled eggs
100. Deviled eggs
101. Naturally Fermented Pickles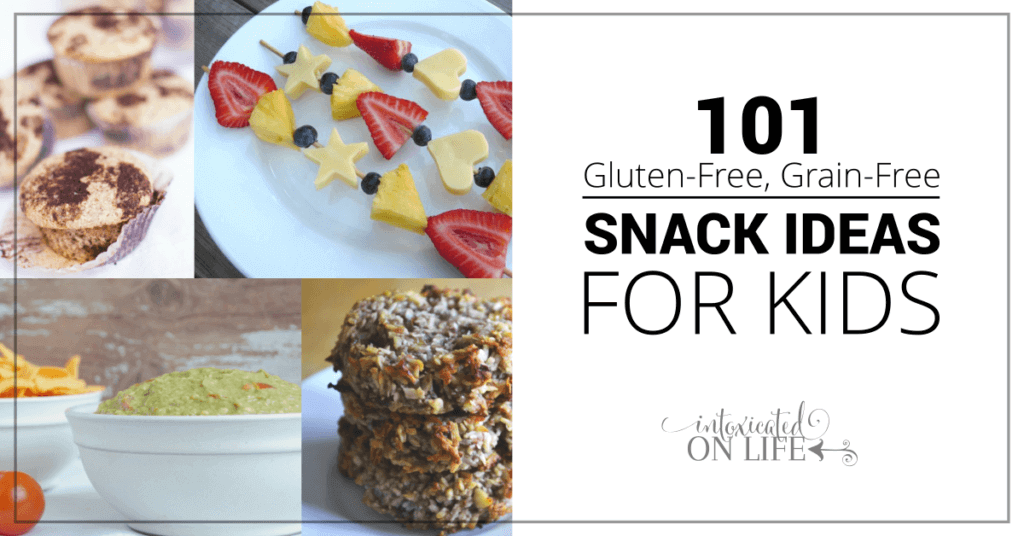 For more Snack Ideas…
Follow Trisha Gilkerson's board Gluten-Free Snack Ideas on Pinterest.

For more Kid recipes…