This grain-free banana oatmeal combines bananas and eggs in the most delicious way for a healthy and nutritious breakfast that even picky eaters will enjoy.
I love to eat eggs for breakfast, and two of my three boys also love to eat eggs for breakfast. My littlest guy is a somewhat picky eater, and also underweight from a prolonged sickness when he was about a year old. I try everything I can to get him to eat high calorie and high protein brain food for breakfast. 
Bananas and eggs have turned out to be my go-to combination. As odd as it sounds, cooked together they make a delicious grain-free banana "oatmeal"!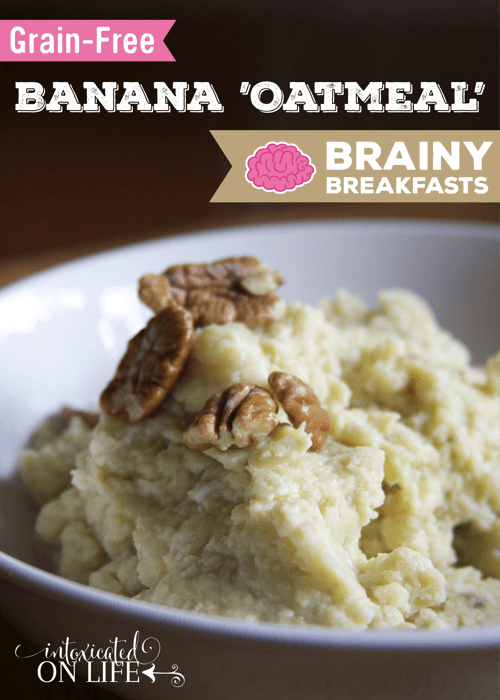 Eggs: The Basis of a Healthy Breakfast
Why eggs for breakfast? Why not? I've always thought of eggs as the perfect little package of healthy protein. When we started restricting some foods due to allergies, I researched all my basic foods to make sure we were eating a complete diet. 
Eggs contain so many vitamins and trace minerals in just the right proportions together. It's no wonder considering eggs are intended to incubate and nourish chicks. When we are able to buy pastured eggs from up the road, the extra omega 3's make our eggs the best choice for breakfast.
We eat a grain-free, semi-paleo diet about 75% of the time. I try my best to eat healthier choices when we are home and leave the sugar and wheat for times that we are away from home. As a result, my boys are very familiar with pancakes, muffins, and bagels for breakfast. They continually ask for them at home.
This is one of those recipes that started as an attempt to make something completely different but my mistake turned out to be extremely tasty!  After surfing Pinterest a bit, I found several paleo pancake recipes. The first I tried was the banana and egg one. Complete fail! I had a crumbly mess on my hands. Being one to not waste food, I served it to the boys anyway and they loved it!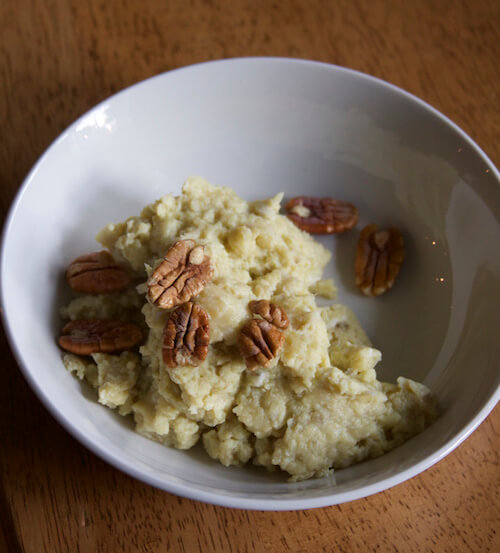 Grain-Free Banana Oatmeal: A Happy Accident!
I've played around with the particulars of this grain-free banana oatmeal recipe a bit and it can be a simple as 2 to 3 eggs for every banana or you can add a bit of vanilla extract and baking soda. The baking soda does make the final texture a bit fluffier like pancakes would be, but I usually leave it out and no one complains. 
The secret to making this taste like a pancake is the coconut oil! Frying up the banana eggs in a tablespoon or two of aromatic coconut oil creates an absolutely delightful "oatmeal."
I hope you enjoy this brainy breakfast as much as we do!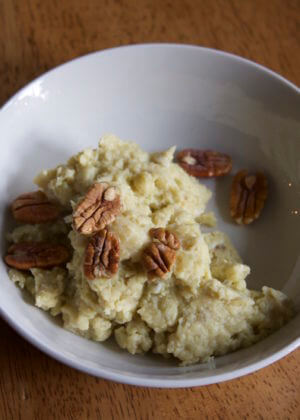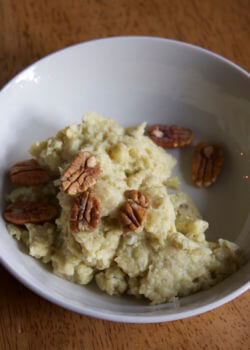 Print
Grain-Free Banana "Oatmeal"
If you're grain-free but miss oatmeal, this egg-and-banana grain-free banana "oatmeal" is a delicious substitute!
Ingredients
6

eggs

2

bananas

very ripe is best

1/2 to 1

teaspoons

vanilla extract

1 to 2

tablespoons

coconut oil

Nuts to garnish

optional
Instructions
Mash the bananas with a fork in a bowl.

Add eggs and vanilla and beat together until well mixed.

Heat coconut oil over medium heat.

Add egg mixture and cook like scrambled eggs.
Nutrition
Calories:
238
kcal
|
Carbohydrates:
19
g
|
Protein:
12
g
|
Fat:
13
g
|
Saturated Fat:
7
g
|
Cholesterol:
327
mg
|
Sodium:
126
mg
|
Potassium:
403
mg
|
Fiber:
2
g
|
Sugar:
10
g
|
Vitamin A:
526
IU
|
Vitamin C:
7
mg
|
Calcium:
53
mg
|
Iron:
2
mg
We hope your family enjoys this grain-free banana "oatmeal" as much as we do! Feel free to make it your own, adding cinnamon, maple extract, sugar-free chocolate chips, or your favorite nut butter.
Need some more tasty, kid-friendly breakfast ideas?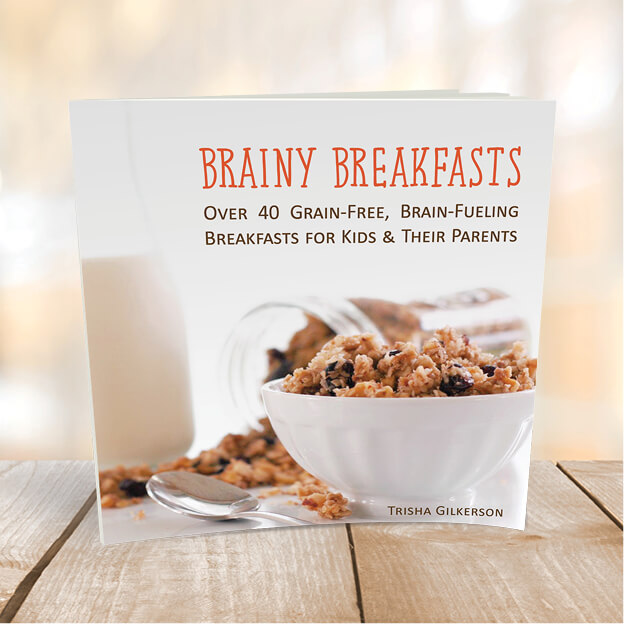 Check out our cookbook Brainy Breakfasts – it's filled with over 40 grain-free, brain-fueling breakfast recipes to keep things new and exciting! It's available as a downloadable or softcover book. You won't run out of healthy, tasty breakfast recipes anytime soon with this cookbook ?
Love Bananas? Try these Grain-Free Banana Recipes: