Today we're going to talk about herb gardening for beginners, however, this information can help expert gardeners, too.
Choices, choices, choices.
Gardening brings a plethora of choices with it. You can grow a vegetable garden or a flower garden. You can grow it in containers or the ground. You can even choose to grow a garden in a hay bale, if you want to. But one of my favorite types of gardens to grow…herb gardens!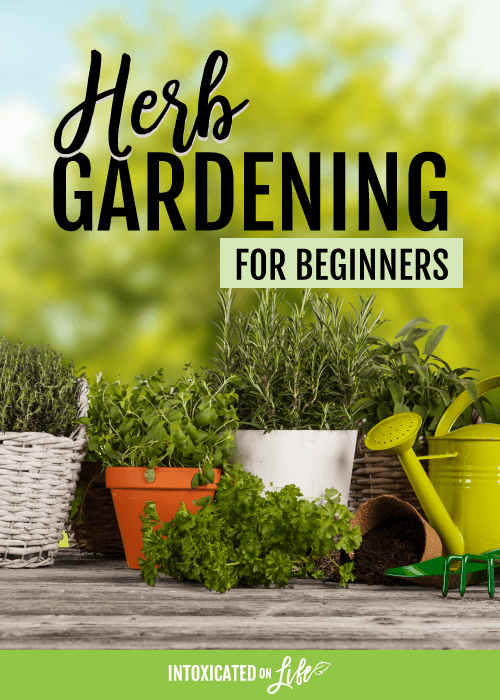 My point? If you want to grow a garden, there is a garden for you. It may just take some time to find it, but it's worth it. Gardening is good for you (but I've already talked about that).
Today, we are going to talk about herb gardens and herb gardening for beginners.
Herb Gardening For Beginners: The Basics
Herb gardening is very similar to your typical vegetable gardening with a couple added benefits. Herbs tend to be fragrant, which helps deter pests. Like salad greens, some herbs are quick harvests because you are using the leaves. Plants and vegetables where you have to wait for the fruit, root, or seed to form simply take more time to be harvest ready. 
Many herbs are perennials or self-seeding annuals. The downside to this is that you need to think carefully about where you put your herbs and you need to know how they spread.
Some herbs are self-seeding, which means the plant dies each year, but it creates seeds before it does. Those seeds grow a new plant the following spring. Other herbs spread by their roots. These herbs do well in containers if you need to, um, contain their spreading habit. You can even put the containers in the ground to control the root growth, but still benefit from soil moisture and drainage.
Your herb garden still needs the basics that a regular garden needs: 6-8 hours of sunlight, good soil, and consistent watering. However, you can grow many herbs in smaller containers, which make them ideal for windowsill or vertical gardens.
Deciding What Kind of Herb Garden You Want to Grow
When it comes to herb gardening for beginners (or experts!), you have two basic options: culinary or medicinal. Actually, this is kind of a misnomer. You can eat just about any herb. You just need to be aware of what parts are meant to be eaten and which ones you need to watch the amount you ingest. This comes with time, experience, and research.
A few resources I have on my shelves and recommend:
The Backyard Homestead – This is a great book for beginners. It covers a lot of ground in easy to understand terms. Chapter three is "Easy, Fragrant Herbs," and it covers growing, preserving, and using herbs.
Rosemary Gladstar's Medicinal Herbs: A Beginner's Guide – A very thorough read on growing and using herbs. I actually do not own this book yet; I borrowed it from the library first. It is on my books to buy short list for now.
Herbs in the Kitchen: A Celebration of Flavor – One of the mistakes I make every year when gardening is forgetting why I planted something and then I end up losing a bunch of the harvest to rot because I forget what I was going to do with those 100 tomato plants (for a purely hypothetical example). This book goes through a variety of culinary herbs, tips specific to the herb, and recipes that use that herb (at least one per herb).

Herb Gardening For Beginners: Culinary Herbs
Culinary herbs are the ones we cook with. If you look in your spice cabinet, it is full of herbs and spices that you can grow. Many of these do well in small to medium size containers. A few easy options to start with:
Herb Gardening For Beginners: Medicinal Herbs
Please note that I am not a healthcare professional and any information you read here is not medical advice.
You can use your medicinal herbs to create salves, tinctures, syrups, and teas. It is best to have a good book to refer back to, especially until you are more comfortable with them. Some good herbs to start with:
Chamomile – Chamomile tea is great for helping you relax at the end of the day. Plus, the flowers are pretty.
Lavender – Lavender is an all-around great herb that you can use to make sachets for freshening drawers or even make a spray to fresh up bed linens or a room. Lavender is a beautiful plant that attracts bees and butterflies, which is beneficial for your garden.
Mullein – Mullein is one of my go-to herbs for respiratory issues. The plant is unique with soft, fuzzy leaves and a single flower stalk that has many little yellow blossoms. I've seen mullein plants as tall as me—just over 5 feet.
Plaintain – You've probably weeded one of these things from your flower beds or yard. It's a common plant that's useful for creating poultices to draw out infections or slivers.
Dandelion — Another one that you've probably long-considered a weed. However, the root is a classic herb for detoxifying the liver; the leaves are a good source of iron, calcium, and trace minerals; and the flowers can be made into dandelion wine or gently sauteed in butter for a side dish.
Just like your traditional gardens, with herb gardening for beginners, you can start with what you are already using. For most that will be the culinary herbs and those they drink in teas. Once you are comfortable with what you already know, you can branch out and try other new herbs.
Did this herb gardening for beginners information inspire you? What herbs are you growing in your garden?
More Gardening Articles: