One of my favorite memories growing up was making cut-out cookies with my mother every Christmas. My mother slowly refined her recipe over the years into something that is nothing short of delicious.
This year, however, I'm grain-free and of all the things I was going to miss this Christmas, those cut-out cookies were at the top of the list. I decided it was unacceptable to let a Christmas go by without my mother's cookies, so I adapted the recipe to be grain-free. With two simple flours, coconut flour and tapioca flour, this cookie is sure to please.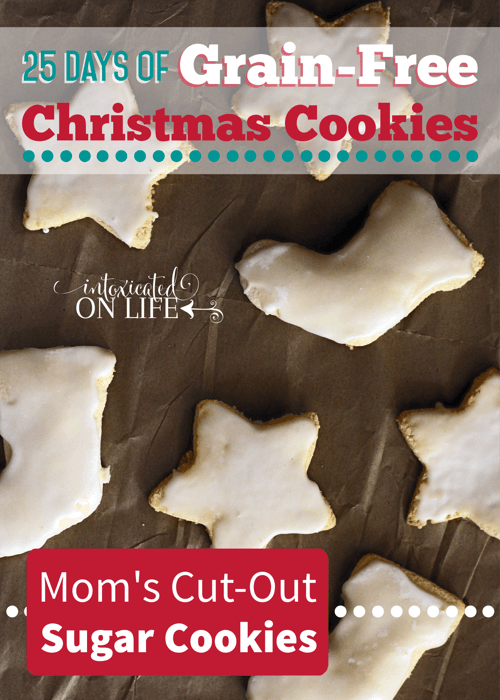 Mom's Grain-Free Sugar Cut-Out Cookies
Yield 2 dozen large cookies
Instructions
Cream together the ghee (or butter), granulated sweetener, eggs, and vanilla.
In another bowl mix together coconut flour, tapioca flour, baking powder and salt. Blend the flour mixture into the first bowl.
Cover and chill for an hour.
Heat oven to 400 degrees Fahrenheit.
Place dough on a piece of parchment paper. Sprinkle the top with some tapioca flour and roll out until it's 1/8-1/4 inch thick. Using a cookie cutter, cut out the shapes.
%https://www.intoxicatedonlife.com/wp-content/uploads/2014/11/cut-outs.jpg
With a hard spatula, scoop the shapes and place them on a baking sheet. Bake 6 to 8 minutes.
Notes
• If you are like me, you are probably wondering if you can substitute honey for the granulated sweetener. I tried many times to make this recipe with honey, but every time it turned out gummy. My theory is the honey reacts with the tapioca flour to create a gummy texture. So take my word for it and use a granulated sweetener.
• If the dough gets soft and becomes difficult to put on the baking sheet, stick the parchment paper with the cutouts on it in the freezer for 10 minutes. After that the cut-outs will pop right out and maintain their shape easily.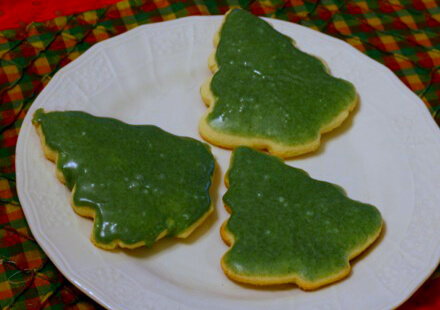 25 Days of Grain-Free Christmas Cookies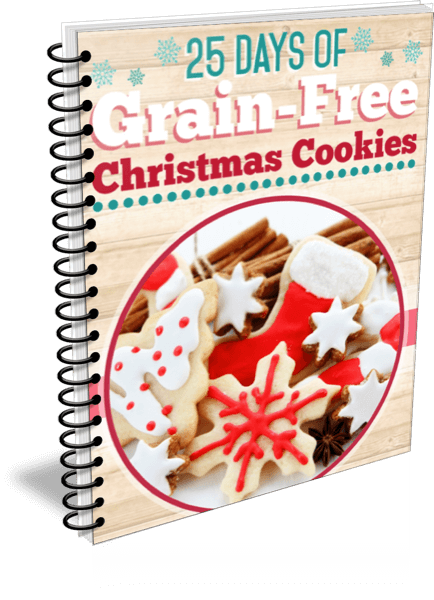 Christmas and cookies go hand-in-hand, but most traditional cookie recipes use wheat flour and other grains. If you are grain-free, or you are looking to cut back on the grains you eat, this cookbook gives you 25 amazing cookie recipes to continue to fill your home with the pleasant traditional tastes and aromas.
Of course, you can use these cookie recipes year round! Your family is going to love having these healthy, delicious alternatives.

---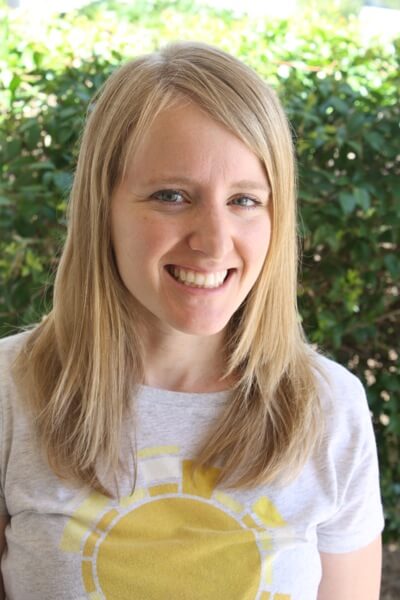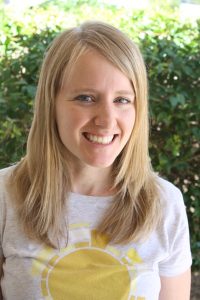 Sarah is absolutely passionate about many things, including serving alongside her husband in youth ministry, raising her children to be the men God created them to be, real food, natural health, abundant living, coffee and chocolate (ahem) and living a life marked by JOY! We have two boys on earth, 3 babies in heaven, and are currently beginning the process of adopting a baby. Join us at Simple Life Abundant Life where we encourage people to live simple and abundant lives.