Grain-free Magic Cookie Bars that are sugar-free and dairy-free too?  You bet!
This is one of my all time favorite family treats– you know, the ones that really invite you down memory lane? That is what Magic Cookie Bars are to me. Making these with my mother are some of my fondest and earliest memories. Eating most of the pan, that's a memory of mine too!  Dad, Brother and I all fighting to lick the last crumbs out of the pan, yep, we did that.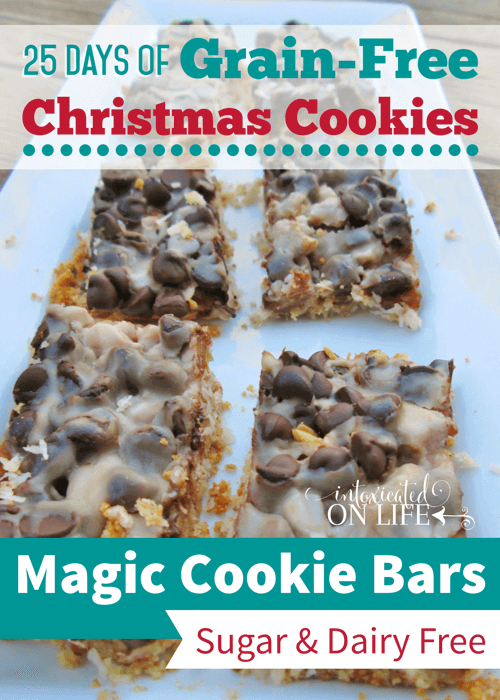 We loved those cherished magic cookie bars treats and I was so sad when I thought I could never have them again. I mean, how can you make these dairy free and sugar free without sweetened condensed milk? Seriously, not an easy task! I won't pretend that it was easy, either. It took some time, but it can be done. And the end results are well worth it.
I decided to give this a whirl by first looking for some helpful blog posts. However, even the ones I found were not sugar-free. I had to tweak it myself and get the desired result.
Some of you know that I am a huge fan of Trim Healthy Mama and a contributing blogger to their wonderful Ezine magazine, when I can. Well, I thought I'd bless the ladies of Trim Healthy Mama with this recipe.
Now if you are not needing to be sugar free, you don't care about dairy, you don't have the time and you're not a Trim Healthy Mama. Then by all means use the regular ol' sweetened condensed milk if you'd like. I promise, I won't be there to police you. 😉
Day 13: Magic Cookie Bars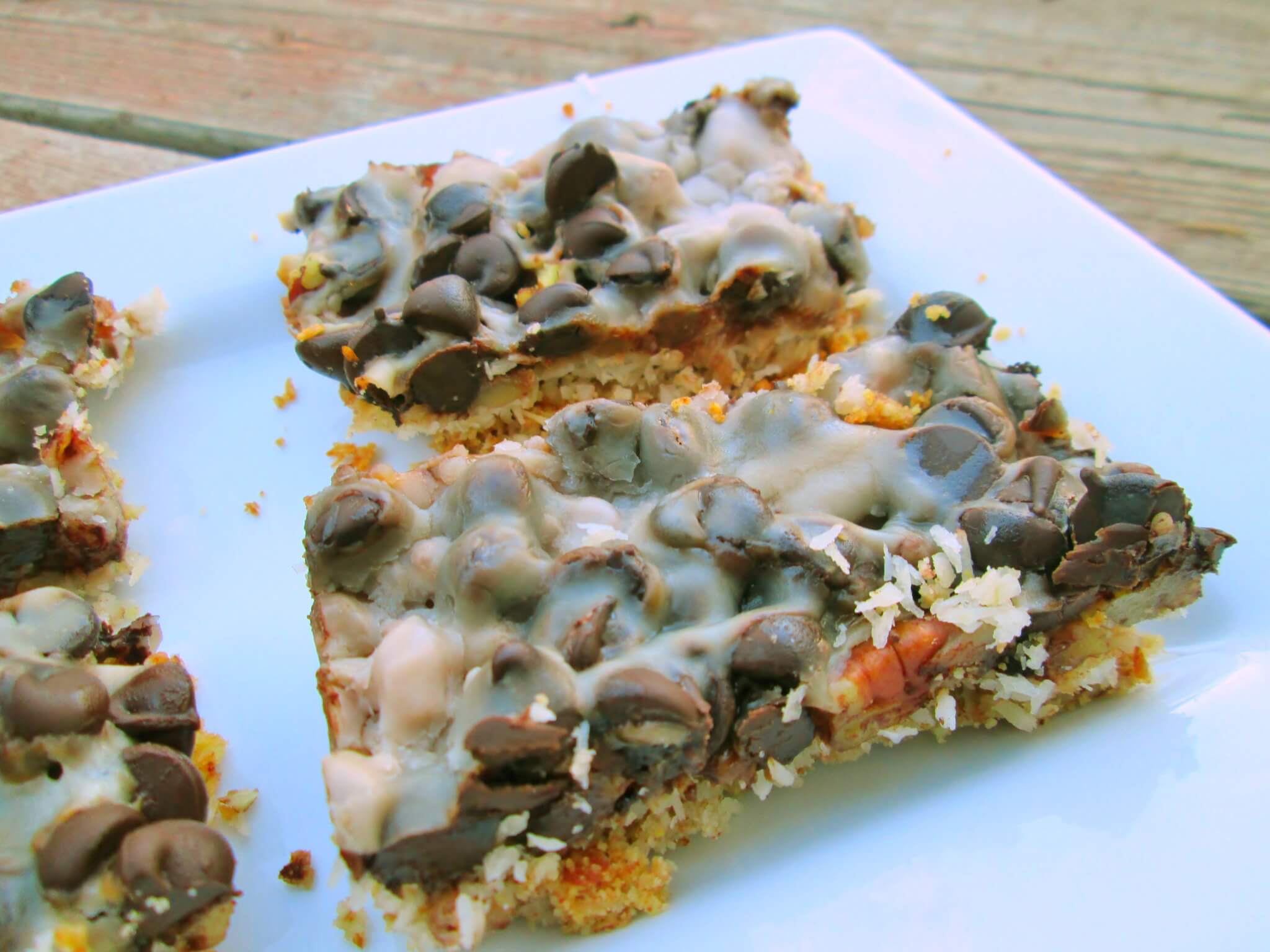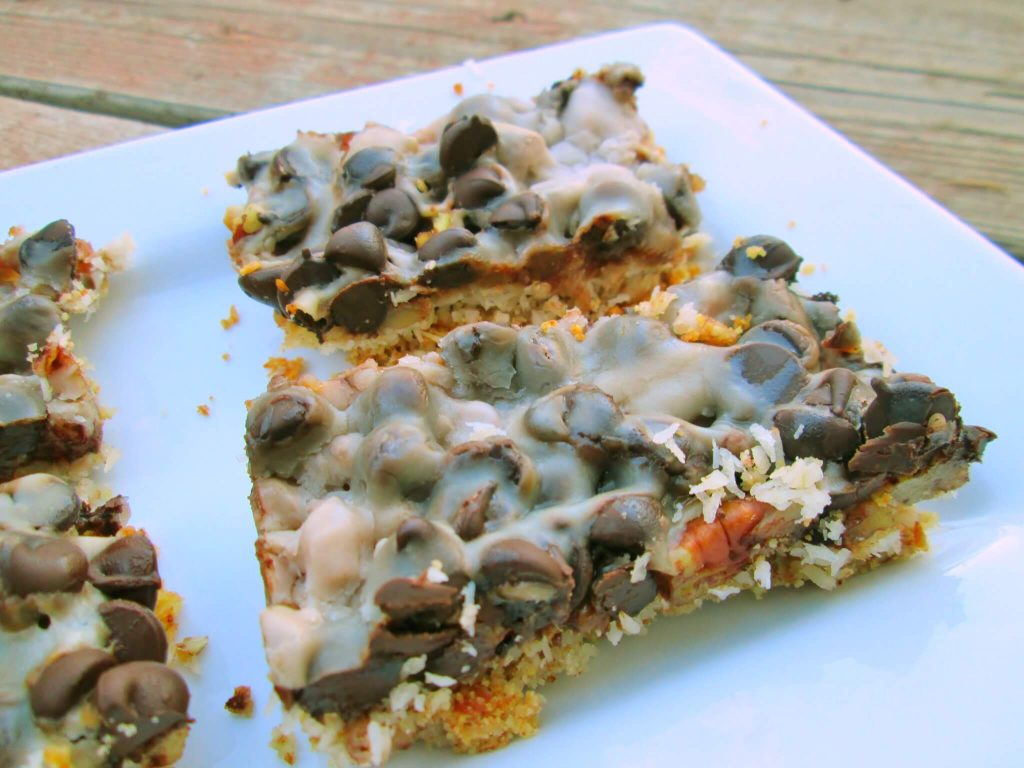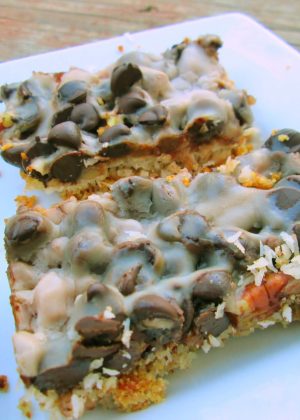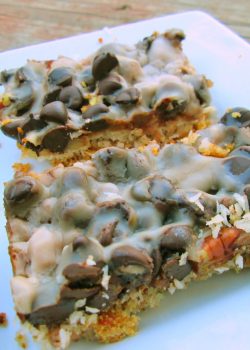 Print
Grain-Free and Sugar-Free Magic Cookie Bars
Ingredients
1 1/2

cups

almond meal

1/2

cup

butter

dairy-free options: 1/2 cup nut butter or coconut oil

8 to 14 oz*. of sweetened condensed milk

1 1/3

cup

coconut flakes

finely shredded, no sugar added

1

cup

chopped pecans

1 2/3

cups

chocolate chips

dairy free, soy free, sugar free and homemade chips work well
Homemade Sweetened Condensed Milk: Sugar-free and Dairy-free
27

oz

coconut milk

2 13.5-oz cans

4

tablespoons

Truvia

or equivalent sweetener
Instructions
Make the sweetened condensed milk:

Place the coconut milk and Truvia in a small pan and bring to a light boil.

Reduce heat to maintain a steady simmer for approximately 4 hours. Stir occasionally to prevent burning.

It is done when reduced by about half, and thick in consistency like store-bought sweetened condensed milk.

Pre-heat oven to 350 degrees.

In a food processor or with a fork, combine almond meal with butter.

Press the almond meal mixture in a well greased 9 x 13 " Pyrex dish.

Pour the sweetened condensed milk over the top of the almond mixture.

Spread the coconut and chocolate chips evenly over the sweetened condensed milk.

Press down evenly with a fork.

**Alternatively, you can add half of the sweetened condensed milk, then the coconut and chocolate chips, with the second half of the sweetened condensed milk on the top of those.

Either way works nicely.

Bake at 350 degrees for about 25 minutes, or until bubbly and brown.

Cool well.

You may even refrigerate overnight.

Slice, serve and enjoy!
Notes
*A note about the sweetened condensed milk: I used only a little over 8 oz. (so about 9 oz.) of my homemade sweetened condensed coconut milk. The Eagle Brand recipe for Magic Cookie Bars calls for a full 14 oz. can of their sweetened condensed milk. Use what you think will work best.
**For me, layering the homemade sweetened condensed coconut milk, a layer on the crust, and a layer over the top of the chocolate, nuts and coconut flakes, worked perfectly.
Options for homemade sugar-free condensed milk:
Cream and butter option
Dairy-free option
(Make sure you pay attention to the notes in the recipe found at the bottom)
These are so delightful. I am tasting bits of heaven here on earth now that I can have my Magic Cookie Bars again.  Thank you Lord!
If you are following the Trim Healthy Mama plan, these are every bit an S.   I would choose to have a Fuel Pull dinner just so I could eat a couple of these. I might even be known to have some eggs and a couple of these on the side for breakfast, just maybe.
Enjoy these Magic Cookie Bars soon!
What are some of your favorite treats that bring you the fondest of memories?  Have you found a way to tweak them?  If not, let us know how we might be able to help you!
25 Days of Grain-Free Christmas Cookies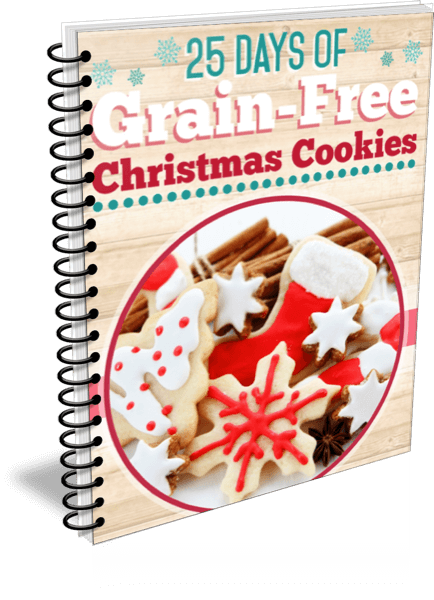 Christmas and cookies go hand-in-hand, but most traditional cookie recipes use wheat flour and other grains. If you are grain-free, or you are looking to cut back on the grains you eat, this cookbook gives you 25 amazing cookie recipes to continue to fill your home with the pleasant traditional tastes and aromas.
Of course, you can use these cookie recipes year round! Your family is going to love having these healthy, delicious alternatives.
More Cookie Recipes: