My family's very favorite Christmas cookies are these grain-free old fashioned molasses cookies. Before I was gluten-free, I would choose this classic Christmas cookie before any others.
I've been baking and tweaking this recipe to get it just like it's wheat-filled inspiration—and my kids haven't complained. In fact, they've been begging me to make more every day.
Looking for more gluten-free recipes and resources? This Everything Gluten Free page is a library of everything gluten free we've worked on.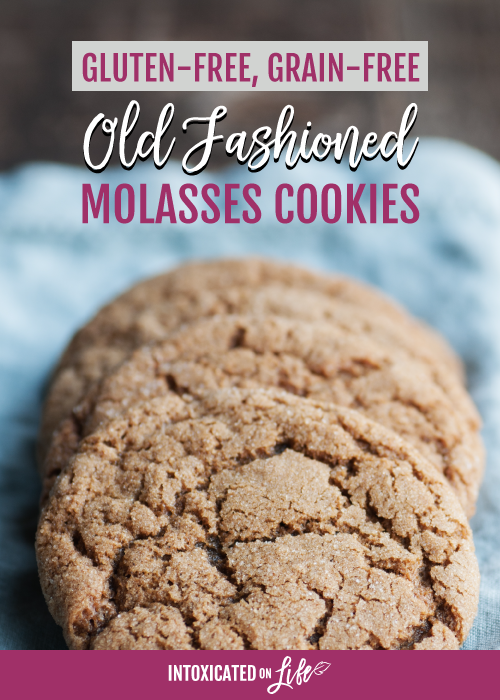 If you're a regular around here, you know that I don't typically use sugar in my recipes. Typically I opt for sweeteners that don't raise your blood sugar levels—stevia, xylitol, and erythritol.
Every once in a while, I do use a natural form of sugar, though. Special occasions like birthdays and holidays sometimes warrant the use of sugar. (The naturally sweetened grain-free pecan pie I made for Thanksgiving was to die for!)
The sweet taste of molasses cookies…
For this molasses cookies recipe, I've used black strap molasses and organic cane sugar or turbinado. You could likely substitute sucant, rapadura, or coconut sugar in this recipe, but I've not personally tried it yet.
I did try to make this molasses cookies recipe sugar-free, but it just wasn't happening. I couldn't get the texture or taste quite to my liking. In the end, I decided this would have to be one of those special occasion recipes. I hope you can enjoy them this Christmas season!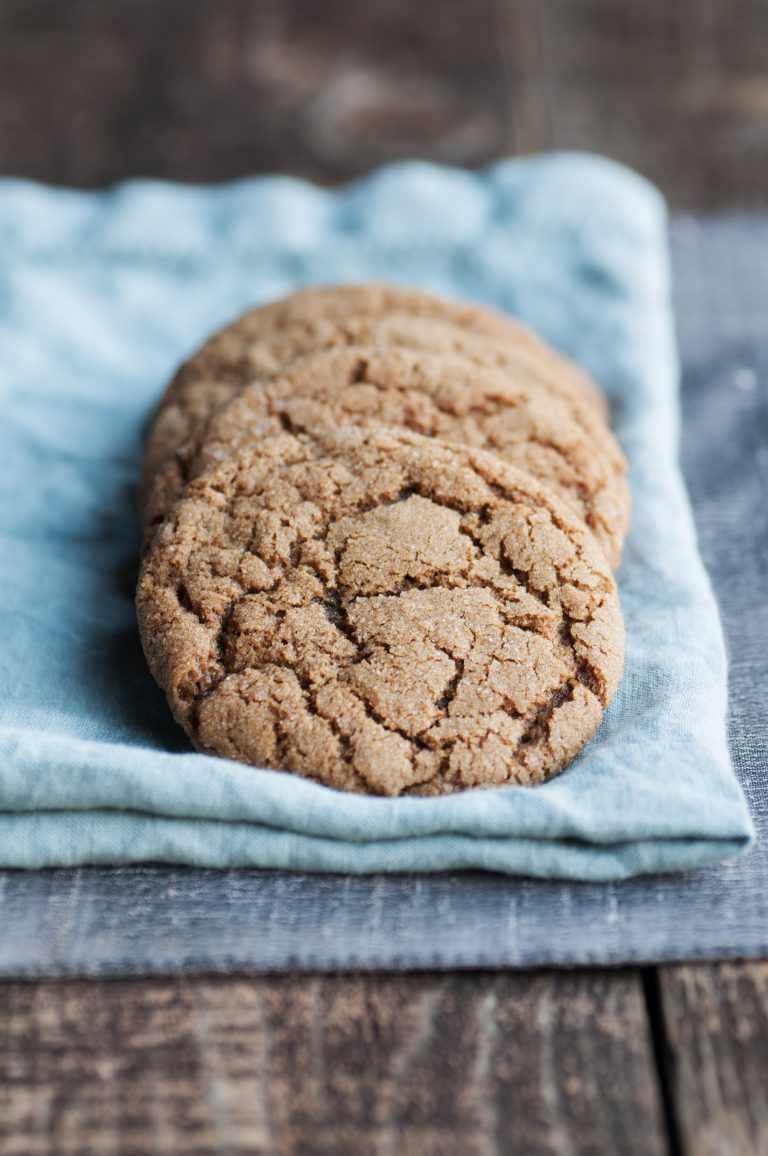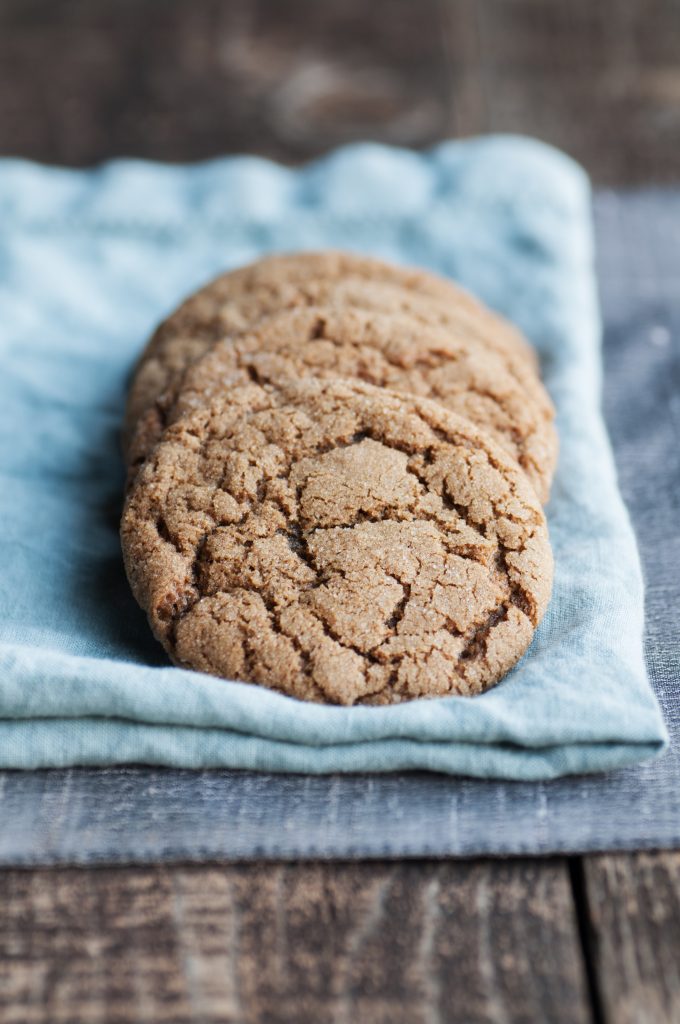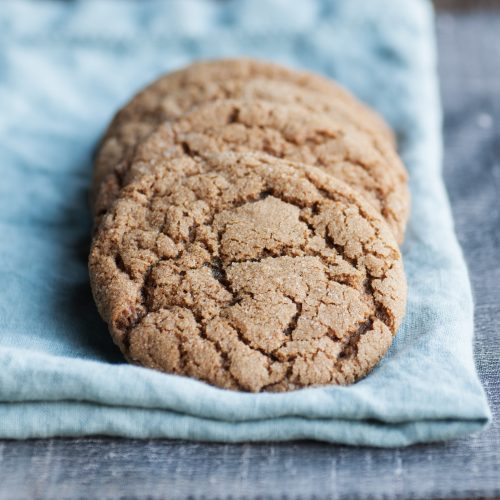 Print
Old Fashioned Molasses Cookies (Grain-Free)
These taste just like the wheat-filled molasses cookies you know and love, but without the gluten! The recipe makes about 6 dozen cookies.
Instructions
Beat the coconut oil, sugar, molasses, and egg together until well combined.

Add the rest of the ingredients and mix well.

Place in the refrigerator for 45 minutes or more. The amount of time will depend on how cold your refrigerator is. Be sure your cookie dough is very firm when it comes out of the refrigerator. If it's not firm enough the cookies have a tendency to spread more.

Preheat oven to 350 degrees.

Roll dough into small quarter sized balls. Roll balls of dough in sugar.

Bake cookies for 10-12 minutes.

Enjoy!
Notes
*I used organic cane sugar for the cookies pictured in the post. I have also made the cookies using turbinado sugar. They aren't as pretty and sparkly on the outside, but taste just as delightful and have extra depth of flavor.
Nutrition
Serving:
2
cookies
|
Calories:
86
kcal
|
Carbohydrates:
8
g
|
Protein:
1
g
|
Fat:
6
g
|
Saturated Fat:
3
g
|
Cholesterol:
3
mg
|
Sodium:
75
mg
|
Potassium:
28
mg
|
Fiber:
1
g
|
Sugar:
6
g
|
Vitamin A:
5
IU
|
Calcium:
16
mg
|
Iron:
1
mg
More than just molasses cookies – here's 25 more Christmas treats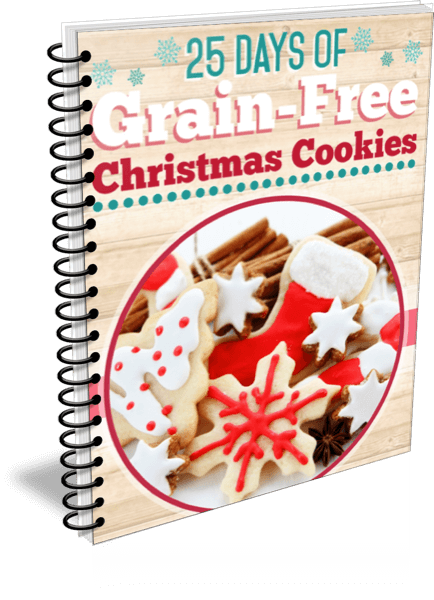 Christmas and cookies go hand-in-hand, but most traditional cookie recipes use wheat flour and other grains. If you are grain-free, or you are looking to cut back on the grains this holiday season, this cookbook gives you 25 amazing cookie recipes to continue to fill your home with the pleasant traditional tastes and aromas.
Of course, you can use these cookie recipes year round! Your family is going to love having these healthy, delicious alternatives.

More Grain-Free Cookie Recipes: