Christmas time brings family get-togethers, and rekindling old stories over a nice, warm beverage. Whether you are a coffee drinker, tea drinker, or just can't help but treat yourself to hot chocolate this Christmas, all of them are much better when paired with something you can dip into them. Biscotti– specifically, these Cranberry Pistachio Biscotti– are perfect for that purpose!
Looking for more gluten-free recipes and resources? This Everything Gluten Free page is a library of everything gluten free we've worked on.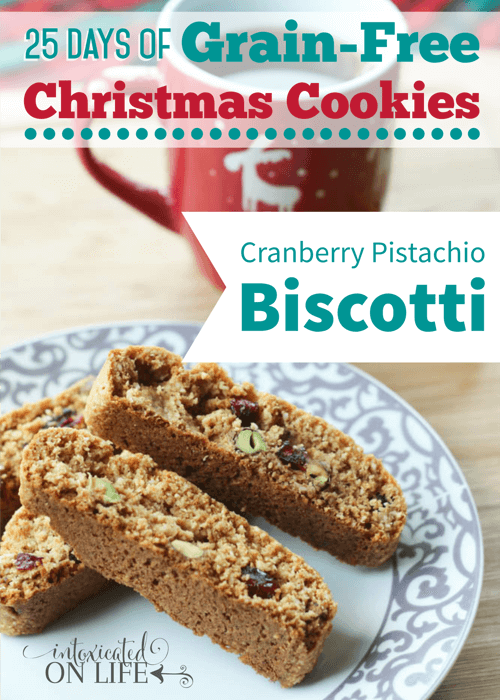 Cranberry Pistachio Biscotti: Perfect for Dunking!
Biscotti gets its Italian name from the fact that it is baked twice. Its unique way of being baked ensures that you end up with a crispy cookie that is perfect for dipping in your coffee. What I especially love about the way it is baked, though, is that the preparation time is very short. There is no need to roll out or spoon out cookie dough. If you can form a long log of dough, you can easily make biscotti.
Once you have baked them the first time, you slice up your cookies, and bake again to finish crisping them up!
Sound easy enough? It is!
So let's get baking!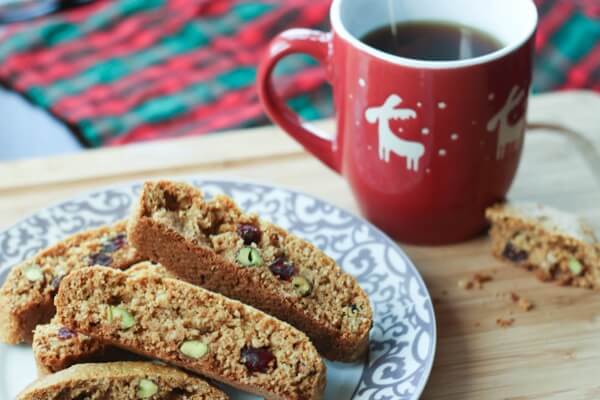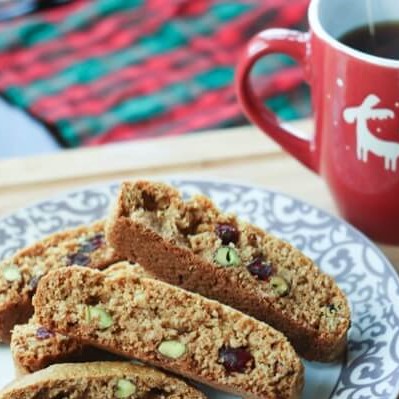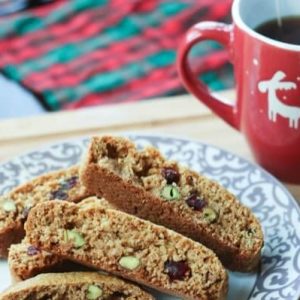 Print
Grain-Free Cranberry Pistachio Biscotti
These crunchy Cranberry Pistachio Biscotti are perfect for dipping in hot coffee, and make a beautiful addition to a holiday cookie platter. Bonus? They're grain-free!
Equipment
cookie sheet

Parchment Paper
Instructions
Preheat oven to 300ºF (150ºC). Use a convection setting if you have one.

Mix together all but the last two ingredients thoroughly. You can use a food processor or just hand mix it in a bowl.

%https://www.intoxicatedonlife.com/wp-content/uploads/2014/11/Grain-Free-Cranberry-Pistachio_Biscotti-3.jpg

Once the dough is throughly mixed, add in your cranberries and pistachios, making sure they are well dispersed throughout the mixture.

Pour the dough onto a baking sheet that has been lined with a sheet of baking or parchment paper.

%https://www.intoxicatedonlife.com/wp-content/uploads/2014/11/Grain-Free-Cranberry-Pistachio_Biscotti-4.jpg

Using damp hands, so that the dough doesn't stick to them, form the dough into a long log shape. If you want to make small biscotti, you can form two thinner logs.

Bake for about 10-15 minutes or until the dough begins to turn a light golden color. Turn off your oven, and leave the biscotti inside to slowly cool.

%https://www.intoxicatedonlife.com/wp-content/uploads/2014/11/Grain-Free-Cranberry-Pistachio_Biscotti-6.jpg

Once the dough is cool enough to handle well, slice the biscotti into ½ to 1 inch thick slices.

Turn the oven down to around 170ºF (75ºC), and bake for another 30 minutes or so, turning the biscotti over halfway through the baking process.

Once again turn your oven off and leave the biscotti inside to finish crisping up as it cools.

Serve immediately or save in an airtight container.
Be careful when you choose your dried cranberries as most have added sugar, which is understandable considering that it is a very tart fruit, but many of them also have a lot of other ingredients that you may not want to include in your diet!
Why did I choose pistachios?
Because I love them, but also because they are green, adding red and green colors to the biscotti that is perfect for Christmas. If you don't like or can't eat pistachios, though, you can substitute them with almonds or just leave them out entirely.
Serve these with your warm beverage of choice. If, after storing them, your biscotti become soft, you can recrisp them in your oven before serving.
If you enjoyed these, perhaps you'd also like to try my Grain Free Pumpkin Spice Biscotti.
25 Days of Grain-Free Christmas Cookies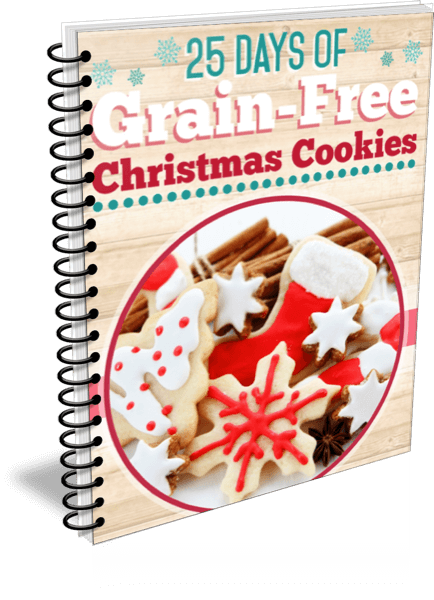 Christmas and cookies go hand-in-hand, but most traditional cookie recipes use wheat flour and other grains. If you are grain-free, or you are looking to cut back on the grains you eat, this cookbook gives you 25 amazing cookie recipes to continue to fill your home with the pleasant traditional tastes and aromas.
Of course, you can use these cookie recipes year round! Your family is going to love having these healthy, delicious alternatives.

---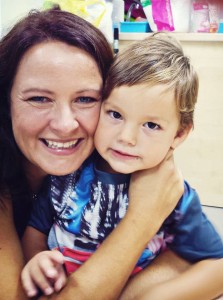 Tracy Ariza is an American expat who is currently living in Spain with her toddler son, fisherman husband, two dogs, and four hens. She thinks that healthy food can also be fun, and that's why she blogs at Oh, The Things We'll Make! where she shares unique, real food recipes, creative DIY projects, and lots of holiday and party ideas. Connect with her on Facebook, Pinterest, and Twitter, where she shares more great recipes and fun projects.