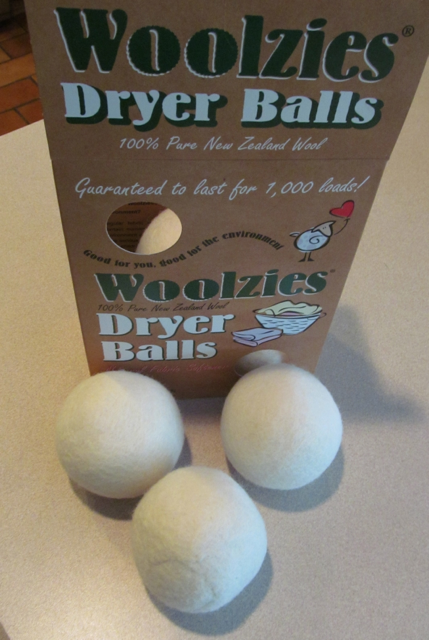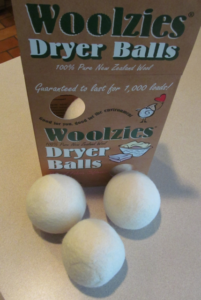 I was excited to be given a chance to check out Woolzies Dryer Balls. I'd heard about them. I'd read about them. Now, I've tried them!
As you may know, I make my own laundry detergent, which saves me oodles of money each year (and it's super easy to make). I've been using white vinegar for softener in my washer – which also saves me money and is apparently much better for your septic system. Woolzies dryer balls are a great addition to my laundry routine.
What are Woolzies?
Woolzies Dryer Balls are hand-made, natural dryer balls. They are made from 100% New Zealand wool. Woolzies Dryer Balls naturally soften your clothes, reduce static, and reduce your laundry's drying time. 
My Experiment
I wondered if Woolzies would actually reduce the drying time of my laundry. So, I gathered up two large loads of laundry (not difficult to do in my house). I used the very non-scientific method of eyeballing and picking each load up to make sure the loads were approximately the same size.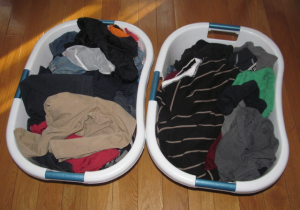 I set each load on timed cycles. I started with just 30 minutes. After 30 minutes I added 10 minutes to each load until they were done. The load not using the Woolzies Dryer Balls took 50 minutes to dry completely. The load using the Woolzies took just 40 minutes (that shaved off 20% of my drying time). That's not too shabby!
The Woolzies site claims that with smaller loads you can shave off an even greater percentage of time, but small loads don't really happen in this house.
What I Like About Woolzies
Decreases dryer time. Anything that can speed up the laundry process and save energy is a winner in my book!
No added chemicals. Woolzies are natural, so I don't have to worry about skin irritations.
Softens and reduces static. Woolzies dryer balls will soften your clothes and reduce static just like liquid fabric softeners and dryer sheets!
Guaranteed to Last! Woolzies are guaranteed to last for at least 1,000 loads of laundry. At $34.95/box that seems like quite the bargain (especially since you'll be saving energy costs too).
Woolzies Dryer Balls have earned a regular place in my laundry routine. They will sit right next to my homemade detergent and white vinegar. Now, the only thing I am missing about using commercial fabric softener is that lovely downy scent – any bright ideas on that one?
Stay tuned: Next week you'll have a chance to win your own set of Woolzies dryer balls during the Green Resolutions Giveaway Hop! Be sure to stop by on on January 16th to win your own set of Woolzies.