How can you improve upon a good broccoli cheese soup? Bacon of course! This is a creamy, cheesy favorite of my oldest son's. If you're trying to stick to a ketogenic diet it would be a fantastic addition to your meal plan. Try it out, and let me know how you like it!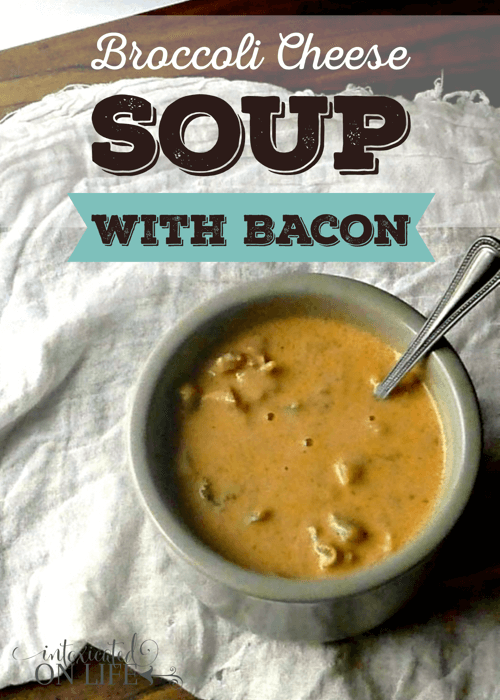 Tastier Broccoli Cheese Soup (with bacon!)
Ingredients
1 stick Butter (from grass-fed cows)
1 clove garlic
small onion chopped finely
16 oz. softened cream cheese
6 cups of bone broth
2-3 bunches of chopped broccoli
2 cups heavy cream
16 ounces mild cheddar (I used Grass Point Farms)
16 ounces aged cheddar (I used Kerry Gold)
1 pound cooked crumbled bacon
Instructions
Melt butter in a large pan.
Saute your garlic and chopped onion in the butter.
Add the cream cheese and broth to the pan. Stir until the cream cheese is fully melted.
Add the broccoli. Cover the pan and let simmer until broccoli is tender.
Finish it off by adding the heavy cream, cheeses, and bacon. Cook over medium-low heat until warmed through.
Nutrition Facts
Serving Size Entire Recipe
Amount Per Serving
% Daily Value
* Percent Daily Values are based on a 2,000 calorie diet. Your daily values may be higher or lower depending on your calorie needs.
Nutrition Information
The following is the nutrition information for the entire recipe. Again, perfect food for a ketogenic diet!
Calories: 6,329
Fat: 567.9 grams (79%)
Carbohydrates: 139.4 grams (8%)
Protein: 203.8 grams (13%)